July 18, 2016
Mercy first responders save lives daily, but they don't always get the pleasure of seeing those patients once they're back on their feet. Thomas Alder is an exception.
With a smile from ear to ear, the 82-year-old recently hand-delivered a 'thank you' note to Mercy's Emergency Medical Services (EMS) headquarters in Springfield, Missouri. That note, however, wasn't in his handwriting. It was penned by his wife, Gale, directed to her husband's heroes.
"As I sit in the room where I first saw you at our door (Feb. 3), I recall the wonderful feeling of being able to say to the 911 operator, 'They're here'," Gale wrote. "She was guiding me steadily, step by step, toward CPR. I remember quiet footsteps and calm, quiet voices. Beyond that, confidence in passing over the awesome responsibility of a life to others."
She's referring to a tense morning in early February when Thomas awoke with chest pains. Gloria immediately called 911 when it appeared Thomas was having a heart attack. Just five minutes later, as Gloria was receiving CPR instructions from Mercy's Emergency Communications Center, paramedics arrived.
Mercy's Gavin Harnstrom, Josh Jackson and Jim Hrycyk started CPR and used defibrillations and life support techniques. Thomas regained consciousness within another eight minutes, and was quickly transported to the hospital, where he received three stents.
"It's proof that what our team does really matters," said Eric Howard, manager of clinical operations for Mercy EMS.
Thomas spent half an hour catching up with Gavin, Josh and Jim during their reunion.
"There are no words that can truly describe your gifts to others," Gale wrote. "However, for today my husband Tom comes to your door as evidence of your success and our thankfulness."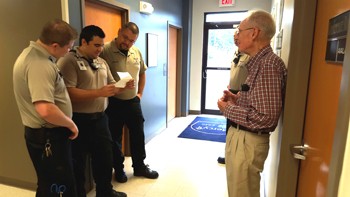 Media Contacts
Sonya Kullmann
Berryville, Branson, Cassville, Lebanon, Mountain View, Rolla, Springfield, Aurora