September 12, 2016
For the last eight years, patient rooms at Mercy Hospital Ada have been immaculate, thanks to co-worker Lynette Greenwood. Today, it's her turn to shine.
A patient review from Michael S. not only confirms that Greenwood is excellent at her job, it makes clear how much she cares about patients, personally.
"I have spent major portions of my life in a hospital bed having been burned as an infant and having both hands rebuilt, so I am no stranger to hospitals," wrote Michael S.
He then paid his respects to the clinical care team in Ada, confiding, "I am certain that you have received compliments about virtually every member of your medical staff, from your CNAs to your RNs." But he chose to write Mercy about his housekeeper, Lynette Greenwood.
"She is friendly, and conscientious to a fault. She goes out of her way. She personifies your desired image."
Lynette's supervisor, Darryl Hatcher, agrees that Lynette is very special. "Everything changes in a room when Lynette goes in," he explained. "She has an amazing presence – calm, reassuring and soothing - and she is excellent at her work. We've had other patients talk about her, too. They can't believe how carefully she cleans their room with no detail overlooked. And she anticipates exactly what a patient needs."
Lynette is a lead supervisor whose unit always gets the top HCAHPS scores. But it was Lynette herself who put her finger on why patients react to her the way they do.
"Most of our patients are alone," she said. "They need someone to listen – and someone to talk to. And I like talking to them. I really think of them as family."
Patient Michael S. has been given excellent clinical care at Ada, and is clearly grateful for it. But the person who most impressed him is the housekeeper who not only loves her job, but showed him love, too. For giving the gift of mercy every day, in every room, Lynette Greenwood is an MVP.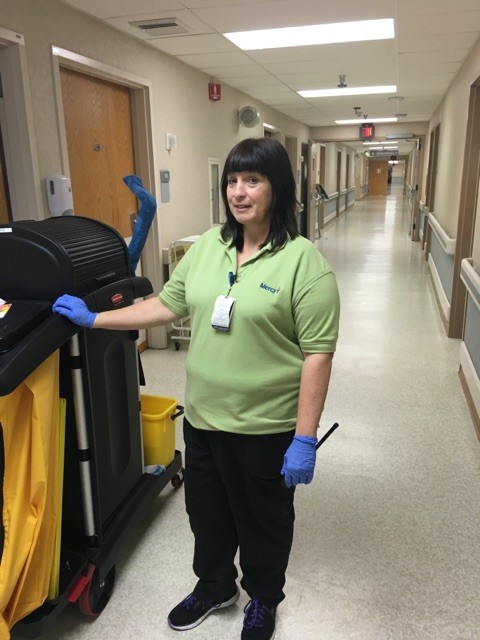 Practices
Media Contacts
Lindsey Treadwell
Ardmore, Healdton, Ada, Tishomingo