The project raised more than 50 pounds of produce for a local senior center.
What can happen when you turn a flower bed into a vegetable garden? You can grow more than 50 pounds of food to feed others in your community.
The team at Mercy Cardiopulmonary Rehabilitation in Springfield, Missouri, knows how important fresh fruits and vegetables are to maintaining heart health. As they searched for a volunteer project they could work on together, the Plant a Row for the Hungry project through the local food bank, Ozarks Food Harvest, just seemed to fit.
"As a cardiopulmonary rehab nurse, I discuss lifestyle choices with patients to reduce their risk factors for cardiovascular disease," said Terry Gould, Mercy RN-BC. "Diet modification is a big part of that, but low-income seniors find it hard to afford nutritious food. We wanted our efforts to help fill that gap."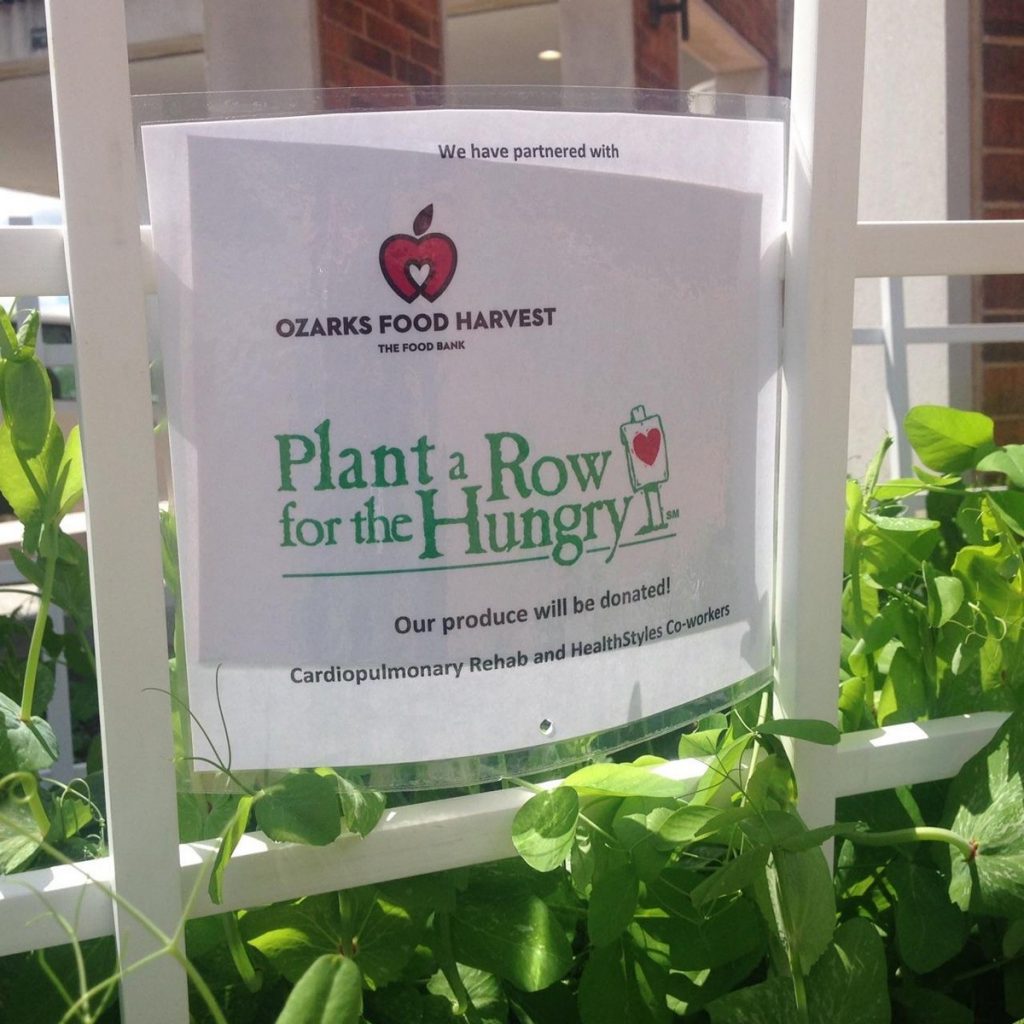 Mercy co-workers grew vegetables in what used to be flower beds. The small space yielded more than 50 pounds of produce, which they donated.
The group needed to work on the project on their breaks, so they asked to plant the veggies in the flowerbeds outside their offices.
"Most of the maintenance, like weeding, was done during our lunch breaks," said Debra Dorshorst, Mercy registered respiratory therapist. "When each harvest was completed, everything had to be removed and prepared for the next planting."
In all, the group raised 50.2 pounds of produce and donated it all to the South Side Senior Center, which is just a block away. "It was really nice seeing the happy faces when we delivered the produce," Dorshorst said. "They especially liked the green beans, tomatoes and peas."
For the food bank, fresh food really makes a difference and is not as widely donated as canned goods. "The space this group used was originally dedicated to ornamental landscaping," said Christy Claybaker, community engagement coordinator for Ozarks Food Harvest. "So this proves food can be grown almost anywhere to make an impact on hunger."
You can get involved, just like the team at Mercy did. Now's the time to round up volunteers and make your planting plan. "As early as March, many crops can be planted that make great donations to food banks," Claybaker said. "Specifically, we'd like to see extra rows of broccoli, carrots, onions, snap peas and radishes. In April, you can add things like lettuce, potatoes and spinach. Of course, summer crops like tomatoes, cucumbers and peppers are some of the easiest to grow."
Don't worry if you don't have any space or gardening experience. Ozarks Food Harvest has a volunteer "Glean Team," that helps harvest leftover produce from gardens, farms and orchards. Food banks everywhere are always looking for volunteers and donations.
The goal of World Food Day is to encourage all of us to do what we can to end hunger. "No one should be denied fresh produce," Gould said. "If we want people to eat healthier, we should do what we can to help them."