October 21, 2016
By Mercy's Jaclyn Bardin
Over the past four years, 53-year-old Paula Jones has snored loudly at night and has continually felt tired all day.
Jones commutes about 160 miles roundtrip four days a week for her job in southeast Oklahoma. She works long hours and often drives around the state for her job, so a restful night's sleep is especially important.
Earlier this year, she visited her primary care provider who recommended a sleep study — a test that records what happens to a person's body during sleep to determine if there are any irregularities in breathing patterns, movements and the stages of sleep that may make it difficult to sleep soundly.
When originally requested, Jones' insurance carrier would not cover a sleep study at a hospital or sleep center, but rather, would only cover an in-home sleep study. Luckily for Jones, Mercy Hospital Ada recently began offering home sleep studies to qualifying patients over the summer. 
In August, Jones underwent the home sleep study, which indicated that she has a mild form of obstructive sleep apnea — a common sleep disorder that causes people to stop breathing for at least 10 seconds at a time while sleeping.
"The home sleep study was convenient and easy to comprehend with the enclosed visual aids," said Jones. "My husband and I happened to be staying at the lake that weekend, so I didn't have to go back to Ada for the actual sleep study. I could just sleep in my own bed and go through our normal routine."
About Mercy's Sleep Services
The American Sleep Association estimates that about 40 million Americans suffer from long-term sleep disorders annually and about 20 million Americans have occasional sleeping problems.
Insufficient sleep is linked to several chronic conditions, including obesity, depression, cardiovascular disease and diabetes. People who do not get enough sleep are also at a higher risk for vehicle and machine-related accidents.
To stay safe while driving around the state for work, Jones often has to pull off the road to take a quick nap.
To help patients like Jones, the team at the Mercy Sleep Center in Ada, led by lead sleep medicine technician Sarah Iverson, provides sleep studies for adult patients in two sleep rooms at the hospital and through the new in-home sleep studies.
Sleep studies evaluate patients for different forms of sleep apnea; excessive snoring; problems staying awake (narcolepsy); problems sleeping at night (insomnia); nighttime behaviors, including sleepwalking, night terrors or bedwetting; difficulty sleeping during the day due to an alternate work schedule; and repeated muscle twitching or movements of the feet, arms or legs during sleep (periodic limb movement disorders or restless legs syndrome).
Patients seeking a sleep study at the hospital are hooked up to monitors and can adjust the Sleep Number® bed to their desired comfort level. A technician watches the monitors throughout the night as the patient sleeps.
A home sleep study is a convenient option for qualifying patients. The test is not as comprehensive as the hospital-based program, but is a good option for certain patients.
For the in-home study, a patient goes to the hospital to get the small device, is briefed about the process and returns home to sleep in their own bed. The patient returns the device to the hospital the next day so the sleep medicine specialist can assess the results, which are stored in the device.
Within a few days, a sleep medicine physician will review the findings of the lab-based or home-based sleep study to determine whether the patient has a sleep disorder.
Treatment Options
For sleep apnea, doctors may recommend a bilevel positive airway pressure (BiPAP) or continuous positive airway pressure (CPAP) machine to ensure patients receive a proper amount of oxygen throughout the night. The staff at the Mercy Sleep Center fit patients with the appropriate masks so they can comfortably sleep at night.
Jones is unsure whether she will begin using a CPAP or BiPAP machine yet, but is thankful to have some answers as she and her doctor determine the best treatment plan.
Dr. Imtiaz Ahmed, a pulmonology, sleep medicine and critical care specialist at Mercy in Ada, said it is very important for patients to seek a sleep study — whether in the sleep center or at home — so they can get the proper treatment. If prescribed, it is also important to use the CPAP or BiPAP machines every night for best results.
"This is something that's protecting you from stroke and cardiac events during sleep, which we know are on the rise," said Ahmed. "They are on the rise partially because sleep apnea is underdiagnosed and undertreated."
The majority of individuals who are obese with type 2 diabetes have some form of sleep apnea, said Ahmed. As obesity rates increase across the country, so will the rates of sleep disorders.
When to See a Doctor
If you struggle to get quality sleep and often wake up feeling groggy, grumpy or are unable to concentrate, you may be a good candidate for a sleep study, which can address issues with falling asleep, staying asleep, snoring, breathing while sleeping, daytime sleepiness and other sleep disruptions.
"For many patients with a sleep disorder, they are so fatigued that they don't exercise and get into a vicious cycle where they gain weight and keep gaining weight until a bad outcome happens," said Ahmed. "Early identification and screening for a sleep disorder is very important."
Participation in a sleep study at Mercy Hospital Ada requires a referral by a physician or provider. For more information, contact the Mercy Sleep Center at 580-421-1154.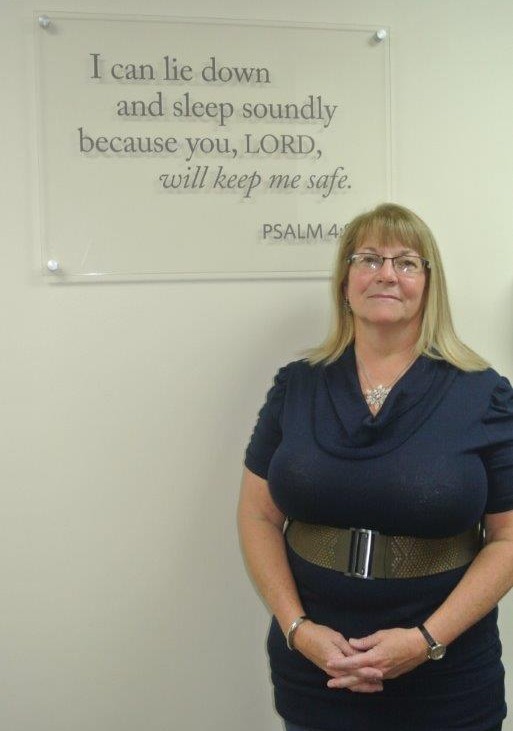 Our Providers
Practices
Media Contacts
Lindsey Treadwell
Ardmore, Healdton, Ada, Tishomingo