By Mercy's Jennifer Harutunian
A powerful electronic health record (EHR) system can change the kind of care patients receive – by increasing coordination and safety, pushing proven treatment to caregivers and triggering alerts to help keep people well. But it's how that EHR is used that makes the difference.  
Mercy, the nation's fifth largest Catholic health system and an early adopter of EHR technology, should know. Mercy's broad use and comprehensive build-out of its EHR has been recognized at one of the highest possible levels by Epic – the Wisconsin-based software developer – as part of its Gold Stars program, putting Mercy in the elite company of only three other Epic health system clients in the U.S.
The distinction was measured by Mercy's adoption of nearly 700 items within its EHR.
Mercy's EHR was evaluated for capabilities that help physicians spend more time with patients, enable better chronic disease care through organized patient data and provide patients more access to and greater involvement in their care with features like e-visits, tablet-based care information for hospital patients and soon-to-be available video visits.
The recognition comes on the heels of Mercy earning, for a second year, Epic's accreditation to extend EHR services to other hospitals and clinics. Mercy is Epic's only client to achieve both accreditation and this exceptional Gold Stars level.
"Our approach is to maximize every bit of innovative care Epic puts into its software so Mercy's patients get excellent care when and where it's convenient for them," said Mark Brinley, vice president of clinical systems at Mercy Technology Services. "By extending Mercy's EHR to other small hospitals in rural areas, these cutting edge capabilities help patients everywhere live healthier lives."
Becker's Hospital Review: Epic Recognizes Mercy as Top EHR User
Mercy's chief information officer, Gil Hoffman, accepts the Epic Gold Stars achievement at their annual user group meeting.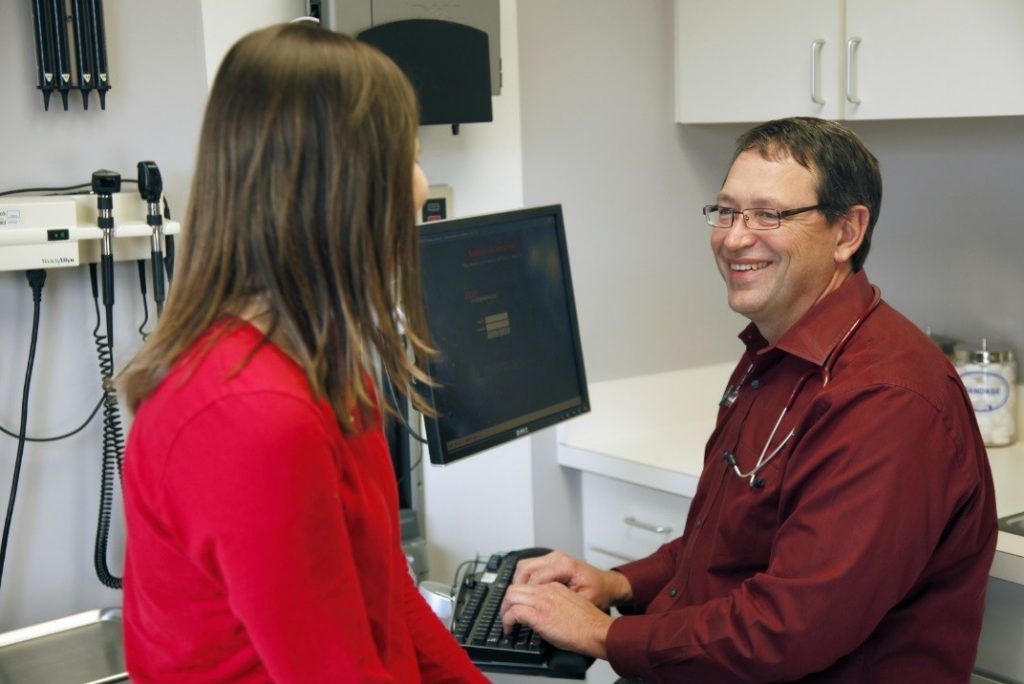 Dr. Arthur Hale visits with a patient, whose information is submitted into Epic in the room.
Mercy, named one of the top five large U.S. health systems in 2017 by Truven, an IBM Watson Health company, serves millions annually. Mercy includes 44 acute care and specialty (heart, children's, orthopedic and rehab) hospitals, more than 700 physician practices and outpatient facilities, 40,000 co-workers and more than 2,000 Mercy Clinic physicians in Arkansas, Kansas, Missouri and Oklahoma. Mercy also has outreach ministries in Arkansas, Louisiana, Mississippi and Texas. 
MTS provides and manages technology solutions for Mercy, the nation's first health care provider accredited by Epic, to offer a full suite of electronic health record solutions to other hospitals, including Epic in the cloud, implementation and optimization. MTS' award-winning data analytics integrate care delivery, manage costs and support a model of care that keeps patients healthier and out of the hospital. Visit mercytechnology.net.