November 29, 2016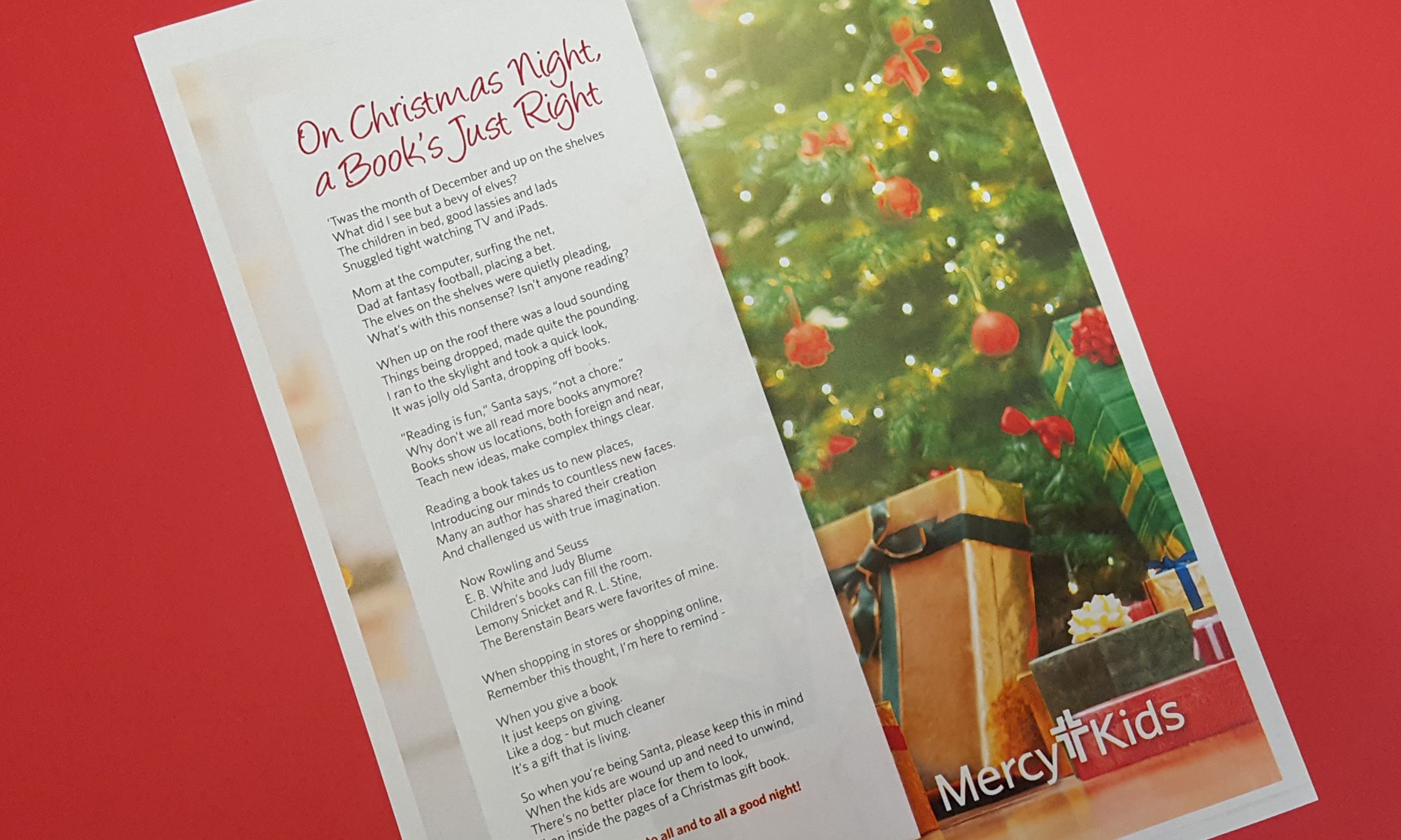 An original poem by Dr. Joe Kahn, president of Mercy Kids.
'Twas the month of December and up on the shelves
What did I see but a bevy of elves?
The children in bed, good lassies and lads
Snuggled tight watching TV and iPads.
Mom at the computer, surfing the net,
Dad at fantasy football, placing a bet.
The elves on the shelves were quietly pleading,
What's with this nonsense? Isn't anyone reading?
When up on the roof there was a loud sounding
Things being dropped, made quite the pounding.
I ran to the skylight and took a quick look,
It was jolly old Santa, dropping off books.
"Reading is fun," Santa says, "not a chore."
Why don't we all read more books anymore?
Books show us locations, both foreign and near,
Teach new ideas, make complex things clear.
Reading a book takes us to new places,
Introducing our minds to countless new faces.
Many an author has shared their creation
And challenged us with true imagination.
Now Rowling and Seuss
E. B. White and Judy Blume
Children's books can fill the room.
Lemony Snicket and R. L. Stine,
The Berenstain Bears were favorites of mine.
When shopping in stores or shopping online,
Remember this thought, I'm here to remind -
When you give a book
It just keeps on giving.
Like a dog - but much cleaner
It's a gift that is living.
So when you're being Santa, please keep this in mind
When the kids are wound up and need to unwind,
There's no better place for them to look,
Than inside the pages of a Christmas gift book.
Happy Christmas to all and to all a good night!
Media Contacts