Billie Joe Ferrell paid for his groceries and fell flat on his face.
"I busted my head open," he said. The 63-year-old from Exeter, Missouri, was having a heart attack. "I told the cashier I felt a bit woozy – that's about all I remember."
But it's an afternoon shoppers at that rural Walmart won't soon forget.
"I was on break, picking up candy for my staff, when I heard a lot of commotion on the other side of the store," said Tiffany Means, an emergency room (ER) nurse at Mercy Hospital Cassville. "I dropped everything and ran over there."
Still in her scrubs, she found Ferrell lying on the floor, unresponsive and without a pulse. Unlike many of the onlookers, she knew just what to do.
"They don't carry AEDs (automated external defibrillators) at the store, so I immediately started CPR," Means said. "I kept thinking, 'he's at death's door.' There still was no pulse, but I was determined to help save him."
Within minutes, Mercy Emergency Medical Services (EMS) crews were on scene to continue the lifesaving mission. Ferrell's pulse returned, and he was flown to Mercy Hospital Springfield, where heart surgeon Dr. Sirish Parvathaneni performed a double bypass.
"I don't know how long I was out," Ferrell said. "But I do know that everything's been a miracle. If it wasn't for Tiffany and the Mercy team, I wouldn't be here today."
Ferrell, who had smoked for 50 years, now has his best reason to quit.
"I had a feeling this was coming," Ferrell said, who is now undergoing cardiac rehab at Mercy. "A few times a week, I'm stretching, walking and using all their machines. I'm feeling great."
And so is Nurse Tiffany – especially after a recent special visit.
"He came by our ER in Cassville on his first day of rehab, to thank me personally," Means said. "Let me tell you, it was an absolute blessing. It's pretty emotional to have someone tell you they're only standing and living life because of you. It's so rewarding."
Ferrell is already on the second phase of his rehab, and plans to share his story to keep others heart healthy.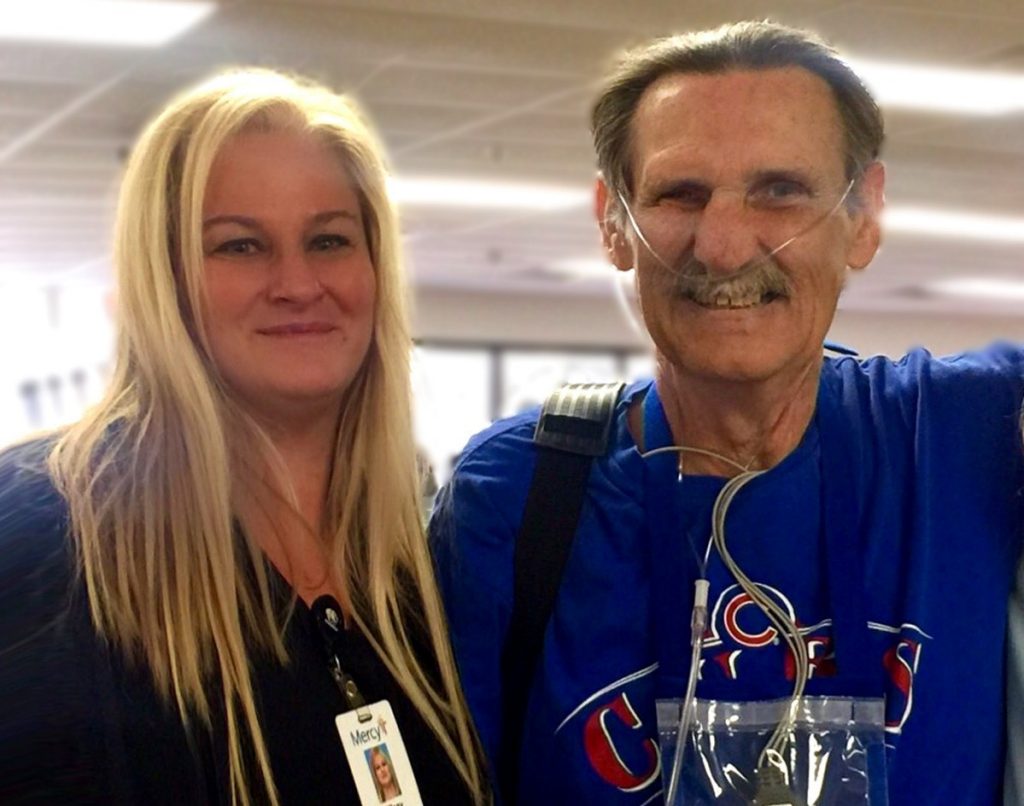 Tiffany Means, an emergency room (ER) nurse at Mercy Hospital Cassville, with Billie Joe Ferrell.
Mercy Springfield Communities is comprised of Mercy Hospital Springfield, an 866-bed referral center; an orthopedic hospital; a rehab hospital; a children's hospital; five regional hospitals in Lebanon, Aurora, Cassville, Mountain View, Missouri and Berryville, Arkansas; and Mercy Clinic, a physician clinic with nearly 700 doctors and locations throughout the region. It is part of Mercy, named one of the top five large U.S. health systems in 2017 by Truven, an IBM Watson Health company. Mercy serves millions annually and includes 43 acute care and specialty (heart, children's, orthopedic and rehab) hospitals, more than 700 physician practices and outpatient facilities, 40,000 co-workers and more than 2,000 Mercy Clinic physicians in Arkansas, Kansas, Missouri and Oklahoma. Mercy also has outreach ministries in Louisiana, Mississippi and Texas.