COLUMBUS, Kan.  – If you've seen athletes, including Olympians, wearing tape on their shoulders, arms or legs, it wasn't some new fashion craze. Instead, the tape is used for treating injuries, promoting healing and improving movement.
It's called kinesiology, or kinesio, tape and isn't just for athletes, but patients of all ages who are being treated for a variety of reasons. While it doesn't work for everyone, it's had enough success that Mercy is increasingly using the tape as optional treatment for a growing number of physical and occupational therapy patients.
Kinesiology is the study of the mechanics of body movement. Kinesiology taping is a rehabilitative technique designed to facilitate the body's natural healing process while providing support and stability.
Miranda Soper, a physical therapist at Mercy Therapy Services in Columbus, has been using the tape primarily to help reduce patients' pain.
"A lot of our patients who were skeptical have seen the benefits," she said. "It won't totally fix the problem by itself, but can help improve the patient's condition."
Kinesio tape is a type of thin, elastic cotton tape that, when applied, stretches greater than its normal length and "recoils" after being applied to create a pulling force on the skin. This elastic property allows much greater range of motion compared to traditional athletic tape and can be left on for up to four days.
"It's a kinesthetic reminder and constantly gives neural input," Soper said. "It's a little bit like getting a constant massage."
Soper was one of about 20 Mercy therapists in the area who recently received additional training on the kinesio tape, said Jolene Palmquist, director of rehab services for Mercy in Joplin and Carthage.
"Therapists and other health and wellness professionals have recently made enormous strides with kinesiology taping techniques," Palmquist said. "We have had patients report immediate results observed in their posture, movement patterns and pain reduction."
Mercy also is using the tape with its pediatric therapy patients, she said, to address sensory issues from toe walking or postural imbalance associated with torticollis, a rare condition most often found in infants in which neck muscles contract, causing the head to twist to one side.
The tape can be used for muscles, ligaments, tendons and joints. Applications often focus on fascia, a thin sheath of fibrous tissue enclosing a muscle or other organs, but include superficial lymphatic, capillary and nervous systems. How therapists cut the tape, , stretch and place it will vary based on the type of tissue being treated.
"It's a subconscious message to the brain that organizes what's going on in the body," Palmquist said. "As therapists, we continually look for evidence-based treatment methods. As theories change and as studies are done, we're looking for the least restrictive and most economical tools for our tool bag, and kinesiology tape is that type of tool."
For more information on the use of kinesio tape for physical and occupational therapy, contact Mercy Therapy Services in Joplin at 417-556-8760, in Carthage at 417-359-1910, in Columbus at 620-429-2545 or in Neosho at 417-451-6287.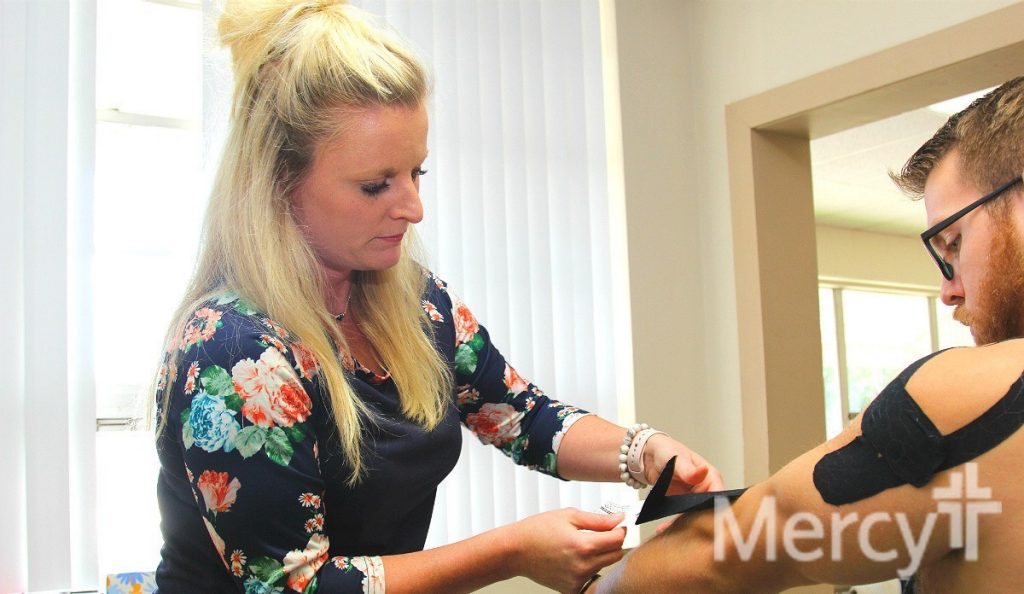 Miranda Soper, a physical therapist at Mercy Therapy Services in Columbus, uses kinesiology tape to help reduce patients' pain.
Practices