By Mercy's Jaclyn Bardin
Jace and Erin Cuccia's world stopped when they got the call that their 15-year-old son, Nick, had been in an accident last July.
"It was totally surreal and everything was in slow motion," said Erin Cuccia, Nick's mom. "It was the call that every parent dreads."
Nick was on his bicycle heading from his summer job to his home in Rogers, Arkansas, when he swerved to avoid hitting a trashcan and ended up in oncoming traffic. At that moment, a bus approached and hit him.
An off-duty nurse who witnessed the accident immediately came to help Nick and opened his airway while waiting for the ambulance. Since a helicopter was unavailable at the time, the paramedics with Rogers' Emergency Medical Services stabilized Nick, got him breathing again after his lung collapsed and transported him to Mercy Hospital Northwest Arkansas in Rogers.
Once at Mercy, the health care team in the emergency department quickly worked to give Nick IV fluids, insert chest tubes and order imaging tests to see the extent of his injuries, which included a fractured skull, broken pelvis, broken femur (thigh bone), fractured vertebrae in his neck and lower back, collapsed lung, lacerations to his kidney and a traumatic brain injury.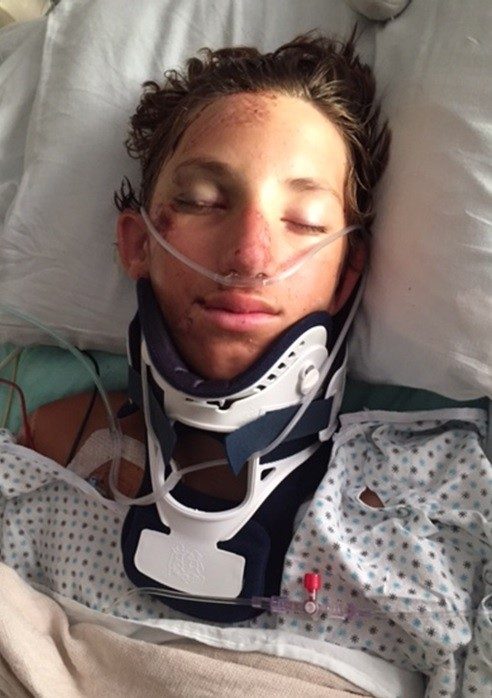 "When he arrived, it was pretty clear to us that he was going to need a higher level of care," said Dr. Donna Johnson, a general surgeon and trauma medical director at Mercy Hospital Northwest Arkansas.

"They were definitely all hands on deck (in Rogers) and putting a lot of effort in," said Jace Cuccia, Nick's father. "I just remember being impressed and very thankful at that point."
Within one hour of his arrival to Mercy Hospital Northwest Arkansas, Nick was on board a Mercy Life Line helicopter headed to the Mercy Emergency Trauma Center in Springfield, Missouri, where a team of 12 trauma experts was ready to begin treatment.
Since Nick was transferred to another Mercy facility, the team in Springfield could already see his patient chart, imaging results and everything the team in Rogers did to stabilize him, which helped them better prepare for his arrival.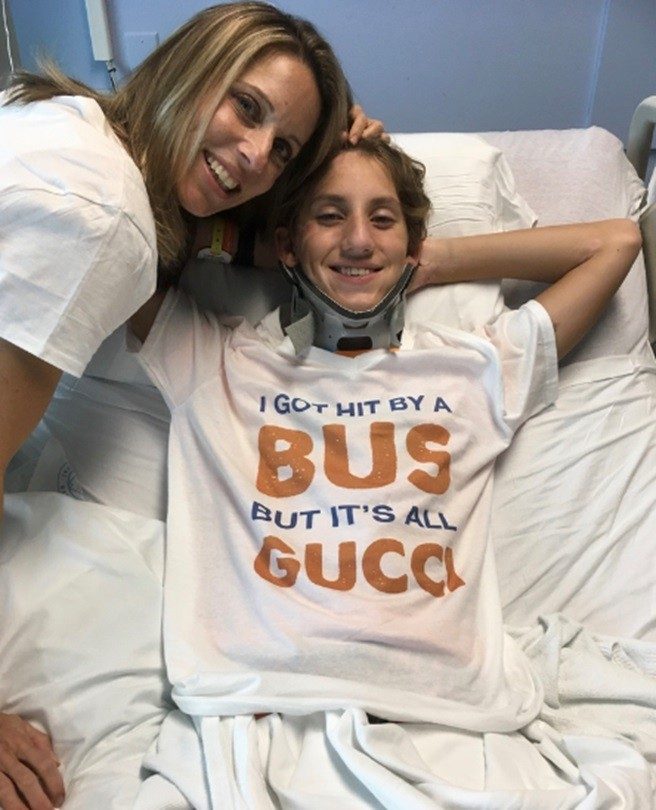 A 5.5 Percent Chance of Survival
In those initial hours after Nick arrived in Springfield, his parents were uncertain about their son's prognosis, but thankful for the personalized care he received. They still remember the attentiveness of his nurse, Matt, on that first night.
"Sitting there and not knowing what was going to happen and how it was going to turn out, we were comforted in knowing that he was so dedicated to Nick's care," said Erin Cuccia.
Although Jace and Erin Cuccia did not know it at the time, the team at Mercy estimated that Nick had a 5.5 percent chance of survival based on the extent of his injuries.
Since Nick had experienced a traumatic brain injury, his surgical team had to wait two days before he could undergo his first surgical procedure to ensure he could handle the stress of the surgery. His initial surgery was to repair a broken pelvis and a femur fracture. The surgery required the specialized training of an orthopedic trauma surgeon.
"Pelvic fractures are complex, life-threatening injuries and can be difficult to fix," said Dr. James Black, one of two orthopedic trauma surgeons at Mercy Hospital Springfield. "Nick's pelvis was fractured in several places and each side of the pelvis was displaced. During the surgery, the two halves came back together very well, like a puzzle fitting together."
Dr. Black used a specialized titanium rod to fix his femur. Both surgical procedures were a success.
In the days that followed, the trauma team worked seamlessly to ensure Nick received the right treatments and procedures at the right time for optimum healing.
One week after Nick's orthopedic procedures, Dr. Sami Khoshyomn performed a surgery to repair an unstable cervical spine injury involving two vertebrae in his neck. Using a bone graft, plates and screws, he stabilized and fused the vertebrae.
"Without treatment it could have led to a spinal cord injury and paralysis," said Dr. Khoshyomn, a pediatric neurosurgeon at Mercy Hospital Springfield. "Nick was a healthy young man and, with appropriate care, we knew we could help improve his chances of a full recovery. Any kid surviving an accident like Nick's is lucky."
On the Road to Recovery

Nick stayed at Mercy Hospital Springfield for two weeks before heading back to Arkansas for additional physical and occupational therapy, which he will continue for several more months. In late-September, he began walking unassisted on both legs and his neck brace was removed in early October.

Although he is currently being homeschooled, he continues to stay connected to his friends and his school by attending sporting events and the homecoming dance in October, where he was voted into the homecoming court. In addition to returning to school in the coming weeks, Nick hopes to participate on his high school track team in the spring and run the 400 meters.
Based on Nick's progress, Drs. Black and Khoshyomn are confident he will be able to achieve his goals.  
"One of the great things about orthopedics in general, especially orthopedic trauma, is taking someone who's injured and putting them back together so they can go back to living the life they want to live," said Dr. Black. "Nick's a great example of why I do what I do."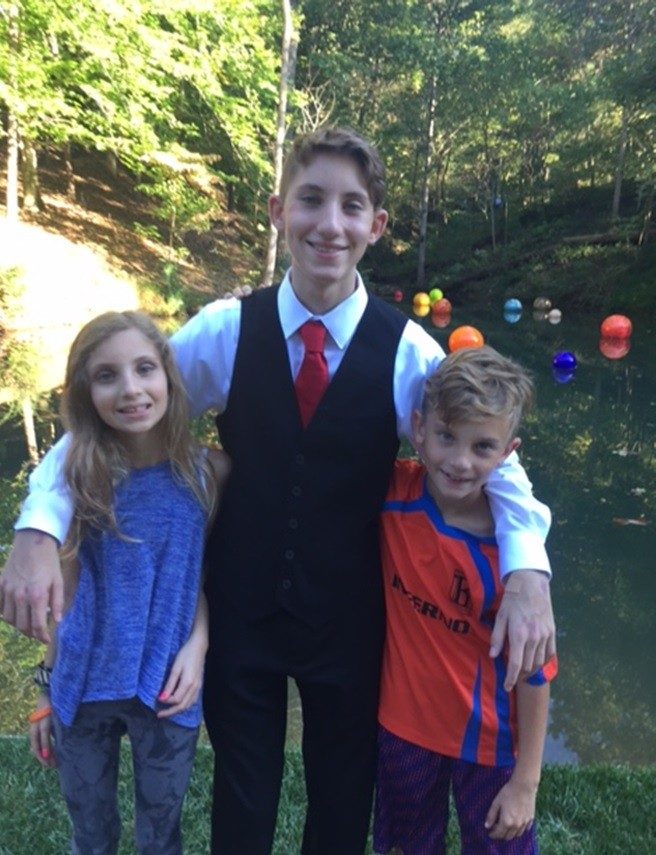 A Team-centered Approach to Trauma Care
The Cuccia family recognizes just how lucky Nick is to be alive and appreciates the lifesaving care provided by Mercy's health care teams in Rogers and Springfield.  

"The doctors took as much time as we needed to explain everything and answer any questions we had," said Erin Cuccia. "It seemed like they knew what we needed and they wanted us to take care of ourselves, too."
The Mercy Emergency Trauma Center in Springfield is a level 1 trauma and burn center for adult patients — the highest designation for trauma care — and the region's only level 2 pediatric trauma center based on a designation from the state of Arkansas.
Each year, the highly trained trauma team treats more than 2,200 adult patients and more than 200 pediatric patients from Missouri and Northwest Arkansas. Of those, about 9 percent of adult patients and 7 percent of pediatric patients come in with critical injuries, like the injuries Nick sustained.
Black said strong communication and teamwork among the trauma team members are crucial to the work they do and lead to better patient outcomes. The Cuccia family was impressed.
"The teamwork was phenomenal," said Jace Cuccia. "They were about as close to perfect as you can get with the type of traumatic event that Nick was in. Mercy hires good people who are very professional, caring, kind-hearted and hardworking."
Mercy, named one of the top five large U.S. health systems in 2017 by Truven, an IBM Watson Health company, serves millions annually. Mercy includes 44 acute care and specialty (heart, children's, orthopedic and rehab) hospitals, more than 700 physician practices and outpatient facilities, 40,000 co-workers and more than 2,000 Mercy Clinic physicians in Arkansas, Kansas, Missouri and Oklahoma. Mercy also has outreach ministries in Arkansas, Louisiana, Mississippi and Texas.