March 7, 2018
Over the last several months, Marcia Martin found it increasingly difficult to do basic tasks around the house, like cleaning.
"I would have to sit down and rest because my chest got to hurting and that would slow me down more and more," said Martin, 71.
During the previous year, Martin had cancelled her own doctors' appointments while she cared for her ailing husband, who passed away in December 2016. Once she started paying attention to her own health, she said it was too late.
On Dec. 17, 2017, Martin was hospitalized to treat pneumonia. She was also diagnosed with congestive heart failure (CHF), a chronic condition that occurs when a person's heart is not pumping as well as it should, which can cause fluid to build up in the body. When this happens, patients may gain weight, feel short of breath and have swelling, especially in their legs, feet and ankles.
After a five-day stay at Mercy Hospital Ada, Martin was released from the hospital and referred to Mercy's new Community Paramedic Program, a free service where a certified paramedic provides routine health care services in a home setting to patients with certain medical conditions. Qualifying patients are those that have been seen through the hospital's emergency department recently and are at risk for a readmission to the hospital.
"We are helping people get over their illness so they can feel better and lead a healthier life all around," said Max Crook, community paramedic for Mercy in Ada. "Health care is a lot better to practice than sick care."
About the Community Paramedic Program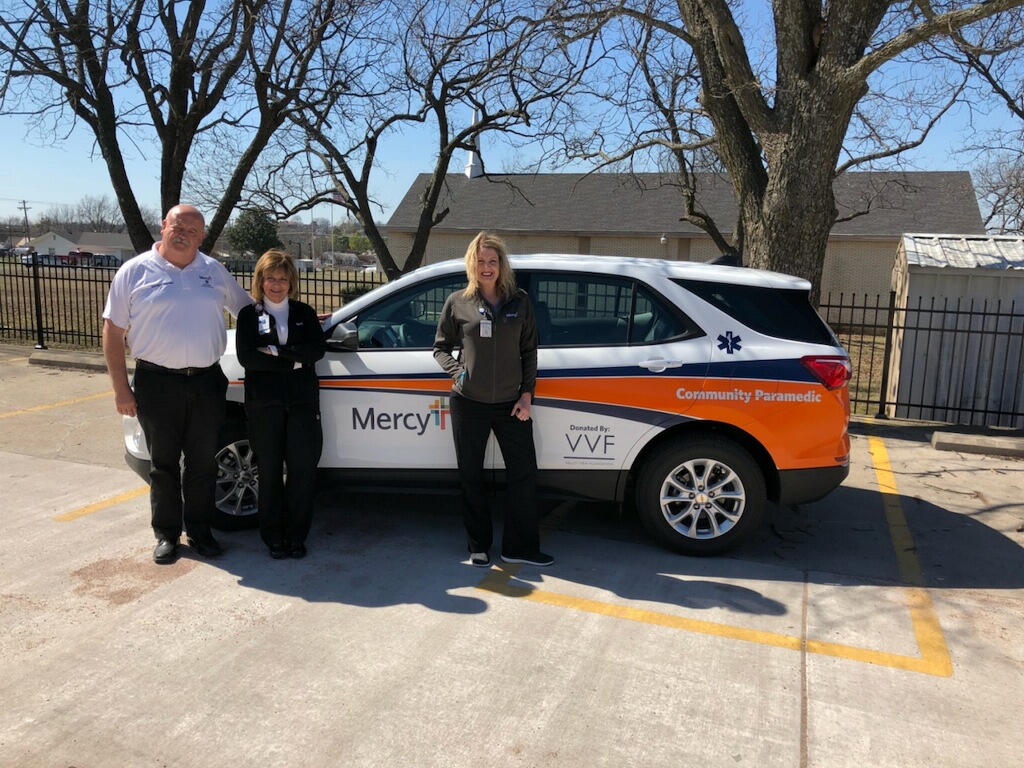 In October 2017, Mercy first launched the Community Paramedic Program, which is the first program of its kind in Oklahoma and within Mercy's 44 acute care and specialty hospitals. As part of the program, patients are either referred by a physician or case manager, or are identified during a hospital stay by Diana Elmore, care transition manager at Mercy Hospital Ada.
Through the program, Crook typically visits a patient at their home within 48 hours of discharge from the hospital and may schedule additional home visits depending on the patient's needs. Individuals who do not qualify for home care or hospice services and are not living in a skilled care facility are good candidates for the Community Paramedic Program.
Most patients seen by Crook have multiple chronic illnesses, including CHF, pneumonia, chronic obstructive pulmonary disorder (COPD) or have previously suffered a heart attack. He also sees patients who recently underwent joint replacement surgery.
"As a paramedic responding to 911 calls, I never got to go out and spend time with sick patients," said Crook, who has been a paramedic for nearly 36 years. "With the Community Paramedic Program, I'm not constrained by needing to pick up a patient, do lifesaving treatment and get them to the hospital. I'm able to find out more about the patient and what they need. It's extremely gratifying to be able to do something like this at this point in my life."
Martin has been hospitalized twice due to pneumonia, which is a common side effect of CHF. Crook is educating Martin about how best to manage her new CHF diagnosis since it requires several lifestyle changes, like weighing herself every morning, limiting her salt intake and drinking a certain amount of water each day.
Providing education is only one component of the Community Paramedic Program. During patient visits, Crook also:
·        Reviews the patient's medical history. 
·        Takes the patient's blood pressure and vital signs, including temperature, pulse rate and respiration (breathing) rate.
·        Discusses the patient's current health status and any new complaints.
·        Conducts a home safety assessment to ensure nothing poses a risk for a possible fall or injury.  
·        Reviews the current list of medications a patient is taking and makes sure all prescriptions are filled.
·        Evaluates a patient's nutritional needs and ensures they have an adequate food supply and access to the right types of food. If, for example, he discovers a lot of high-sodium foods in a patient's house who has CHF, he will educate patients about the dangers of eating those foods and how that can worsen their condition. 
·        Assesses a patient's support system and if they have transportation to their primary care provider and specialists. In some instances, he may provide a ride to their doctor's appointment.
For certain patients with CHF, Mercy is using a ZOE® Fluid Status Monitor to track their fluid levels electronically to prevent dehydration and over hydration. Using this technology, the patient's care team, including Crook, may be able to detect fluid buildup several days before a patient notices symptoms. This enables them to get the treatment they need right away and prevent a visit to the emergency department or a hospitalization.
"It really makes a big difference when you help someone who was in and out of the hospital on a bi-weekly basis make a few minor changes to their lifestyle and it keeps them out of the hospital for several months," said Crook. "Providing this service is the right thing to do and carries on the mission of the Sisters of Mercy who treated people with dignity and respect while caring for their needs."
Early Wins
Although the program is still in its infancy, Elmore said they have already seen patients who would have been back in the hospital if they had not received care through the Community Paramedic Program.
Elmore manages the program and sometimes accompanies Crook on patient visits. She is thankful that Lori Wightman, president of Mercy Hospital Ada, pushed to bring the program to Ada and is confident it will be successful. She is looking forward to seeing how well they can achieve their goals of reducing hospital readmissions and emergency department visits among participating patients in the coming months.
"It's exciting to be on the ground level watching it build," she said. "We are being proactive in patients' care instead of reactive, which shows how much Mercy cares about the health of our community."
Elmore believes Crook is the perfect person to spearhead the efforts.
"Max has the background and has been in many of the homes that we will go into when he worked as a paramedic with Mercy's Emergency Medical Services (EMS)," she said. "People know him and are comfortable with him. He's got the dynamic personality that you need for this type of program."
Martin agrees and is hopeful Crook can continue to help her better manage her health.
"He's just a nice man and the way he explains things is so simple that you can understand," she said. "I wouldn't mind if he came out to my house every day. He's a breath of fresh air."
To learn more about the Community Paramedic Program, contact Elmore at diana.elmore@mercy.net or by calling (580) 421-1117.
Media Contacts
Meredith Huggins
El Reno, Guthrie, Kingfisher, Oklahoma City, Watonga