David Gann knew he needed to make a change to improve his quality of life after being hospitalized with heart failure five times in a six-month period two years ago.
"I'd wake up in the middle of the night and I couldn't breathe," said Gann, 62, of Elkland, Missouri. "I thought I was suffocating."
Gann was diagnosed with congestive heart failure (CHF) about six years ago. CHF is a chronic condition that occurs when a person's heart is not pumping as well as it should, which can cause fluid to build up in the body. When this happens, patients may gain weight, feel short of breath and have swelling, especially in their legs, feet and ankles.
When fluid buildup is not well controlled through dietary restrictions or medications, patients may need to be hospitalized to remove the fluid since it can collect in their lungs and cause respiratory distress.
In June 2016, Gann became the second patient at Mercy Hospital Springfield to get a device called the CardioMEMS™ HF System. The miniature, wireless monitoring sensor is implanted in the pulmonary artery during an outpatient procedure for eligible patients with CHF. It measures pulmonary artery pressure – an early indicator of worsening heart failure – to detect fluid buildup several days before a patient notices symptoms.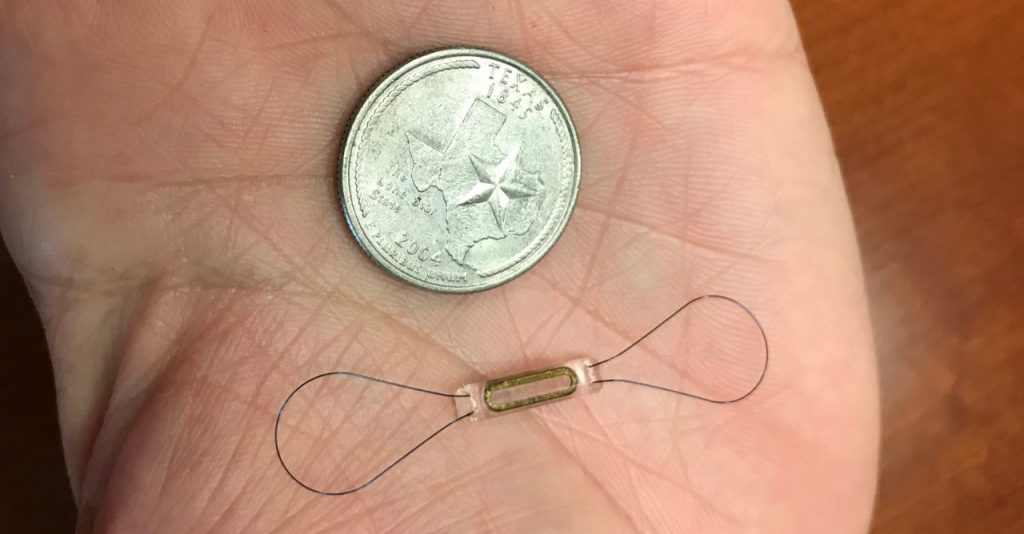 The CardioMEMS™ device is tiny and implanted into a patient's pulmonary artery. Here, it's compared to a quarter.
"This tool helps us micromanage the disease by giving us insider information about what's going on in a patient's body," said Dr. Gerard Oghlakian, a cardiologist and medical director of Mercy's heart failure program in Springfield. "It is too late in the game when we wait for the patient's fluid buildup to be detected by a three-pound weight increase or by a change in how congested they feel. This device detects changes a few days to a week before you see it on the scale."
A Proactive Approach to Disease Management
According to the Centers for Disease Control and Prevention, about 5.7 million adults have heart failure and about one million people are hospitalized for CHF every year in the United States.
"The goal is to keep patients out of the hospital because data shows the more patients end up in the hospital, the more likely they are to have negative outcomes and a higher chance of death," said Dr. Oghlakian.
Patients with the CardioMEMS™ device sit or lay down on a special pillow every day, which transmits the patient's pulmonary artery pressure to a monitoring system at Mercy. The patient's health care team receives an alert if their pressure exceeds healthy parameters. They follow up with the patient to determine the cause and offer treatment advice, like increasing the use of medication to reduce fluid buildup.
The technology also helps doctors ensure a patient's symptoms, like shortness of breath, are actually caused by CHF rather than chronic obstructive pulmonary disease (COPD) or another condition. This is especially important when developing a treatment plan to address the symptoms.
"With the right tools and the right device in place, you know you have all the information to treat the patient appropriately," said Dr. Oghlakian. "You take guessing out of the game and replace it with individualized medicine."
Thirteen patients have received the CardioMEMS™ device at Mercy Hospital Springfield since March 2016. In the year prior to receiving the device, the 13 patients had a total of 40 hospitalizations. Since receiving the technology, there have only been nine hospitalizations. Gann has not been hospitalized since Dr. Oghlakian implanted the device last year.
Because his pulmonary artery pressure is monitored every day, Gann said having the device helps hold him accountable so he does not eat too much salt or drink too much fluid, which can increase fluids in the body.
"It absolutely works well," he said. "Using it is very, very simple. I don't spend more than five minutes a day."
The CardioMEMS™ HF System is designed for patients with moderate to severe CHF who have been hospitalized at least once during the previous year.
For more information about the CardioMEMS™ technology or to schedule an appointment with Dr. Oghlakian or another team member at Mercy Clinic Cardiology – Whiteside, located at 2115 S. Fremont Ave., Suite 4300, in Springfield, call (417) 820-3911.