By Mercy's Jaclyn Bardin
Mercy Hospital Joplin is set to receive the Vista Award from the American Society for Healthcare Engineering (ASHE) in recognition of the organization's team-based approach to planning, designing and constructing the new hospital.
ASHE is a professional membership group of the American Hospital Association. The Vista Awards are not design awards. Instead, they recognize the importance of collaboration, communication and teamwork in creating optimal health care environments. Mercy Hospital Joplin earned the Vista Award for new construction projects.
"We are honored to receive this award, which recognizes our commitment to working together as a team to create a world-class hospital that meets the health care needs of our community," said Gary Pulsipher, president of Mercy Hospital Joplin. "I'm so proud of the dedication of our physicians and co-workers who collaborate every day to provide safe, quality care to our patients."
The Mercy Hospital Joplin campus opened in March 2015, nearly four years after an EF-5 tornado destroyed the former St. John's Regional Medical Center.
Planning began almost immediately after the tornado to design and construct the new 890,000-square-foot hospital. The facility includes all private rooms, the latest technology and storm-hardened features to help protect patients, visitors and Mercy co-workers from the effects of natural disasters. 

"Hundreds of people worked together as a cohesive team to design and build the new Mercy campus in Joplin," said John Farnen, Mercy's vice president of facilities. "I'm constantly amazed by the state-of-the-art facility we created and how it has given the community a sense of hope after such a terrible event."
In addition to all private rooms, Mercy Hospital Joplin also features:
A neonatal intensive care unit with private rooms that gives families the space to participate in their child's care
Birthing suites that enable mothers to labor, deliver and recover in the same room
3-D mammography and automated breast ultrasound for the most accurate diagnosis of breast cancer
Cancer care in one location and the most advanced radiation therapy technology, resulting in more convenient, quicker care
Robotic surgery, which lessens the pain and recovery time of traditional operations
The hospital has also served as a model when building Mercy facilities in other locations because of its dedication to safety and efficiency.
To learn more about Mercy Hospital Joplin, located at 100 Mercy Way, click here. To learn more about ASHE's Vista Awards, click here.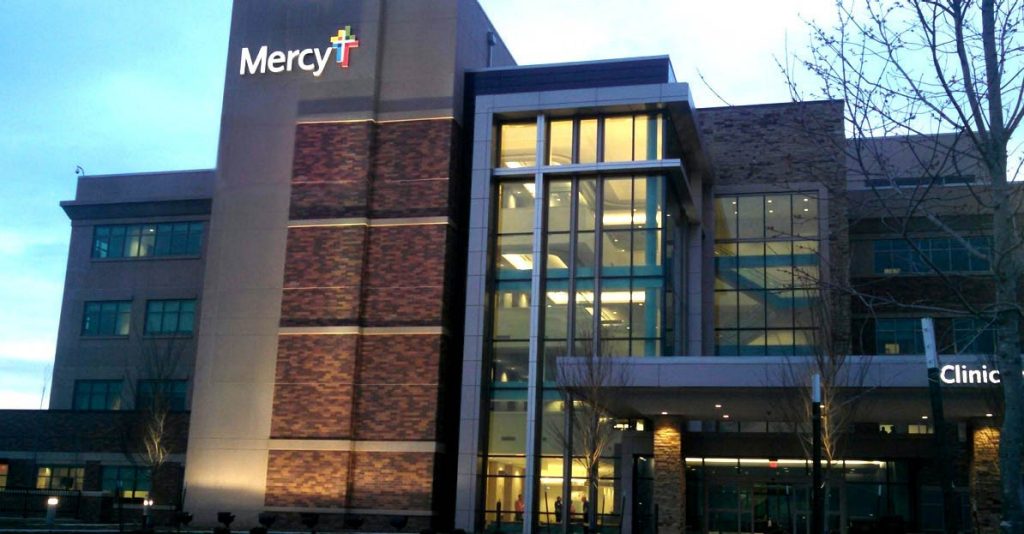 Learn More About Mercy Hospital Joplin's Journey
Mercy, named one of the top five large U.S. health systems in 2017 and 2016 by Truven, an IBM Watson Health company, serves millions annually. Mercy includes more than 40 acute care and specialty (heart, children's, orthopedic and rehab) hospitals, 800 physician practices and outpatient facilities, 44,000 co-workers and 2,100 Mercy Clinic physicians in Arkansas, Kansas, Missouri and Oklahoma. Mercy also has clinics, outpatient services and outreach ministries in Arkansas, Louisiana, Mississippi and Texas. In addition, Mercy's IT division, Mercy Technology Services, supply chain organization, ROi, and Mercy Virtual commercially serve providers and patients in more than 20 states coast to coast.