April 26, 2018
Mercy Jefferson is reaching out again in its community thanks to an idea Mercy Health Foundation board member Phil Amato shared with Dr. Ray Weick, Vice President of Mercy Clinic Jefferson.
Amato is president of the board of directors for the Arnold Food Pantry. He suggested to Dr. Weick that people who receive food from the pantries would benefit from a cookbook that provided quick and easy recipes for preparing healthy meals based on some of the common items food panties provide.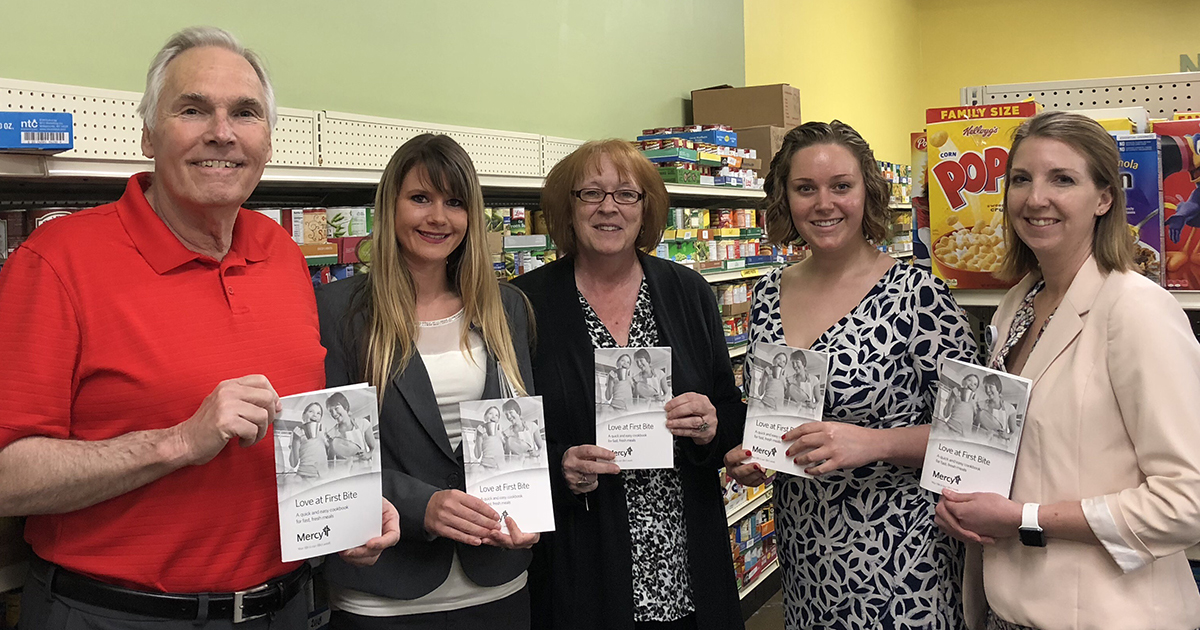 A new initiative at Mercy Hospital Jefferson called Health Leads addresses societal issues that affect health and medical care. Program Manager Chrissy Oberle said Health Leads identifies needs such as utility interruption, food insecurity, and others so that patients can be linked to resources at Mercy or in the community.
"Through this program, we have referred many patients to their local food pantries," Oberle said. "The hospital and Mercy Clinic are always trying to find new ways to encourage people to be healthier. We are here for the community when they are not feeling well, but we also want to emphasize the importance of taking care of yourself through improved diet choices, increased physical activity, and following the guidelines and recommendation of your physicians and caregivers."
She took the cookbook idea to Megan Nolan, Nutrition Services Director at Mercy Jefferson, who solicited the help of dietitians Jackee Bauch and Elizabeth Huseman for recipe evaluation and guidance. The 24-page booklet features 30 recipes along with guidelines for measuring, cooking and baking.
"We are very excited to have the cookbooks for our clients," said Terri Ferguson, executive director of the Arnold Food Pantry. "The simplicity of the cookbook is a huge factor when working with a population that has little access to recipes. I like that the booklet starts out with the terminology that will help clients learn new ways of cooking and measuring. The cookbook is very well done."
The "Love at First Bite" cookbooks will be distributed by local pantries to anyone who requests them while picking up their food items. The booklet includes recipes for breakfasts, soups, stews, main entrees, side dishes and desserts.
Media Contact