A common adhesive bandage is usually required after you skin your knee – not after you have a procedure on your arteries.
But that's all Don Rayburn needed, after coming into Mercy Hospital Springfield just days before his 85th birthday to clean out the arteries in his legs. Even better, he went home that same day.
"I'm not a big fan of hospitals," Rayburn joked. "It's much better to be at home."
Dr. Christopher Stout, a Mercy vascular surgeon, was one of the first doctors in the country to perform the new procedure to treat peripheral artery disease (PAD). That's when the arteries in the legs get clogged, blocking circulation. Using a device called R2PTM, Dr. Stout and his colleagues at Mercy can access those leg arteries through a much smaller artery in the patient's wrist.
"It wasn't terribly long ago that this sort of procedure meant cutting in to a patient's legs," Dr. Stout explained. "The next evolution of care involved accessing those arteries through the femoral artery in the groin. That was better, but there was still a risk of complications, like bleeding. The patient would have to lie still on their back for up to eight hours and could expect a few days off work. With this procedure, they're up and headed home within an hour or two, and there's usually no additional recovery time required."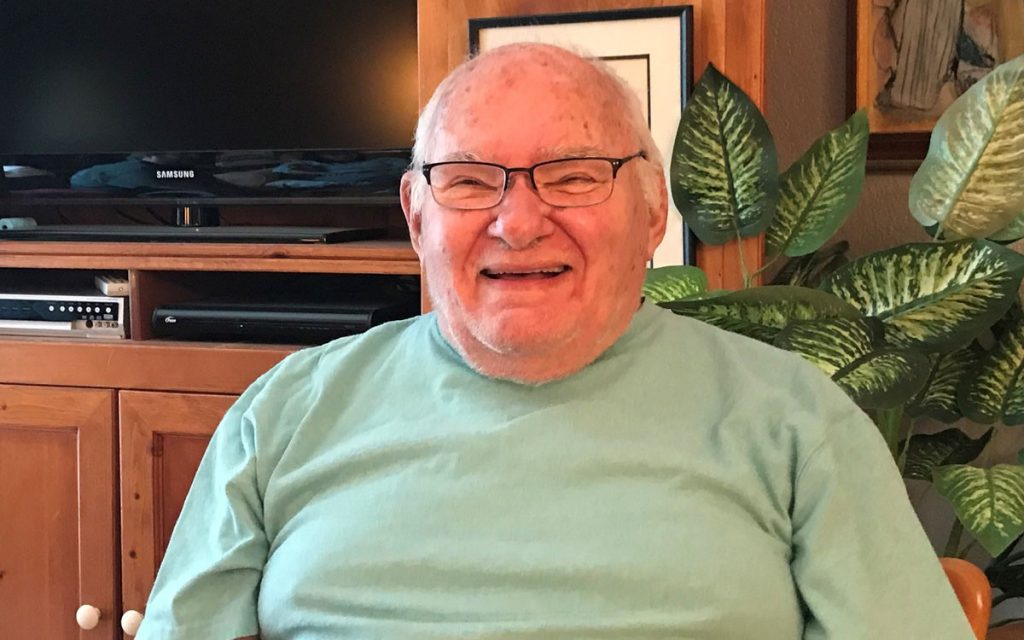 Donald Rayburn spends time at home the day after doctors at Mercy Hospital Springfield improved the blood flow through the arteries in his legs.
Rayburn may have gotten a relatively quick fix, but the pain leading up to the procedure was a very big deal. The clogged arteries in his legs meant his blood couldn't circulate well enough to oxygenate his muscles, so it hurt whenever he walked more than a few feet. Others with PAD may also experience cramping in their legs or even a sore on their foot that won't heal.
In Rayburn's case, the pain was keeping him from enjoying his friends and family. "My wife and I belong to a caring club and even walking from the car into the church was very painful," he said. "It was just over my limit. I'd have to rest a few minutes before I could walk to my seat. We seem to always meet our friends in restaurants, too, and I was starting to consider crawling in if I had to."
The day after the surgery, though, Rayburn knew he wouldn't need to crawl because his legs already felt better. "And my wrist isn't sore at all," he said. "I've been running around here just like always!"
That's the kind of result that keeps Dr. Stout trying new, innovative procedures. "Almost every patient comes back to the office smiling or even crying," he said. "They tell me they can do things again, like playing with their grandchildren. When you can walk again, your whole quality of life improves."
Mercy offers $80 screenings for peripheral artery disease, aneurysm and carotid disease at Mercy Clinic Vascular Lab and Vein Center - Whiteside.