ST. LOUIS – On the heels of earning an "A" grade for Hospital Safety, Mercy Hospital St. Louis has now also been recognized as a "Top Hospital" by the Leapfrog Group – a designation less than 6 percent of hospitals in the country attain. Mercy Hospital Springfield has earned the same honor.
The award is based on criteria that matters to patients, like preventing infections, outstanding maternity and pediatric care, safe inpatient surgeries and the use of computerized technology to prevent medication errors. The rigorous standards are defined in each year's Top Hospital Methodology.
"Being acknowledged as a Top Hospital is an incredible feat achieved by less than six percent of eligible hospitals nationwide," said Leah Binder, president and CEO of The Leapfrog Group. "With this honor, Mercy Hospital St. Louis has established its commitment to safer and higher quality care. Providing this level of care to patients requires motivation and drive from every team member. I congratulate the board, staff and clinicians, whose efforts made this honor possible."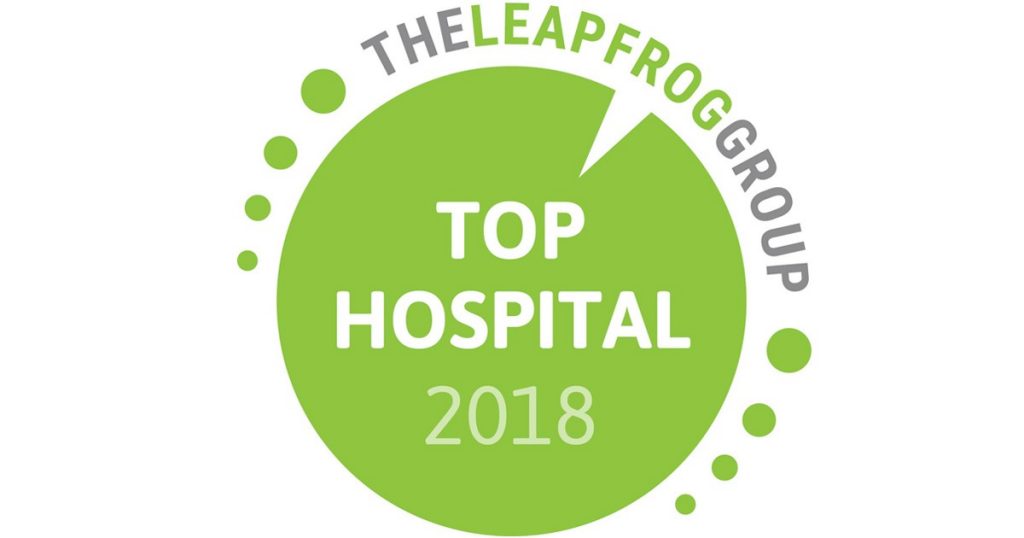 The Leapfrog Top Hospital award is widely acknowledged as one of the most competitive honors American hospitals can receive. It's awarded by The Leapfrog Group, an independent hospital watchdog organization. In addition, Mercy has also been honored for the third straight year as one of the Top 5 Large Health Systems by IBM Watson Health, which also ranks hospitals based on quality and safety measures.
"We're gratified to receive continued recognition for the quality care we provide our patients and are thankful for our co-workers who make these achievements possible," said Stephen Mackin, Mercy Hospital St. Louis president. "At Mercy, we relentlessly pursue getting health care right and the rigorous Leapfrog standards help us focus our efforts to deliver on this high mark."
To qualify for the Top Hospitals distinction, hospitals must submit a Leapfrog Hospital Survey and achieve highest performance in their category. The selection of Top Hospitals 2018 is based on surveys from nearly 1,900 hospitals. To see the full list of institutions honored as 2018 Top Hospitals, visit www.leapfroggroup.org/tophospitals.
About The Leapfrog Group
Founded in 2000 by large employers and other purchasers, The Leapfrog Group is a national nonprofit organization driving a movement for giant leaps forward in the quality and safety of American health care. The flagship Leapfrog Hospital Survey collects and transparently reports hospital performance, empowering purchasers to find the highest-value care and giving consumers the lifesaving information they need to make informed decisions. The Leapfrog Hospital Safety Grade, Leapfrog's other main initiative, assigns letter grades to hospitals based on their record of patient safety, helping consumers protect themselves and their families from errors, injuries, accidents, and infections.
In the News