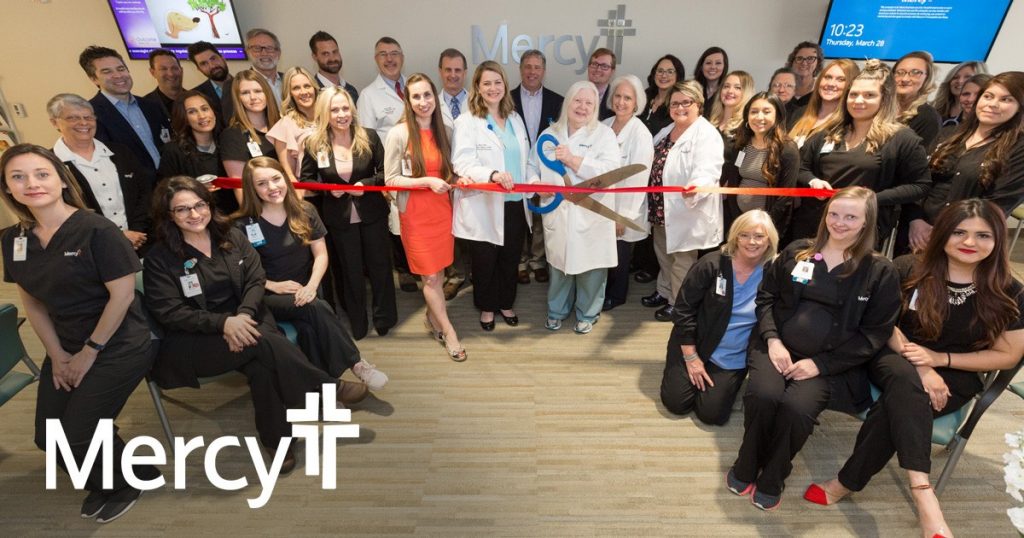 Mercy celebrated new locations for Mercy Clinic Obstetrics and Gynecology – Pinnacle Hills and the Mercy Health Foundation with a blessing and ribbon-cutting Thursday, March 28, on the sixth floor of 3333 Pinnacle Hills Parkway in Rogers.
The new clinic combines two OB/GYN clinics previously in different locations at Physicians Plaza and on the third floor of 3333 Pinnacle Hills Parkway. The newly remodeled space is home to 11 providers in a boutique clinic setting with views across Northwest Arkansas.
"Both our providers and patients are enjoying this beautiful new clinic space at the top of JB Hunt Tower," said Dr. Steve Goss, president of Mercy Clinic. "Opening the doors to this clinic is one more way we continue our commitment to provide quality, compassionate care for families in our community."
The sixth floor of the tower most recently was home to the offices of Hunt Ventures. Renovation of the space was made possible by a generous gift from Hunt Ventures and its chairman, Johnelle Hunt.
"We are so thankful for the continued support of Mrs. Hunt. She and her late husband, J.B., have been longtime supporters of Mercy," said Clark Ellison, regional vice president of Mercy Health Foundation. "Mrs. Hunt felt it was fitting to have the space that once was hers and Mr. Hunt's shared office become the foundation's new home. There is a special feeling when you walk into our new offices. There's just a cool vibe."
Mercy Clinic Obstetrics and Gynecology - Pinnacle Hills providers are:
Jaclyn Callahan, APRN
Laurie Corbitt, APRN
Kale Dittmeyer, MD
Christopher Hall, MD
Karen Hargus, MD
Dianna Juarez, MD
Mendy Mack, MD
Michael Potts, MD
Margaret Sexton, APRN
Tiffany Weathers, MD
The clinic's telephone number is 479-338-4000. Appointments may also be scheduled at mercy.net/PinnacleHills.
Mercy, named one of the top five large U.S. health systems in 2018, 2017 and 2016 by IBM Watson Health, serves millions annually. Mercy includes more than 40 acute care, managed and specialty (heart, children's, orthopedic and rehab) hospitals, 800 physician practices and outpatient facilities, 44,000 co-workers and 2,100 Mercy Clinic physicians in Arkansas, Kansas, Missouri and Oklahoma. Mercy also has clinics, outpatient services and outreach ministries in Arkansas, Louisiana, Mississippi and Texas. In addition, Mercy's IT division, Mercy Technology Services, supply chain organization, ROi, and Mercy Virtual commercially serve providers and patients in more than 20 states coast to coast.
The primary mission of the Mercy Health Foundation is to secure financial support enabling Mercy to provide affordable, quality healthcare in a faith-based environment to every individual, regardless of financial means.