May 7, 2019
ST. LOUIS - Nurses at Mercy Hospital St. Louis are selected from nominations received by patients or co-workers to be honored with the DAISY Award.
DAISY is an acronym for Diseases Attacking the Immune System. The family of Patrick Barnes established the Daisy Foundation in 1999 to express gratitude to nurses for the work they do for patients and their families every day. The award is presented in more than 1,900 healthcare facilities in all 50 states and 15 countries.
Each quarter, the Mercy St. Louis Nursing Clinical Council reviews nominations, and based on key criteria (which align with Mercy values), determine DAISY award recipients. Winners each receive a special certificate, lapel pin and hand-carved sculpture. A celebratory banner also will hang in the nurse's unit for a month.
April 2019
Joanna Hildebranski, a trauma/neuro intensive care unit nurse, was selected this quarter. When she realized it would be her terminal patient's last holiday with his wife, she went to the gift shop and purchased an angel and some chocolates for him to give to his wife. She arranged for another nurse to make sure the gift was presented, since the holiday would be Hildebranski's day off. 
As the nomination read, "This was more than going above and beyond. She is a great addition to our Trauma/Neuro ICU family."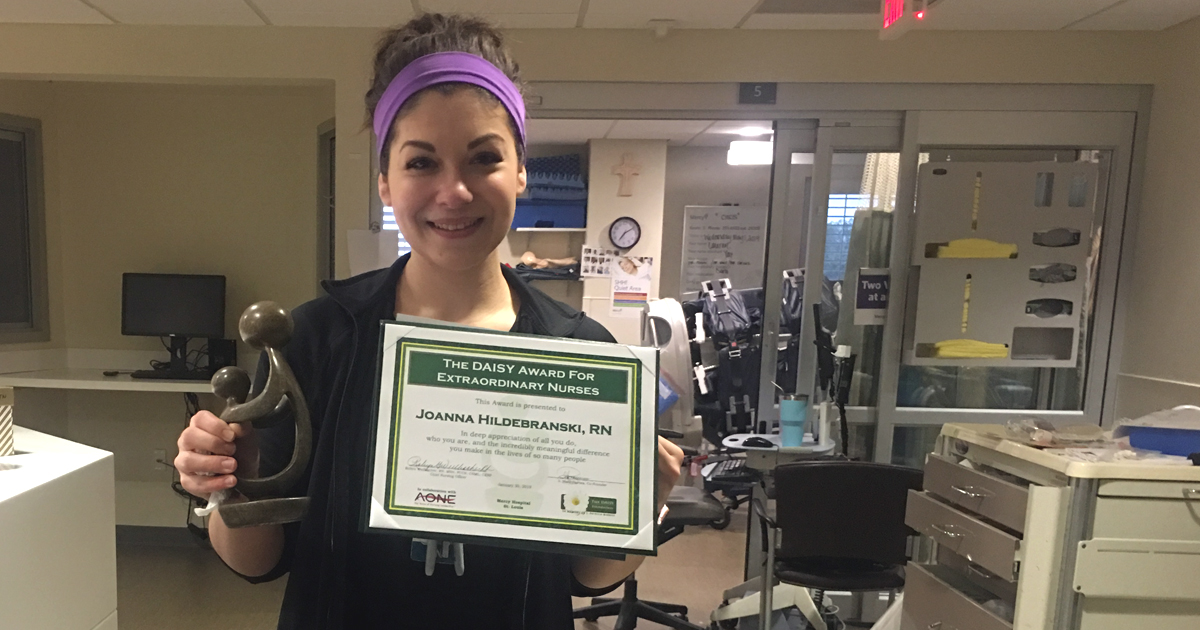 January 2019
The January winners are Chad Mancuso, oncology nurse, and Jennifer Phillips, trauma/surgery nurse.
After a breast cancer diagnosis, surgery and a middle-of-the-night hospitalization one patient was thankful to meet oncology nurse Chad Mancuso. She said, "It was very apparent to me that he wanted to make sure my questions were answered, and I was comfortable with asking him questions, that I knew he was there for me. Over the course of the next seven days, Chad took the time to make a personal connection, getting to know both my husband and me. I know the importance of clinical expertise, an area in which Chad also excelled, however the compassionate side of Chad was as important to my well-being and healing as the medical needs I required…. I can without hesitation say that every day he was charted to be my nurse, my spirits were lifted and I more positively greeted the new day! God bless Chad and all the patients within his care."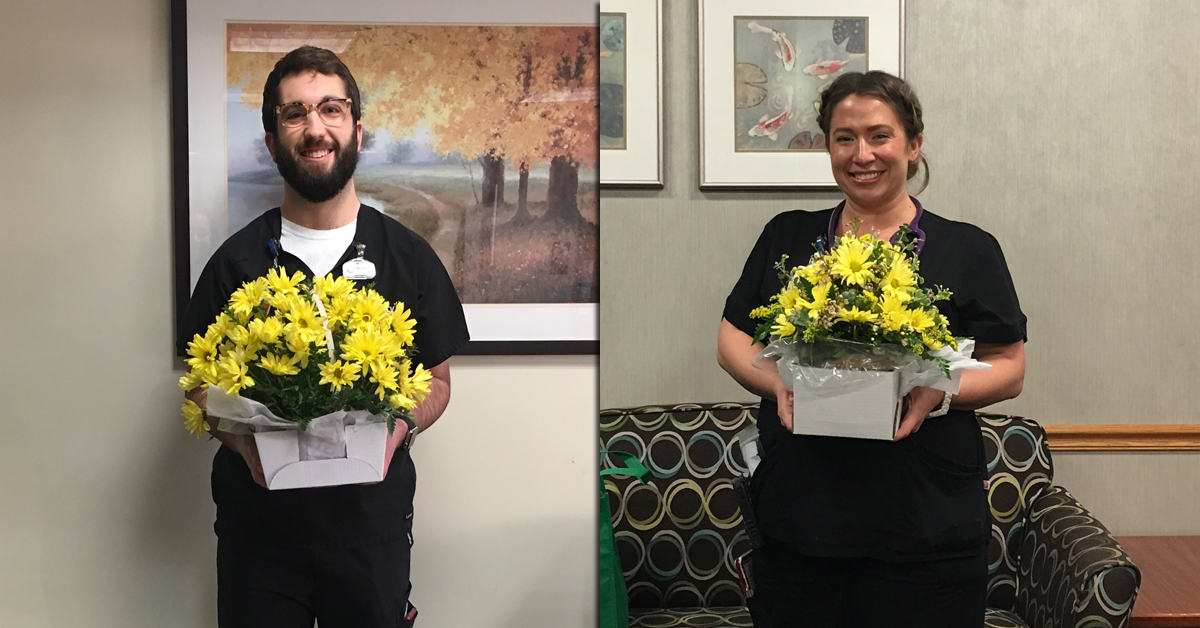 One patient was worried about losing a foot after an infection and felt Jennifer Phillips was put in the room for a purpose. The nomination said: "Jenny checked on me several times asking if I needed anything. She took my hand and asked if she could pray with me. She held my hands and prayed the most beautiful prayer. I had such a peace and quietness come over me. I have never had a nurse pray for me. I was so scared but after our prayer, I just felt so loved. I feel like God put Jenny in my room for a purpose. Thanks to Jenny. She is a keeper at Mercy."
Media Contacts