January 28, 2020
ST. LOUIS - Nurses at Mercy Hospital St. Louis are selected from nominations received by patients or co-workers to be honored with the DAISY Award.
DAISY is an acronym for Diseases Attacking the Immune System. The family of Patrick Barnes established the Daisy Foundation in 1999 to express gratitude to nurses for the work they do for patients and their families every day. The award is presented in more than 1,900 healthcare facilities in all 50 states and 15 countries.
Each quarter, the Mercy St. Louis Nursing Clinical Council reviews nominations, and based on key criteria (which align with Mercy values), determine DAISY award recipients. Winners each receive a special certificate, lapel pin and hand-carved sculpture. A celebratory banner also will hang in the nurse's unit for a month.
January 2020
Emliy Klos, RN, supervisor of Mercy St. Louis's women's health unit, is the most recent DAISY Award winner and was nominated by a co-worker. 
The nomination read, in part, "I have floated to WH multiple times in which Emily is in charge and still manages to be present, helpful and thoughtful with her care. On this particular day, she went above and beyond. One of my patients started going downhill and required most of my attention and time for the first few hours of my shift. During this time, Emily stepped up and not only did what she could to help me and this patient, but also managed to help care for my other patients while I was tied up...She is a true leader, and it shows in her actions and demeanor when speaking to both patients and co-workers. Thank you for everything, Emily!"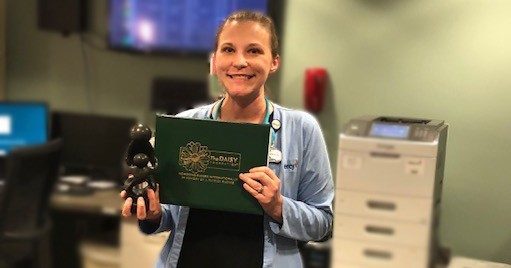 Emily Klos, RN, received the most recent DAISY Award at Mercy Hospital St. Louis.
Kristina Sandler, a nurse on the oncology unit, is the most recent DAISY Award winner. She was nominated by the husband of a recent patient.
The nomination read, in part, "...Kristina went above and beyond by spending time with my wife, really listening to her and getting to know her. She made my wife feel like more than just a patient. They shared stories about life, making the nurse/patient interaction more of a personal human connection rather than an impersonal one involving checking off the boxes for tests, meds, and process compliance...It was a hard time for us but Kristina shared her humanity and affirmed my wife's dignity while under her care. That was a gift we will cherish. I'm sure she has done so for countless other patients and families and will continue to do so."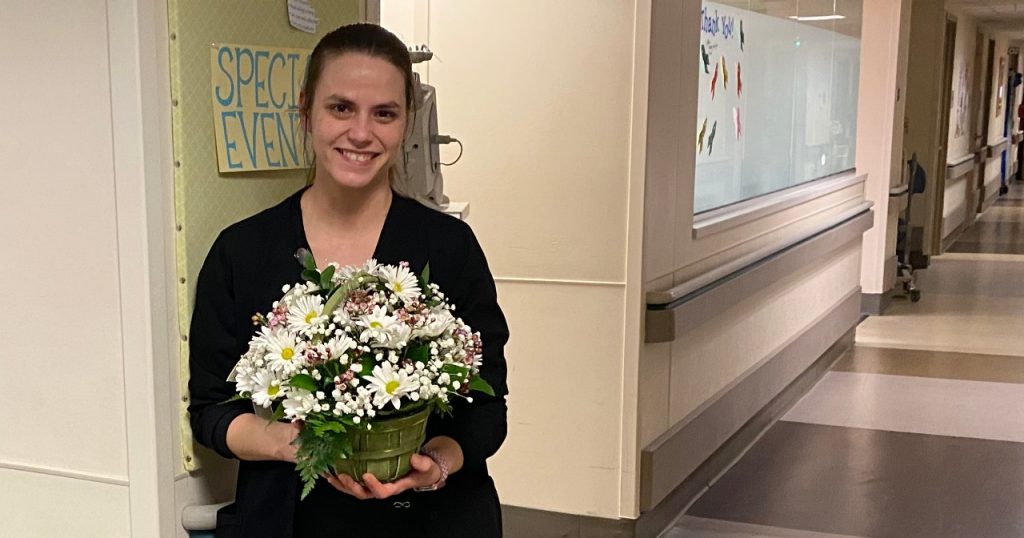 Kristina Sandler, a nurse on the oncology unit at Mercy Hospital St. Louis, received the quarterly DAISY Award.
October 2019
Mary McCoy, nurse manager of Mercy's Trauma/Neuro Intensive Care Unit, is the October 2019 DAISY Award winner. She was nominated by a co-worker for being an extraorinarily caring, thoughtful and compassionate manager.
The nomination read, in part, "Mary has shown time and again why she is the best boss/manager I have ever had... Mary was filling in wherever she could see holes occurring; helping turn patients, tag busy nurses out of rooms so they can get some work done and filling in as charge while we were short a charge nurse. All of this while working her own busy job... Mary is a true leader and displays all the qualities of a true Mercy nurse. She has touched every co-worker's life she works with and makes everyone's day better. I hope one day I can be half the nurse she is."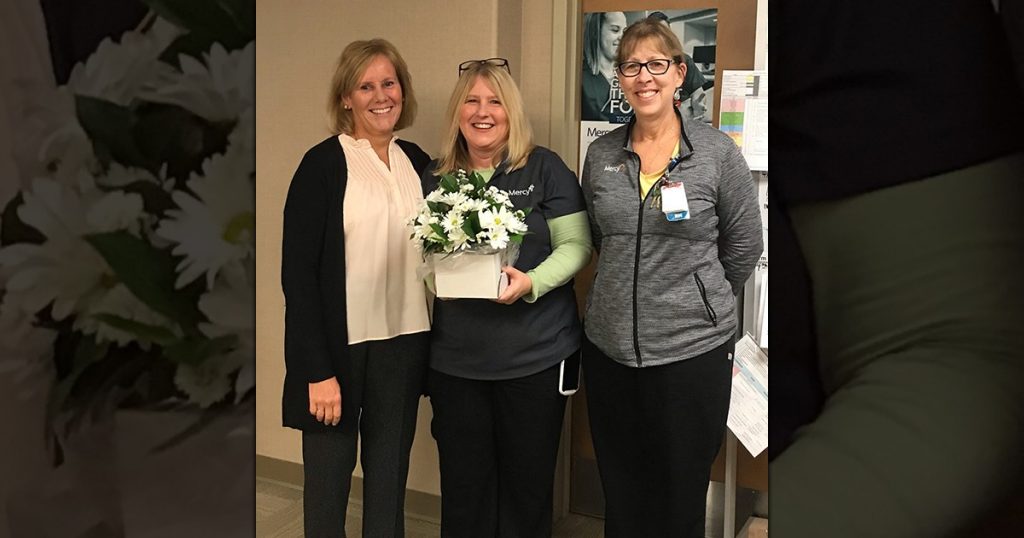 Mary McCoy, (center) nurse manager for the Trauma/Neuro ICU at Mercy Hospital St. Louis, presented with the quarterly DAISY Award by Robyn Weilbacher, (right) regional chief nursing officer and Julie Brooks, (left) executive director of nursing.
July 2019
Ryan Meldrum, a nurse in the post anesthesia care unit (surgery recovery), is the DAISY Award quarterly winner. He was nominated by a fellow nurse who noted his determination when advocating for a recent patient. His questions led to the patient returning to the operating room where the issue was addressed and prognosis improved. In addition, the nomination calls out Meldrum's compassion as he helped the patient and family with their emotional needs, "displaying true Mercy values."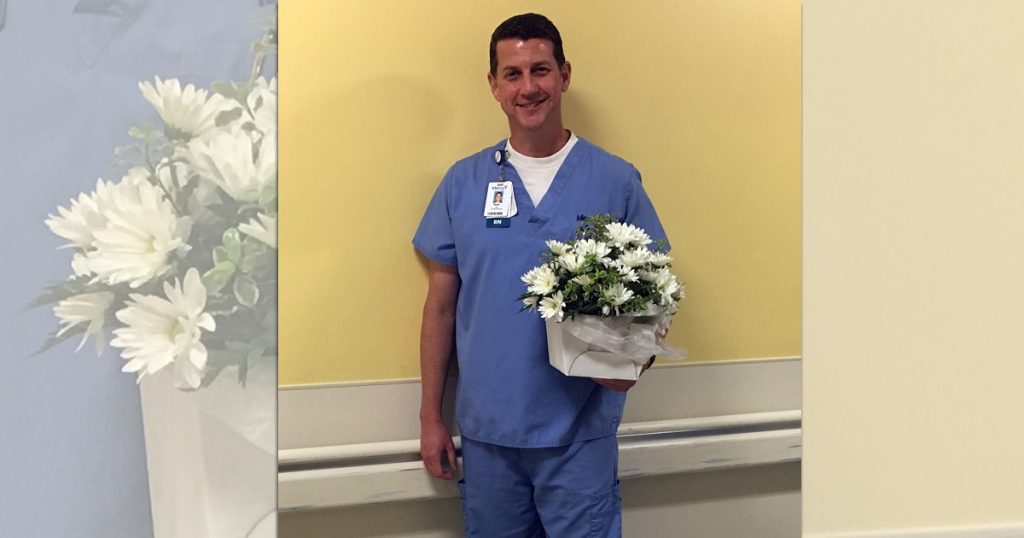 Ryan Meldrum, nurse in the Post Anesthesia Care Unit at Mercy Hospital St. Louis, received the quarterly DAISY Award.
A Team DAISY Award was given in July to the neonatal intensive care unit. The nomination by Mid-America Transplant Services mentions the care provided to a family whose baby would be an infant organ donor. The nomination read, in part: "Every nurse who took care of the patient was the very definition of compassion. Many co-workers came in on days off to support the family and say goodbye. They showed compassion, kindess, care, friendship and love when the parents needed it most."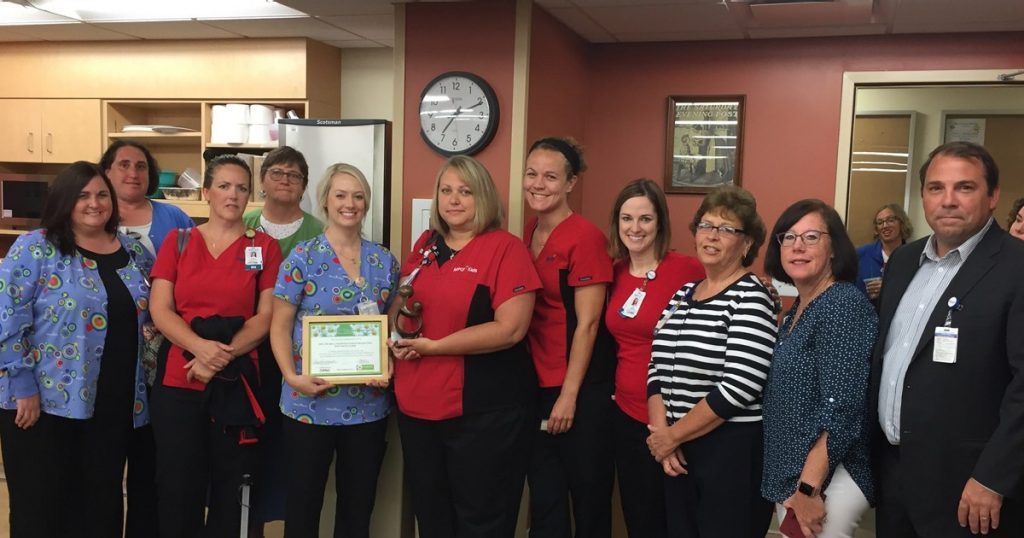 The neonatal intensive care unit team was honored with a Team DAISY Award.
April 2019
Joanna Hildebranski, a trauma/neuro intensive care unit nurse, was selected this quarter. When she realized it would be her terminal patient's last holiday with his wife, she went to the gift shop and purchased an angel and some chocolates for him to give to his wife. She arranged for another nurse to make sure the gift was presented, since the holiday would be Hildebranski's day off. 
As the nomination read, "This was more than going above and beyond. She is a great addition to our Trauma/Neuro ICU family."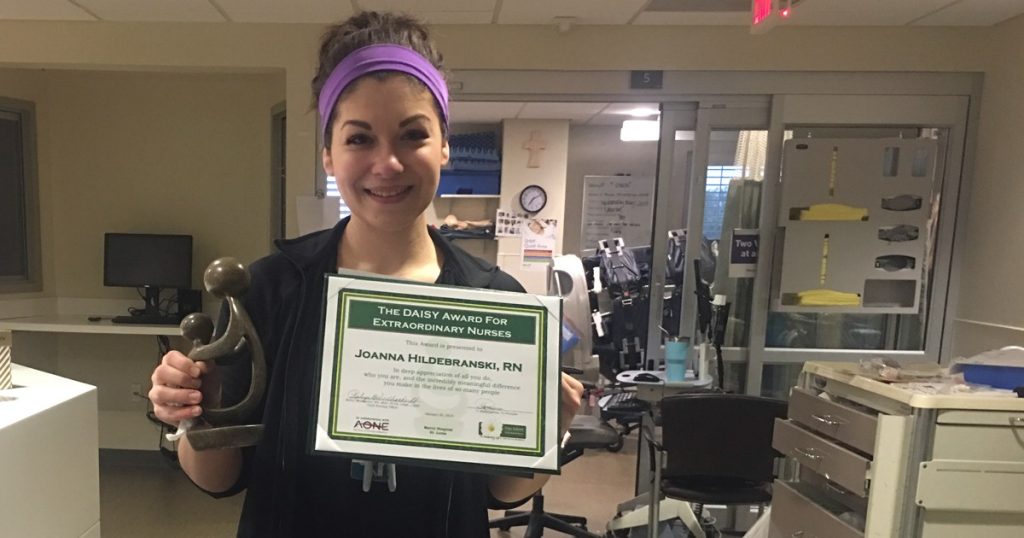 Joanna Hildebranski, trauma/neuro ICU nurse, was honored with the DAISY Award for going above and beyond.
January 2019
The January winners are Chad Mancuso, oncology nurse, and Jennifer Phillips, trauma/surgery nurse.
After a breast cancer diagnosis, surgery and a middle-of-the-night hospitalization one patient was thankful to meet oncology nurse Chad Mancuso. She said, "It was very apparent to me that he wanted to make sure my questions were answered, and I was comfortable with asking him questions, that I knew he was there for me. Over the course of the next seven days, Chad took the time to make a personal connection, getting to know both my husband and me. I know the importance of clinical expertise, an area in which Chad also excelled, however the compassionate side of Chad was as important to my well-being and healing as the medical needs I required…. I can without hesitation say that every day he was charted to be my nurse, my spirits were lifted and I more positively greeted the new day! God bless Chad and all the patients within his care."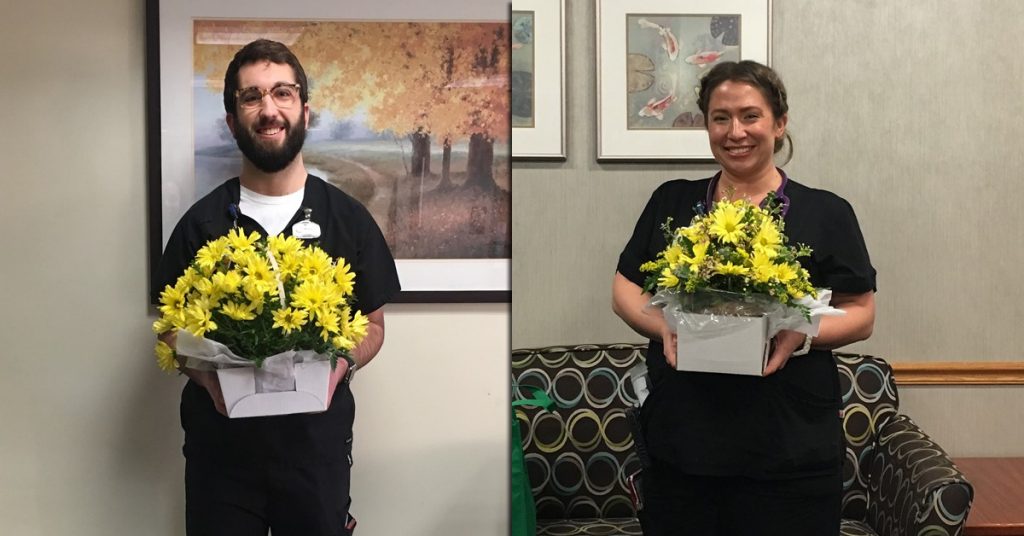 Chad Mancuso and Jennifer Phillips were the 4th Quarter DAISY Award recipients at Mercy Hospital St. Louis.
One patient was worried about losing a foot after an infection and felt Jennifer Phillips was put in the room for a purpose. The nomination said: "Jenny checked on me several times asking if I needed anything. She took my hand and asked if she could pray with me. She held my hands and prayed the most beautiful prayer. I had such a peace and quietness come over me. I have never had a nurse pray for me. I was so scared but after our prayer, I just felt so loved. I feel like God put Jenny in my room for a purpose. Thanks to Jenny. She is a keeper at Mercy."
Media Contacts
Bethany Pope
St. Louis, St. Charles, St. Louis - South, Troy, Festus