May 20, 2019
Mercy Health Foundation's giving society Women with a Mission presented a grant totaling $65,000 to support Mercy Hospital Joplin's Breast Center and cancer program on Monday, May 20, in the hospital's gallery.
Each year, the society identifies health care needs within Mercy and then votes on projects to support. This year, Women with a Mission's donation helped purchase a SCOUT® Radar Localization for Breast Cancer Surgery system. This innovative technology helps to make the day of breast cancer surgery easier and shorter for women and more efficient for health care providers.
According to one of Mercy's breast surgeons, Dr. Kenneth Watts, "The SAVI SCOUT system allows breast cancer patients to have an easier and smoother experience as they go through a breast biopsy or lump removal procedure."
He explained further, "With the SCOUT, a reflector about the size of a grain of rice is inserted into the targeted breast tissue, rather than inserting a wire. Since the SCOUT is nonradioactive and wire-free, patients can have it placed days or weeks in advance of breast surgery, allowing for less stress and waiting time on surgery day and potentially less cosmetic damage later."
Kim Kory, executive director of Mercy Health Foundation, said, "This new technology will have a dramatic impact on the day of surgery for those women in our region who are facing breast cancer. We hope this will help to improve their experience."
Women with a Mission allows community members and Mercy co-workers an opportunity to give back. The society strives to continue the mission of Mercy's founder, Catherine McAuley, to care for those in need and ease suffering in the world. Dr. Watts added that the new localization technology, "also goes along with Mercy's mission to care for patients in our community and to have one of the most comprehensive breast centers in the country."
Kory continued, "We cannot thank Women with a Mission enough for their generous contribution."
Membership is open to all women who support the mission of Mercy Hospital Joplin with a minimum $1,000 annual gift. To become a member, visit https://www.mercy.net/practice/mercy-health-foundation-joplin/women-with-a-mission-joplin/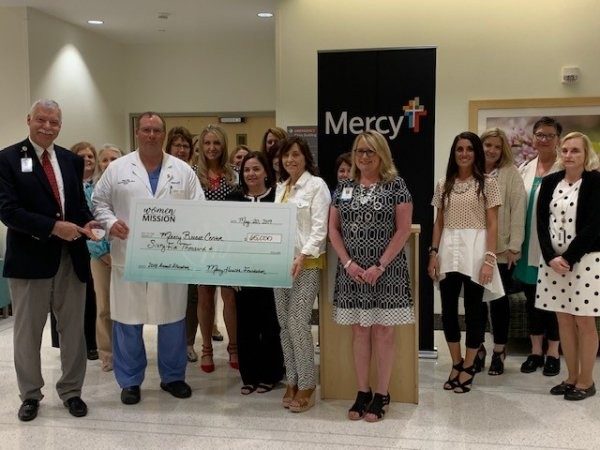 Women with a Mission present check of $65,000 to Mercy Health Foundation.
Media Contacts
Ellis Kmetzsch
Carthage, Columbus, Joplin