ST. LOUIS – Patients with certain tumors now have an alternative to surgery with the CyberKnife M6 at Mercy's David C. Pratt Cancer Center, the newest such technology is Missouri.
The CyberKnife is a fully robotic radiation delivery system, providing non-invasive treatment for cancerous and non-cancerous tumors and other conditions where radiation therapy is indicated. Tumors of the prostate, lung, brain, spine, head and neck, liver, pancreas, kidney and certain gynecologic tumors are often candidates for CyberKnife therapy. It also can be an option for some patients with inoperable or surgically complex tumors.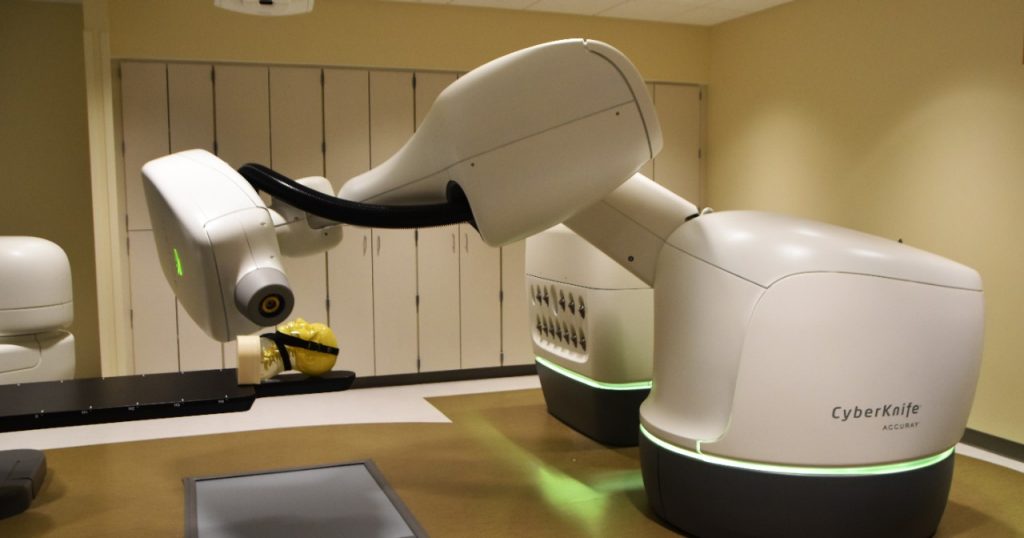 The CyberKnife M6 is now available to patients at Mercy St. Louis' David C. Pratt Cancer Center.
"The robotic design, coupled with real-time imaging, enables the CyberKnife to deliver a maximum dose of radiation directly to the tumor from many different angles with precision," said Dr. Robert Frazier, Mercy's chief of radiation oncology. "Images are constantly taken and sent back to the robot to adjust the beam to accurately target the tumor, sparing healthy tissue and critical organs from damage – enabling patients to get back to their lives more quickly."
Depending on the type of tumor, patients can complete their treatment in one to five days compared to weeks usually needed for conventional radiation therapy. Treatment is a pain-free outpatient procedure without anesthesia. Patients have no recovery time and usually return to normal activities right away.