With participants standing at least 6 feet apart, Mercy Lebanon blessed a facility that will provide an additional layer of care to the community as it faces the COVID-19 pandemic.
Cody Alley, manager of Pastoral Services at Mercy Hospital Lebanon, joined a handful of co-workers to bless a "forward triage" facility just outside the hospital's emergency room (ER). It will be used to quickly provide help and masks for those who think they may have COVID-19. Robb's Portable Buildings in Rogersville, Missouri, donated and delivered a building the hospital is using for initial check-in as well.
Adding this extra level of care protects patients who are visiting the ER for unrelated issues. A Mercy co-worker will perform an initial triage to quickly assess the reason for a patient's visit. If COVID-19 is suspected, the patient will be isolated from the rest of the patients and treated in that space. If the potential COVID-19 patients are seriously ill, they will be routed through a separate entrance to minimize exposure to the waiting room and other patients.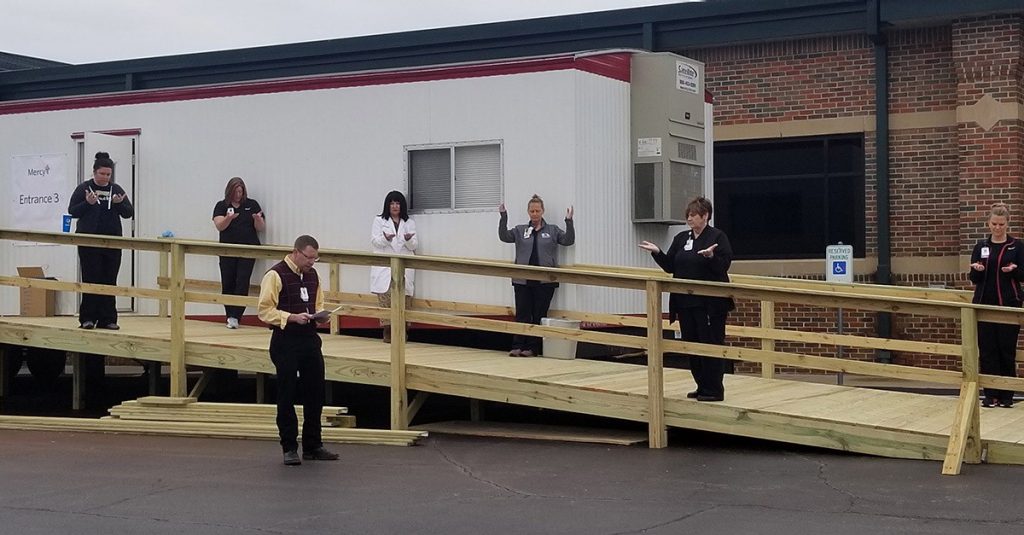 Cody Alley, manager of Pastoral Services at Mercy Hospital Lebanon, leads the blessing for the new "forward triage" facility.
"We've opened a similar facility outside our ER in Springfield," said Brent Hubbard, COO and president of Mercy Hospitals Springfield Communities. "It's been well received by all our patients, who have understood how it helps us isolate those with COVID-19 symptoms from those with other illnesses and injuries. It's all about getting the right help to everyone as quickly and safely as possible. When we saw the success there, we wanted to bring this option to Lebanon as soon as possible."
The facility starts triaging patients today.