April 28, 2020
by Mercy's Sonya Kullmann
At a time when most people should stay home, the hunt for a new job is happening on the internet. That's why Mercy is meeting candidates where they are.
Career fairs are now online events, with participants signing up to chat from the comfort of their couches.
"We first tried using this technology in 2015," said Kayla Drady, Mercy director of talent acquisition strategy and operations. "But as early adopters, we didn't see great engagement from job seekers or our leaders. Everyone still wanted to meet in person. Now, with COVID-19 keeping people at home, this is becoming very popular among our candidates."
Mercy reintroduced the virtual career fairs for non-provider positions in February and has hosted 15 events since. More than 330 people have attended the virtual events, resulting in more than 50 interviews and 30 new hires so far.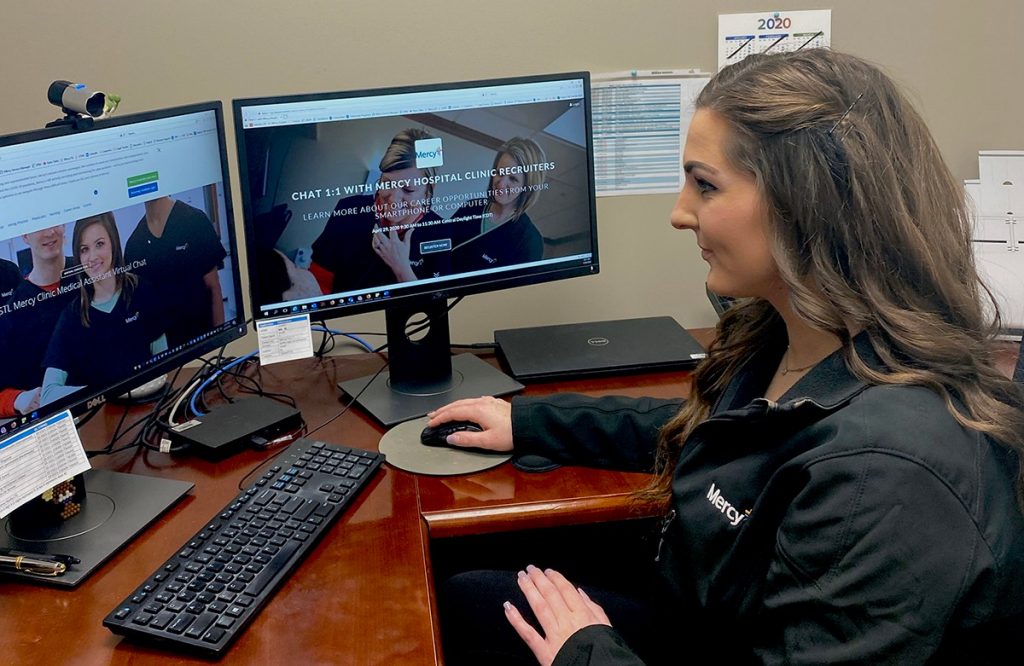 Virtual fairs also cast a wider net, so those who are looking for a position at Mercy can be several states away and still feel like they're able to fully investigate open positions.
When it comes to finding new physicians and advanced practice clinicians, Mercy has a team of recruiters who used to travel across the country to attend career fairs. Now, they're finding virtual options are easier, more effective and a cost saver. "Attendance at those in-person fairs was 150 candidates, at the most," said Tammy Hager, executive director of Mercy's talent selection. "Now, more than 250 people are attending each virtual fair. Our talent scouts can instant message with up to four candidates at a time, and as the selection process progresses, we're also doing virtual interviews."
Another advantage is that health care professionals often work odd hours, and Mercy's platform enables them to easily self-schedule an appointment on a recruiter's calendar. "Candidates text some basic pre-screening answers and then provide us with a phone number, so we can complete the interview," said Paul Kinsey, Mercy director of talent selection innovation. "That prompts a call. We get a recorded interview applicants can respond to when they have time."
While Mercy may eventually begin in-person job fairs again, it also plans to continue virtual options. "Our candidates expect ease, transparency and simplicity when they're looking for new opportunities," said Scott Sell, Mercy vice president of talent selection and executive recruitment. "We're striving to provide the same quality in our hiring process as you would expect when you turn to us for your health care needs. As a leader in virtual medicine, we also want to lead in virtual hiring."
Media Contacts