Construction is complete. The newest technology is in place. The co-workers are trained and ready to provide compassionate care. Today, patients walked in to the David M. Sindelar Cancer Center at Mercy Hospital South to receive the first treatments provided in the new, state-of-the-art, comprehensive cancer center.
"What these patients will find are services to meet all their needs, to treat any type of cancer, all under one roof," said Dr. Shaun Donegan, Mercy regional medical director of medical oncology. "We're talking about more than just their medical needs. We are seeking to provide for their emotional, spiritual, nutritional and other needs that come with a cancer diagnosis."
The Sindelar Cancer Center is a stand-alone, two-story, 78,000-square-foot facility located on the Mercy South campus across the main drive from the emergency department. Patients and visitors walking through the main entrance are greeted by the open, inviting Boniface Foundation Atrium filled with natural light. The Rooney Breast Center has its own dedicated entrance on the opposite end of the facility, providing patients with direct access to mammography and other breast health services.
Once inside, patients will have access to the infusion center, radiation oncology services, imaging, laboratory, integrative medicine, Mercy Clinic offices, chapel, specialty boutique, café, conference center and more. Specialized co-workers, including oncology nurse navigators, counselors, chaplains, social workers and dietician, provide the individualized care to each patient.

"We've listened to our patients over the years about what we can do to improve their care," Dr. Donegan said. "The infusion center we've created is a great example of taking those suggestions and putting them into practice to meet the varying needs of our patients."
The infusion center includes three different spaces where patients can choose to receive treatment based on the level of privacy they want. A community room allows them to spend time with other patients, especially those patients they may see on a regular basis because they receive treatment on similar schedules. The open room includes a fireplace, virtual aquarium and a great view of the outdoors from the second floor.
Patients seeking more privacy can choose to use a semi-private bay that allows them to close or open a curtain as they wish. Another option patients may choose is a private room by themselves.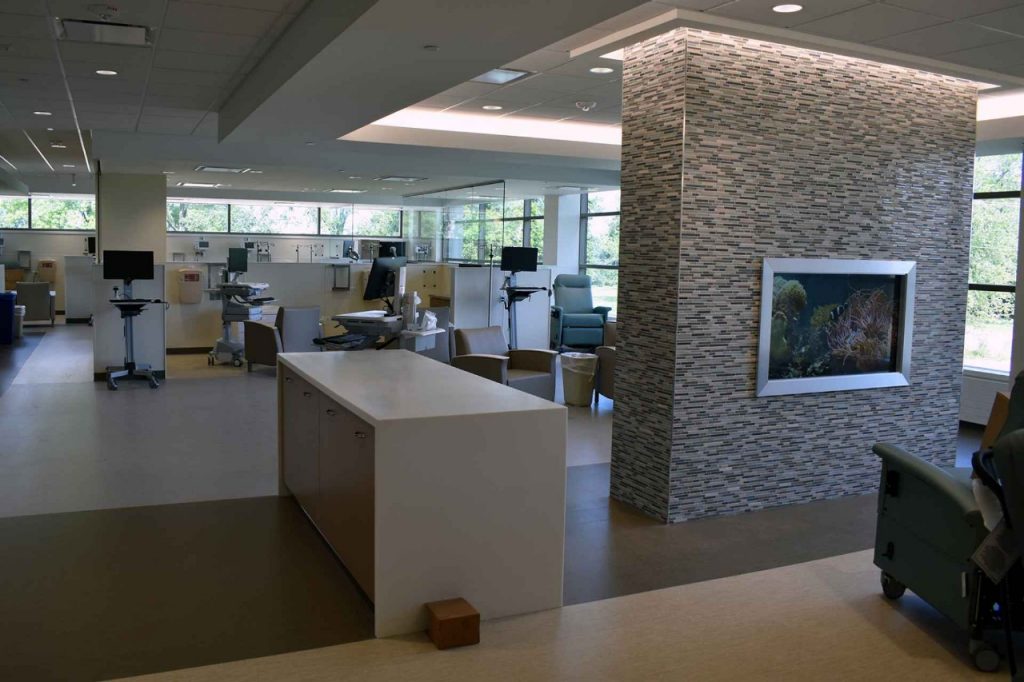 The infusion center inside the David M. Sindelar Cancer Center.
The radiation oncology unit is where the newest technology is most obviously on display with two state-of-the-art linear accelerators, including one of only six Accuray Radixact with Synchrony machines in use in the United States.
"The use of the Radixact tomotherapy treatment machine is another way we're able to help put our patients a little more at ease," said Dr. Mary Graham, radiation oncologist. "This device is able to pinpoint where it needs to deliver its radiation treatment and follow that targeted area even when a patient breathes. We also have an Elekta Versa HD linear accelerator. We are able to provide radiation therapy services with each of these two machines."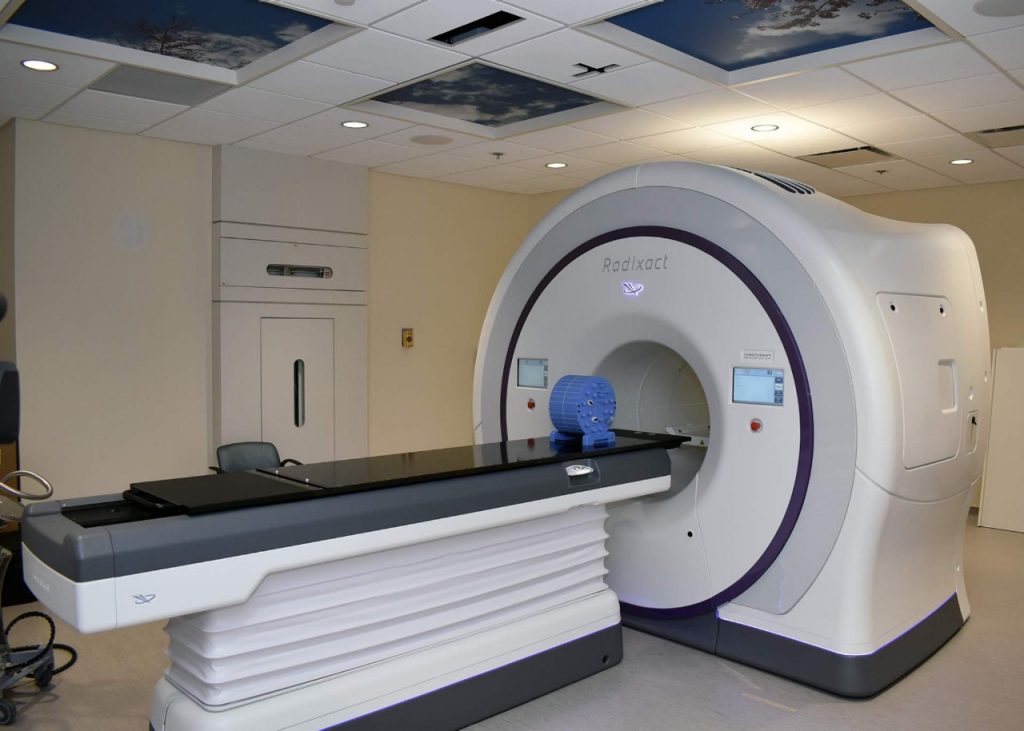 The Accuray Radixact with Synchrony linear accelerator used to provide radiation treatment for cancer patients.
Imaging services include MRI, CT, PET, X-ray, ultrasound, mammography (both 3D tomosynthesis and 2D) and bone densitometer.
"The availability of all these services in one place is convenient, and we've taken other steps to improve the comfort of our patients," said Dr. Paul Oberle, radiologist with the Rooney Breast Center. "For example, we've added sensory suites to our mammography rooms to create a more relaxing environment. Plus, the addition of a second breast ultrasound machine will help us better serve our patients."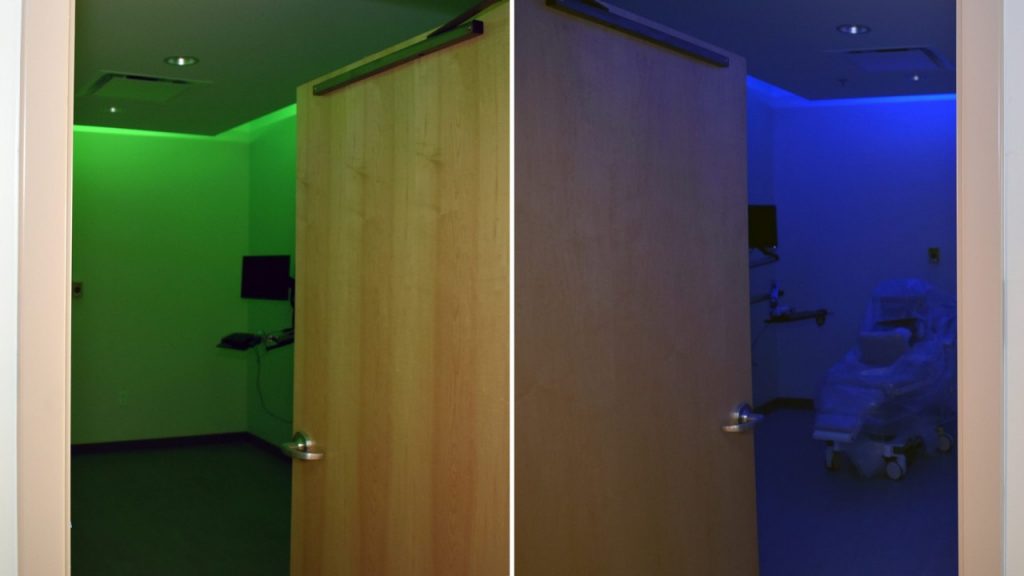 Green and blue are just two of the colors available for patients to choose for the lighting in their mammography room.
Mercy Clinic physicians located in the cancer center include medical oncologists and hematologists, surgical specialists, breast surgery specialists and palliative care.
"Working close to each other allows us to better collaborate," said Dr. John Whitfield, Mercy Clinic colorectal surgeon. "That collaboration between different specialties in turn leads to better care for our patients."
"The cancer center is a special place because we've brought together all the services a patient and their caregivers need in one building," said Kim McGrath, executive director of cancer and imaging services. "We have physicians, lab, imaging, financial counseling, navigation and integrated medicine all in one place to provide quality care and exceptional service to make the most of their experience and time."
Integrative medicine includes services some people might not associate with cancer care and traditional medicine, such as acupuncture, chiropractic care, healing touch therapy, massage therapy, reflexology, mindfulness and meditation, tai chi, Pilates and yoga.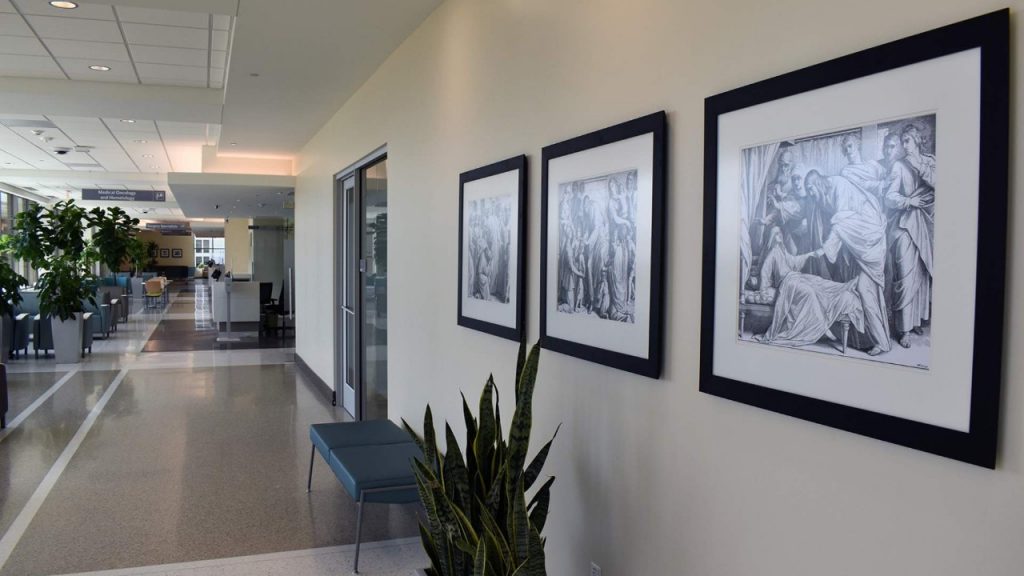 A view down one of the hallways of the David M. Sindelar Cancer Center with its inspirational artwork.
The Comfortable Cup Café provides patients and visitors with healthy options to meet the nutritional needs of cancer patients. A specialty boutique offers a variety of items designed specifically for cancer patients, such as wigs and scarfs.
Patients, their family and friends can rely on chaplains for help with their spiritual needs, and a chapel provides a prayer space. Much of the furniture in the chapel was built by Anew Nature from trees removed from the site to make way for the cancer center. Anew teaches job skills to felons through its internship and employment program.
The center also includes conference space and plentiful parking with an extensive number of handicapped accessible spaces.
"There are a lot of these details, from massage therapy to the café, from the boutique to the chapel, and from all the natural light to the décor, that by themselves are nice to have," Dr. Donegan said. "But when you put them all together the way we have, they create an environment that benefits our patients a great deal, lowers their stress and promotes healing."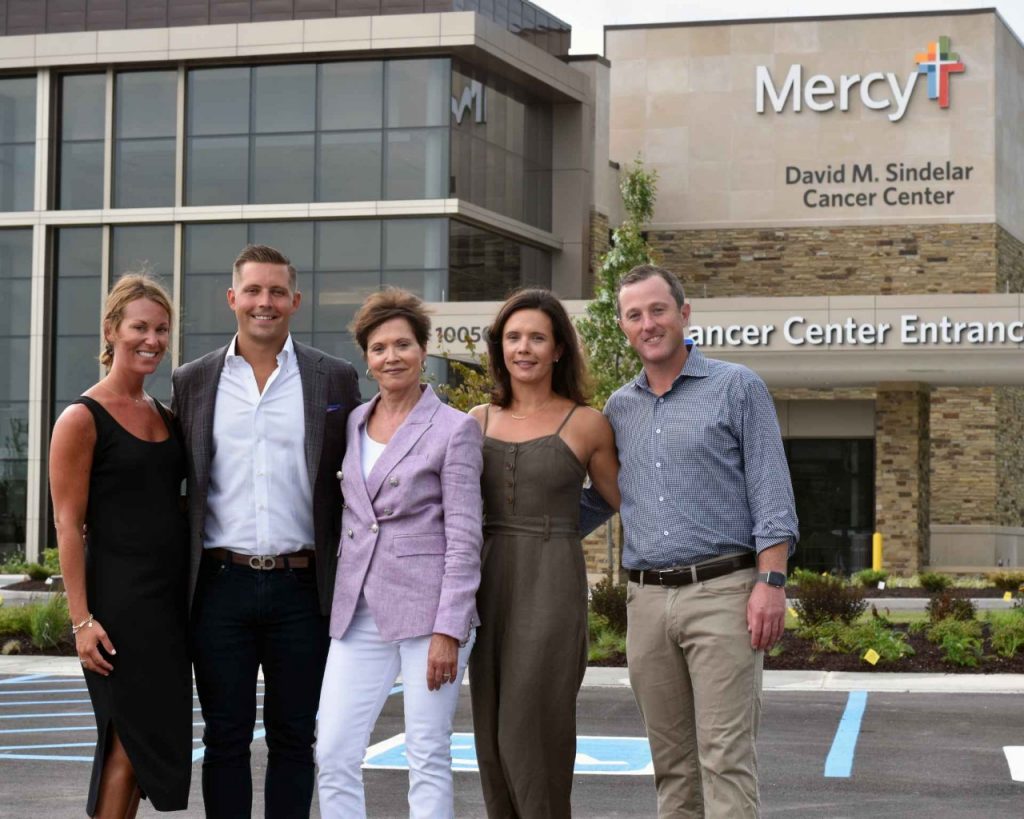 from left to right: Maria and James Sindelar, Sara Sindelar, and Lauren (Sindelar) and Coleman Sheehan pose in front of the David M. Sindelar Cancer Center at Mercy Hospital South.
The name of the cancer center honors David Sindelar and the leadership he provided St. Anthony's Medical Center for many years through the decision to join Mercy. That agreement was reached shortly before Sindelar lost his own battle with cancer in March 2017. Groundbreaking for the cancer center that bears his name took place in September 2018.
The name of the Rooney Breast Center honors Sara Sindelar, whose maiden name is Rooney, along with the rest of the Sindelar and Rooney families, for their continued support of this project and the mission to serve the south St. Louis County community.
In the News