After her doctor saw a problem during a routine pregnancy check-up, Amy Lawrence was sent to Mercy Hospital for a few hours of monitoring. A few hours became a day and within 48 hours, her care team determined her twin girls would be delivered at 30 weeks.
While Lawrence was being monitored, Dr. Kale Dittmeyer asked a neonatologist and nurse practitioner from Mercy Hospital's Neonatal Intensive Care Unit to stop by for a visit, just in case. There were introductions and Lawrence and her husband, Matthew, were able to ask questions about what to expect if their twins' birth couldn't safely wait.
"They put us at ease knowing that if our girls had to come 10 weeks early that they'd be ready for us and the girls would be in good hands. This really set the tone for our experience in the Mercy NICU," Amy said. "The day the girls were born was an overwhelming and scary day for us but everyone on the NICU team played a part in helping us through."
The moments after the twins' birth were intense. Each girl had a team working on her, monitoring her status and doing post-birth checks, creating a noisy but necessary commotion.
"I hadn't been able to see the babies too closely yet, and there was a lot going on. I remember the neonatologist propped up our small twin and said, 'Look, mom, she's doing great,'" Amy said. "For her to take the time to check in with me while they were helping our girls really meant a lot."
Babies' time in the NICU is a marathon, not a sprint. Through three grueling months, the Lawrences began to see the NICU co-workers as part of their team. They kept the parents up to date on changes and developments, and everyone celebrated the girls' tiny milestones. There were lots of little extras Mercy co-workers took care of, too, like making the girls' footprints, a summer-themed photo shoot and a Father's Day card. One nurse crocheted little crowns for the twins and a matching crown for their 2-year-old sister.
The Lawrences juggled family life and time at the hospital, but they never had reservations about leaving their tiny girls in the care of the NICU team.
"We spent a total of 86 days in the NICU. It's hard to express how much the doctors, nurse practitioners, nurses and therapists did for our family over the course of those three months. One of the things that sticks out most was the highly individualized attention we received. I spoke to the doctors and nurse practitioners pretty much every day. If I happened to miss them during rounds, they always made themselves accessible for questions or updates," she said.
Amy Lawrence continues to be part of Mercy's NICU parents' support group and agreed enthusiastically to tell her story to recognize the contributions of NICU professionals today for national Neonatal Intensive Care Awareness Day. Twins Juliet Carol and Madison Antoinette, 1, are healthy, happy and doing great.
"Everyone treated our girls so incredibly sweetly," Amy said. "We are so thankful that our girls got their start in the Mercy NICU."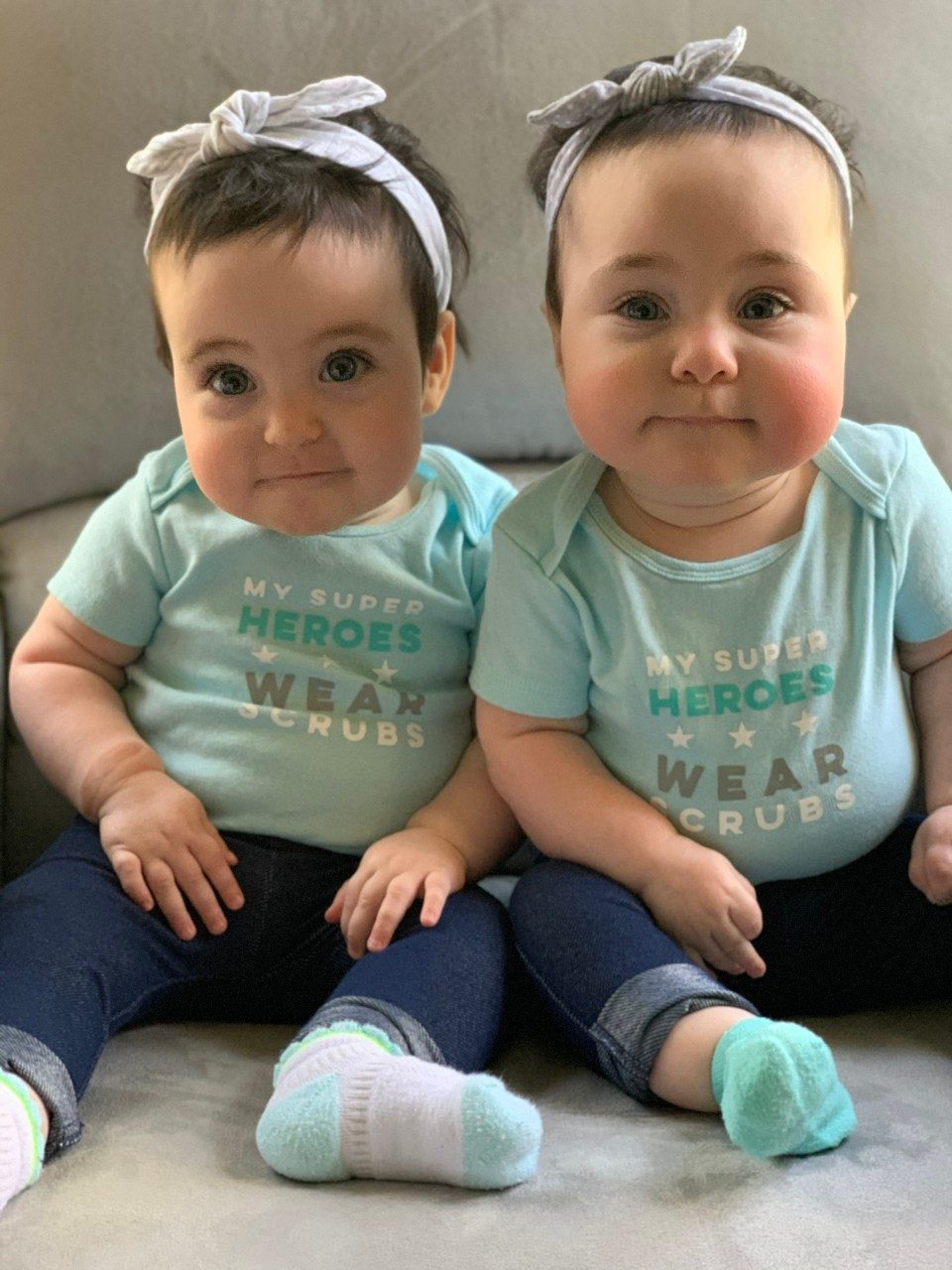 Juliet Carol and Madison Antoinette Lawrence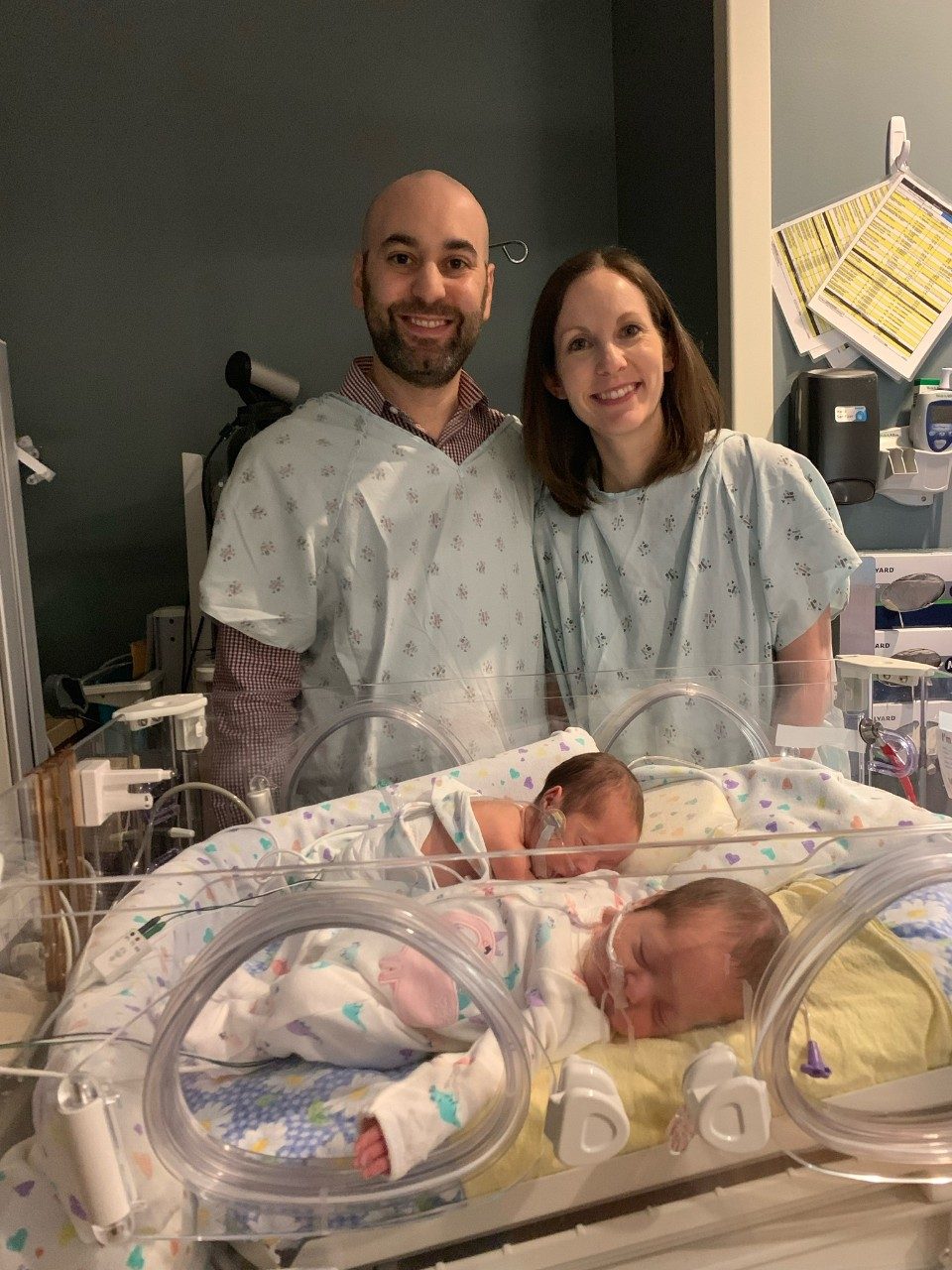 Matthew and Amy Lawrence in the Mercy neonatal intensive care unit with their twin girls Juliet Carol and Madison Antoinette.