Dr. Pete DiPasco is living his passion – not just as a physician and a surgeon, but as a surgical oncologist. It is a calling that fulfills his life and translates to extraordinary care for his patients.
Dr. DiPasco discovered his passion early in his career as a surgeon. Once he started working with cancer patients, he knew that is where he belonged.
"You have to realize where you fit. I realized I have an unending well of compassion for cancer patients, and I knew the service I could provide them would make a profound impact," said Dr. DiPasco.
"Cancer patients are at a very vulnerable point in their lives. Working with them provides me the opportunity to help hold them up, get them through it and move with them through their journey," said Dr. DiPasco. "Surgical oncology requires the same skills and provides the same challenges that come along with general surgery but combines it with the long-term patient relationships that more commonly come with being a primary care physician. I get to have that relationship with my patients because of the success of the treatments and interventions we provide. We get to ensure they celebrate another birthday or anniversary, the arrival of a grandchild or so many other milestones in life."
Finding his fit also meant finding Mercy, where he sees patients at Mercy Clinic Surgical Specialists – Sindelar Cancer Center at Mercy Hospital South and Mercy Clinic Surgical Specialists – Medical Tower B at Mercy Hospital St. Louis. His role at Mercy allows him to fully utilize his skills and fulfill what he believes is his purpose as a surgeon: to care for cancer patients, particularly those suffering from foregut cancers, endocrine tumors and sarcoma, which is cancer of the soft tissue that can strike just about anywhere in the body.
Mercy also provides a couple of very important personal opportunities: to bring his family home to St. Louis, where he was born and raised, and to live his faith through the care he provides.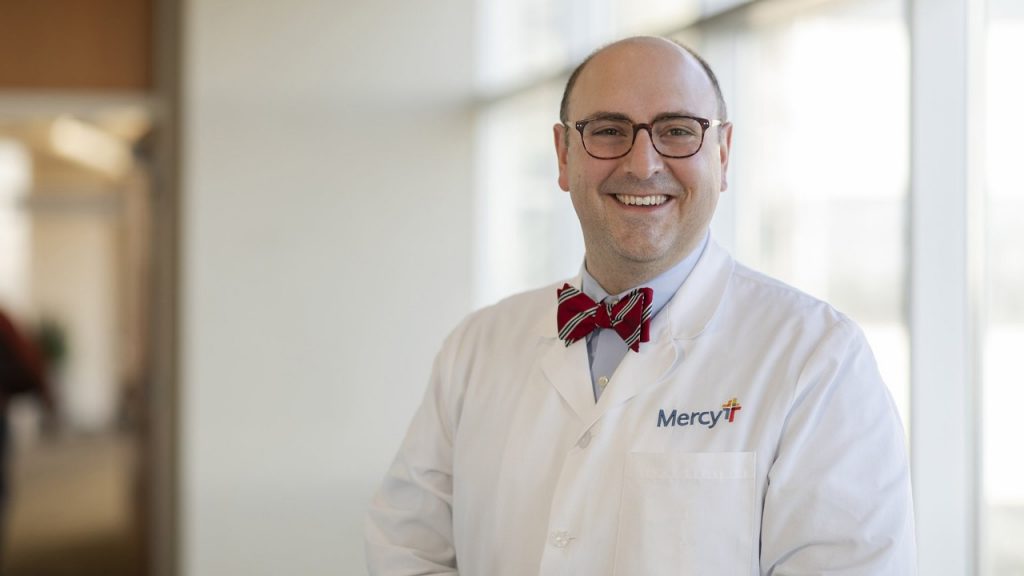 Dr. Pete DiPasco is a surgical oncologist who cares for patients at Mercy Clinic Surgical Specialists – Sindelar Cancer Center at Mercy Hospital South and Mercy Clinic Surgical Specialists – Medical Tower B at Mercy Hospital St. Louis.
Treating Foregut Cancers
The foregut consists of the upper digestive organs, including the esophagus, stomach, liver and pancreas.
"Many of these patients have risk factors that are beyond their control, and these cancers always arrive unexpectedly," said Dr. DiPasco.
Esophageal cancer is a focal point for Dr. DiPasco. Because it is such a challenging diagnosis, treatment requires both the right resources and the commitment of a dedicated care team to treat it successfully, he said. Dr. DiPasco performs minimally invasive esophagectomy (removing the esophagus), which is a surgical approach that has become more widespread over the last 10 years.
"The recovery improvement with this approach is night and day for the patient. The first time I saw a patient the day after undergoing a minimally invasive esophagectomy, I was astonished to see how well they were feeling," he said.
Treating Endocrine Tumors  
The endocrine system includes hormone producing glands, such as the thyroid, parathyroid, pancreas and adrenal glands.
Dr. DiPasco has extensive experience in treating endocrine tumors – both cancerous and benign – and does so with a similar method of advanced surgical techniques. One such technique is retroperitoneoscopic adrenalectomy, which is a minimally invasive approach to remove the adrenal gland through the patient's back instead of the abdomen and flank. This surgical approach was pioneered in Germany and is not yet a common procedure in the United States. Compared with the more typical approach, surgery through the back requires three incisions instead of four, results in considerably less pain in recovery and removes the risk of developing a hernia that can occur with the abdominal approach.
Dr. DiPasco also performs minimally invasive "keyhole" parathyroid surgery for patients with elevated calcium due to hyperparathyroidism with incisions that are 2 centimeters or less.
"For me, honing these skills is part of my pursuit to learn more and improve the care and outcomes of our patients," said Dr. DiPasco.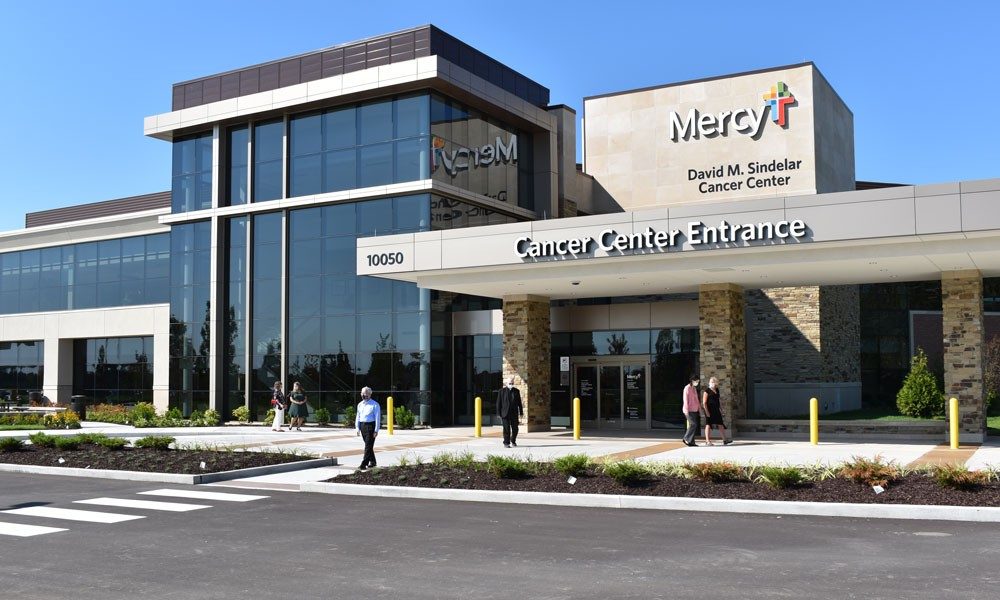 The David M. Sindelar Cancer Center at Mercy Hospital South.
Team Approach  
When it comes to treating cancer patients, Dr. DiPasco and the entire Mercy cancer team believe the best outcome requires very specialized care with a multidisciplinary approach.
"I am a team player, and that's a must for what I do. A surgical oncologist has to work tightly with the medical oncologists, radiation oncologists and everyone else who fights together for our patients," said Dr. DiPasco.
To help facilitate that team approach, Mercy created the David M. Sindelar Cancer Center at Mercy Hospital South.
"The Sindelar Cancer Center is a big draw because you can clearly see the thought that went into it. Even the architecture is designed for the comfort and reassurance of a cancer patient. And a patient's care team is built purposefully with the patient's needs in mind. It's a multidisciplinary approach that creates an atmosphere with everyone on the same page with the same goal: to do what is best for the patient and give every patient the opportunity for the best outcome."
"I'm proud to be part of the Mercy ministry. I've studied hard and I've worked hard to earn the training that provides the privilege to tackle these difficult cancers – but the Lord is in control. I'm just His instrument."
Find out how to schedule an appointment with Dr. DiPasco at either of his offices.