Unfortunately, Deborah Clifton is no stranger to breast cancer. Her sister died of the disease, and her aunt had a double mastectomy.
Clifton is diligent about getting her yearly mammogram. "It's a small price to pay to find out you're fine," she said. During her last exam, though, Mercy's cancer team found a small, suspicious spot.
"I've had biopsies before, and they all turned out to be benign," Clifton said. "But this one was cancer."
The small tumor had clear margins, and Clifton knew she was negative for the BRCA genes linked to breast cancer. With that knowledge, she was comfortable choosing a lumpectomy. The surgery was also more comfortable than ever before, thanks to new technology in place at Mercy Springfield.
The SAVI SCOUT® is a small reflector, the size of a grain of rice, that a radiologist implants in a woman's breast to mark the exact spot of the tumor. Later, the surgeon uses the SCOUT guide, which emits infrared light and a radar signal, to detect the reflector and remove the lump.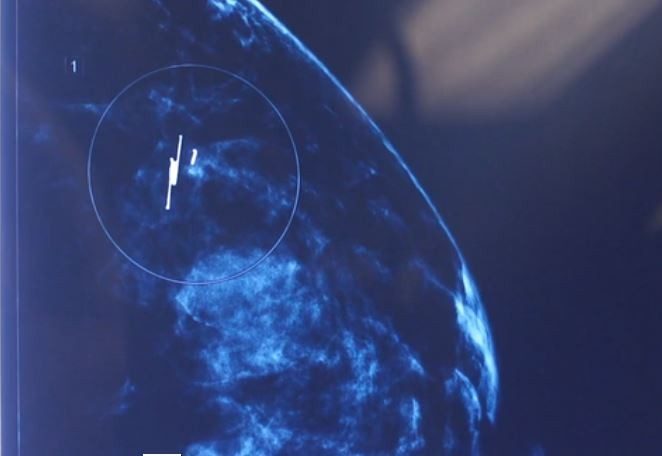 The SAVI SCOUT® marks a tumor, and is detectable to the surgeon through an MRI. The technology guides them to make a precise lumpectomy.
"This is a huge step forward, both for accuracy and our patients' comfort," explained Dr. John Bumberry, Mercy breast surgeon. "Before, we used wires that protruded from the breast. They were placed in the very early hours the day of the surgery, then patients had to travel from the radiologist's office to the operating room. The whole process was uncomfortable, inconvenient and the wire could move."
Now, the tiny seed can be implanted days before the surgery, whenever it's most convenient for the patient. They can't feel it and can resume normal activities. "I had mine implanted five days before my surgery," Clifton said. "I've heard stories about the wire, and it sounded like something I didn't want."
Clifton came through her lumpectomy with no problems, "And I had virtually no pain," she added. "I attribute that to Dr. Bumberry knowing exactly where to go in, where the SCOUT was."
Both Dr. Bumberry and Clifton say women need to get their mammograms. "This technology is for small tumors we can't feel," Dr. Bumberry said. "And mammograms are how we find those small tumors before they become a big deal. Women should get mammograms every year after age 40."
Missouri law requires insurers to cover the cost of annual 3D screening mammograms for women in that age range – and 3D mammography is the standard at Mercy in Springfield and Lebanon, as well as on the Wellness on Tour bus, which brings the screening to rural communities.
"I get onto my friends and make sure they get their mammograms," Clifton said. "If I hadn't, my tumor would've gotten bigger, and lumpectomy might not have been an option for me."