ST. LOUIS - Quality care usually tops the list for patients when choosing health care, though what they may never see is how technology improves that care. As the pandemic introduced new challenges across the country, Mercy faced it head on by accelerating change and improvements like never before. As a result of those improvements, for the 18th time, Mercy earned the College of Healthcare Information Management Executives (CHIME) Most Wired recognition performing in the top 9% in health care.
"The pandemic forced us to find a way as an organization to move at lightning speed to help those we serve," said Scott Richert, Mercy's chief information officer. "Technology helped us get there in record time. I continue to be amazed at Mercy's ability to respond to the needs of the pandemic by establishing new digital channels and technology-enabled care models that provided the critical capacity to serve our communities. As an example, we were able to immediately scale-up to handle more than 6,000 virtual doctor appointments per day. Our team also doubled down on efforts to continue our most strategic digital transformation initiatives, including the consolidation of three Epic electronic medical records systems into one. Being named Most Wired for the 18th time, a rarity, is a testament to our efforts."
Among the more than 36,000 organizations surveyed by CHIME, Mercy ranked above peers in categories like analytics and data management, population health and infrastructure. The survey assessed the adoption, integration and impact of technologies in health care organizations at all stages of development, from early development to industry leading.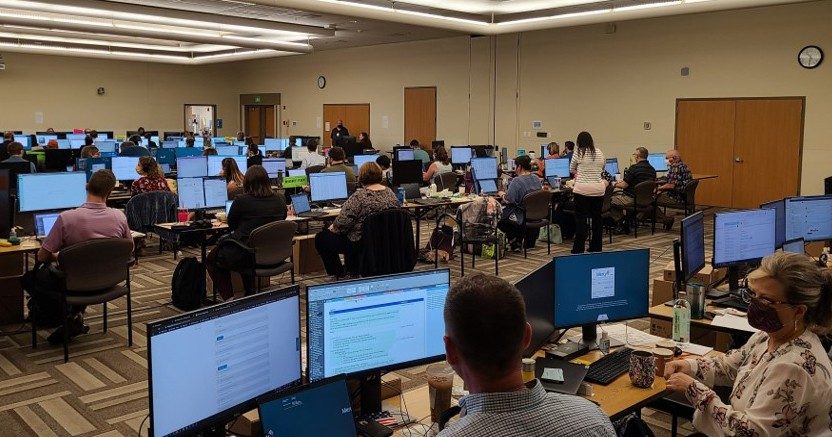 A command center was set up for the Epic Single Instance go-live transition.
From keeping cancer patients out of the hospital to better managing blood sugar levels in hospitalized patients, Mercy's data scientists stay on the cutting edge for Mercy patients.
"Working alongside our clinical caregivers, we're able to identify where the needs are and how we can improve," said Don Gray, Mercy's chief data and analytics officer. "We take a problem, such as low blood sugars in hospitalized patients, work within the electronic health record to flag concerning trends and activate a workflow with our virtual teams to keep them in normal range. Since our pilot implementation, hypoglycemic events have decreased 35%, ultimately reducing the risk of falls, loss of consciousness, seizures and even death."
Mercy also focused on reducing readmissions in chemotherapy patients by identifying predictors and developing new processes.
"Digital transformation in health care has accelerated to an unprecedented level since 2020, and the next few years will bring a wave of innovation that empowers health care consumers and will astound the industry," said CHIME President and CEO Russell P. Branzell. "The Digital Health Most Wired program recognizes the outstanding digital leaders who have paved the way for this imminent revolution in health care. Their trailblazing commitment to rapid transformation has set an example for the entire industry in how to pursue a leadership vision with determination, brilliant planning and courage to overcome all challenges."
The Digital Health Most Wired survey was produced by CHIME to assess how effectively health care organizations apply core and advanced technologies into their clinical and business programs to improve health and care in their communities. CHIME expands the survey annually to capture more types of organizations that serve patients across the continuum of care.
For more information about the CHIME Digital Health Most Wired program, please go here.