June 3, 2022
Many at Mercy St. Louis know Anne Kerwin and her catch phrase, "I've got my skates on, let's go!"
Last month, Kerwin celebrated 50 years at Mercy and was honored by her co-workers and leaders with a golden skate and reception.
She has known since age 2 she wanted to be a nurse. When she applied to be a candy striper at age 12, and learned she needed to be 14, she wasn't deterred. Sister Isadore Lennon, hospital administrator at the time, agreed to let her volunteer to help on the grounds surrounding the hospital. In 1972, the hospital was surrounded by fields and open land, a far cry from the large hospital it is today surrounded by interstates and houses. She helped in the apple orchards and with animals in the barn.
Eventually, she became a candy striper and helped hand out water and assist nurses with other tasks. She worked throughout her years in school and has spent time in a variety of roles including the medical surgical floor, cardiac rehabilitation and the burn unit, where she met her husband. She is now a nurse in the cardiac surgical unit of the heart hospital and has mentored hundreds of nurses, managers and directors along the way.
With a team known as the "Sunshine Girls," she helped develop, write and educate on best practices to care for critical care patients, which is still used today. She has been nominated for Nurse of the Year several times and has a passion for caring for patients.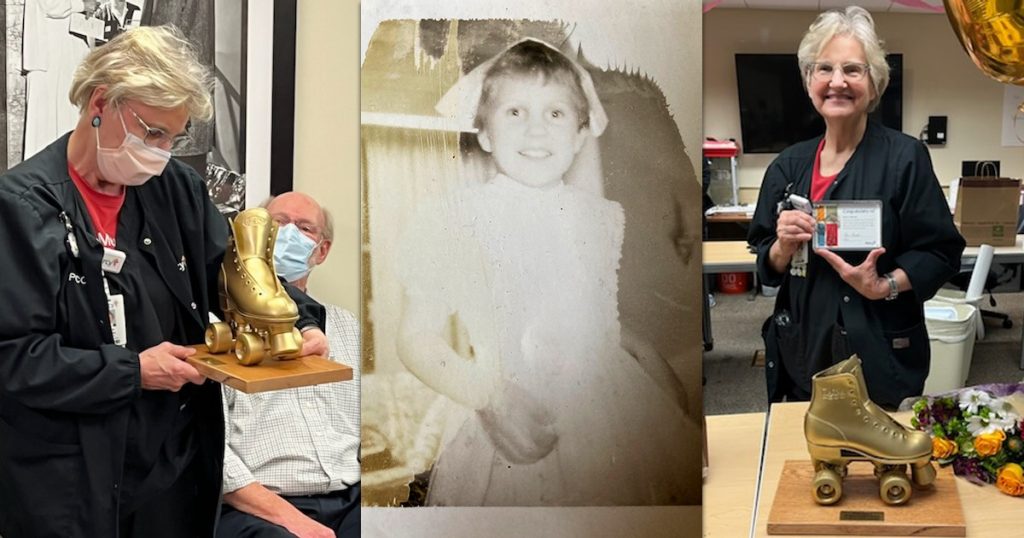 Anne Kerwin was presented a Golden Skate at a reception in her honor. Middle photo shows Kerwin as a child in a nursing uniform.
Kerwin says there are two significant events in her career that will always stay with her:
1) The change from paper to electronic medical records where she was on the committee to help with the transition.
2) Nursing through the pandemic during a nursing shortage.
"Anne's heart and soul reside with the mission of Mercy," said Julie Brooks, Mercy St. Louis executive director of nursing. "She lives it! She believes it and she is Mercy nursing at its best."
Kerwin hopes she can continue to share the legacy of Catherine McAuley by caring for the most vulnerable patients for many years to come.
Media Contacts
Bethany Pope
St. Louis, St. Charles, Troy, Washington