ST. LOUIS  – Two years after its groundbreaking, the Mercy Proton Therapy Center is set to open to its first patient on July 5 at the David C. Pratt Cancer Center. The new facility will be one of only 40 proton centers in the U.S. and a valuable addition to treating complex cancer throughout the region.
Used as a radiation treatment for many oncology patients, proton therapy is an option for adult and childhood cancers. It uses a powerful cyclotron to produce proton particles that precisely target cancer tumors. The charged particles damage the DNA of cancer cells, stopping the reproduction and ultimately destroying them. One of the primary benefits of proton therapy is the reduction or elimination of unwanted radiation exposure to surrounding, healthy tissue.
The MEVION S250iTM Proton Therapy System® with HYPERSCAN® pencil beam scanning technology delivers high-quality, robust Intensity Modulated Proton Therapy (IMPT) treatments at hyper-speed, giving patients the opportunity to get back to life more quickly.
"We know patients have choices when it comes to cancer care and when they choose Mercy we want them to know they have access to all the options for care," said Dr. Robert Frazier, division chief of radiation oncology at Mercy Hospital St. Louis. "Each patient is unique so no two treatment plans will be the same. At the David C. Pratt Cancer Center, we now have all the most advanced radiation therapy technologies, both Cyberknife and proton therapy, making sure we offer what's best for each individual during their cancer therapy."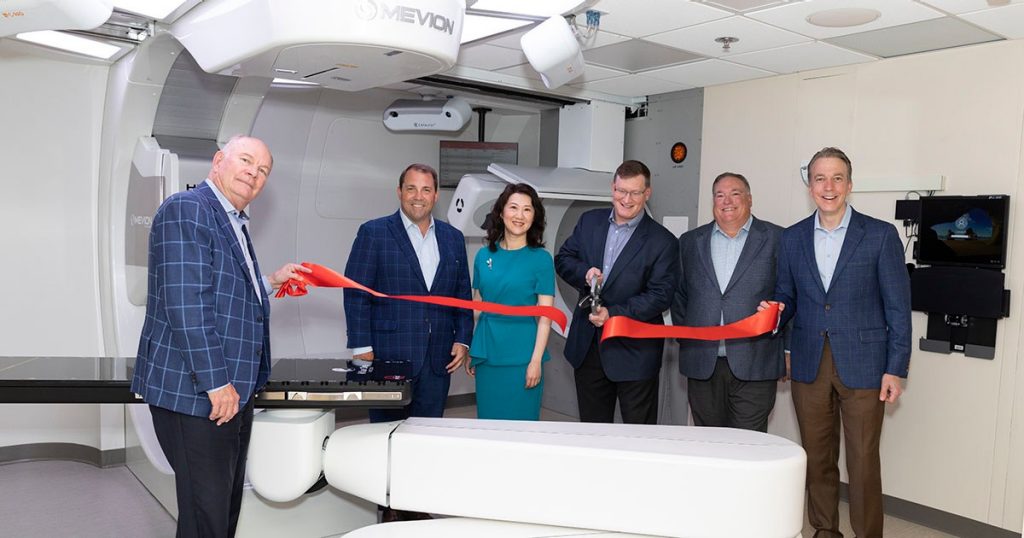 Leaders gathered to cut the ribbon on the new Mercy Proton Therapy Center. Left to right: Dr. David Meiners, Mercy St. Louis president; Steve Mackin, Mercy president and CEO; Tina Yu, Mevion CEO; Dr. Robert Frazier, division chief of radiation oncology at Mercy St. Louis; Joe Pecoraro, Mercy St. Louis executive director of oncology services; John Timmerman, vice president of operations.
Because of its targeted delivery system, proton therapy is suitable for tumors near sensitive parts of the body. In adults, that includes areas such as eye, brain, head and neck, spinal cord, breast, esophagus, prostate, lung, bone, gastrointestinal, stomach, colon and bladder. In children, the precision radiation is even more important to limit damage in their still-developing bodies.
"While the Mercy Proton Therapy Center offers convenient access to patients in St. Louis and the surrounding areas, it will be an excellent option for Mercy patients as far away as Rolla, Lebanon, Springfield, Joplin and other communities along I-44," said Steve Mackin, Mercy president and CEO. "With only 40 proton centers in the country, Mercy St. Louis will become a destination for advanced radiation treatment. We are so thankful to be able to offer this advance care to those who need it."
The Mercy Proton Therapy Center is part of the Mercy Health Foundation's $23 million Mercy Cancer Challenge to improve cancer services in the St. Louis area. 
Mercy Hospital St. Louis, part of Mercy's east Missouri region, is a 859-bed comprehensive teaching hospital. The 80-acre site houses a nine-level heart and vascular hospital, a cancer center, a comprehensive children's hospital and a surgery center.
Mercy
, one of the 20 largest U.S. health systems and named the top large system in the U.S. for excellent patient experience by NRC Health, serves millions annually with nationally recognized quality care and one of the nation's largest Accountable Care Organizations. Mercy 
is a highly integrated, multi-state health care system including
 more than 40 acute care, managed and specialty (heart, children's, orthopedic and rehab) hospitals, 
convenient and urgent care locations, imaging centers and pharmacies. Mercy has 
900 physician practices and outpatient facilities, more than
4,000
physicians and advanced practitioners and more than 40,000 
co-workers serving patients and families across 
Arkansas, Kansas, Missouri and Oklahoma. Mercy also has clinics, outpatient services and outreach ministries in Arkansas, Louisiana, Mississippi and Texas.