Did you know that until July 26, 1990, people with disabilities could be refused service at restaurants, grocery stores and libraries, and could legally be refused jobs and paid less, simply because of their disability?
All of that changed because of a dramatic protest on March 12, 1990, when over 1,000 protesters, including an eight year old girl, abandoned their assistive devices and crawled up the steps of the United States Capitol in Washington D.C. to show inaccessibility in action. (See video of the protest.)
The "Capitol Crawl," as it came to be known, got the attention of lawmakers, who had been promising to pass the Americans with Disabilities Act (ADA) for a long time with no action. On July 26, President Bush signed the law, marking the first time in history that the United States government officially defined the rights of people with disabilities.
While that landmark law brought much positive change for people with disabilities, we still have a long way to go. In 2008, advocates fought unsuccessfully to pass The ADA Amendments Act of 2008, which would have broadened the rights guaranteed by the 1990 law.
In 2017, disability rights activists protested against cuts to Medicaid and the Affordable Care Act. But still, people with disabilities are twice as likely to be unemployed and workplace discrimination "remains one of the top issues in the deaf and hard-of-hearing community."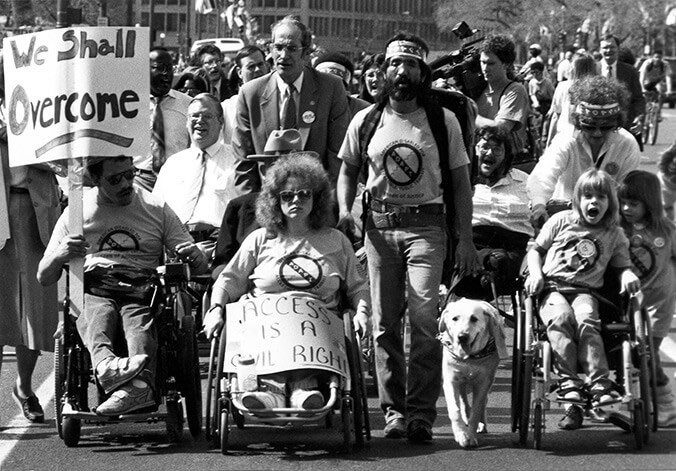 Capital Crawl on March 12, 1990.
In keeping with our core value of dignity, which honors all people as created in the image and likeness of God, Mercy is constantly working toward our goal of equal employment for those with disabilities. To that end, Mercy's Disability Resources Council is planning several upcoming campaigns:
Career fairs in select locations for people with disabilities.
Activities celebrating National Disability Employment Awareness Month in October
A special question on the next Glint co-worker climate survey regarding voluntary self-identification if you have a disability. (Your leader will not see this information, which is held in confidence.)
Mercy
, one of the 20 largest U.S. health systems and named the top large system in the U.S. for excellent patient experience by NRC Health, serves millions annually with nationally recognized quality care and one of the nation's largest Accountable Care Organizations. Mercy 
is a highly integrated, multi-state health care system including
 more than 40 acute care, managed and specialty (heart, children's, orthopedic and rehab) hospitals, 
convenient and urgent care locations, imaging centers and pharmacies. Mercy has 
900 physician practices and outpatient facilities, more than
4,000
physicians and advanced practitioners and more than 40,000 
co-workers serving patients and families across 
Arkansas, Kansas, Missouri and Oklahoma. Mercy also has clinics, outpatient services and outreach ministries in Arkansas, Louisiana, Mississippi and Texas.