by Mercy's Jordan Larimore
ST. LOUIS – In the aftermath of the 2011 Joplin tornado, people dug their neighbors out of rubble, took chainsaws to downed trees and searched for lost pets and belongings. A common refrain from anyone asked how they were doing was simply, "I'm fine."
Dr. Douglas Walker, an internationally renowned Mercy clinical psychologist who is based in New Orleans, serving in an outreach role at Mercy Family Center — New Orleans, was asked to come to Joplin to help it heal. With so much focus on crisis and recovery, many day-to-day needs were going unmet. With that in mind, Dr. Walker and his colleagues developed what came to be called "How's Your 5?" 
Dr. Walker calls it a conversational tool. Rather than asking "How are you?" and accepting a noncommittal answer, Dr. Walker and others encourage people to specifically ask about work, love, play, sleep and eating habits.
"It's for everyone, not just clinicians, to promote peer-to-peer support," Dr. Walker said. "If you look at disaster mental health, it shows a pyramid structure, with self-care at the bottom. There are very few programs or conversations that emphasize peer-to-peer support, and that's what 'How's Your 5' is. I think these ongoing conversations can lead to deeper connectivity between people."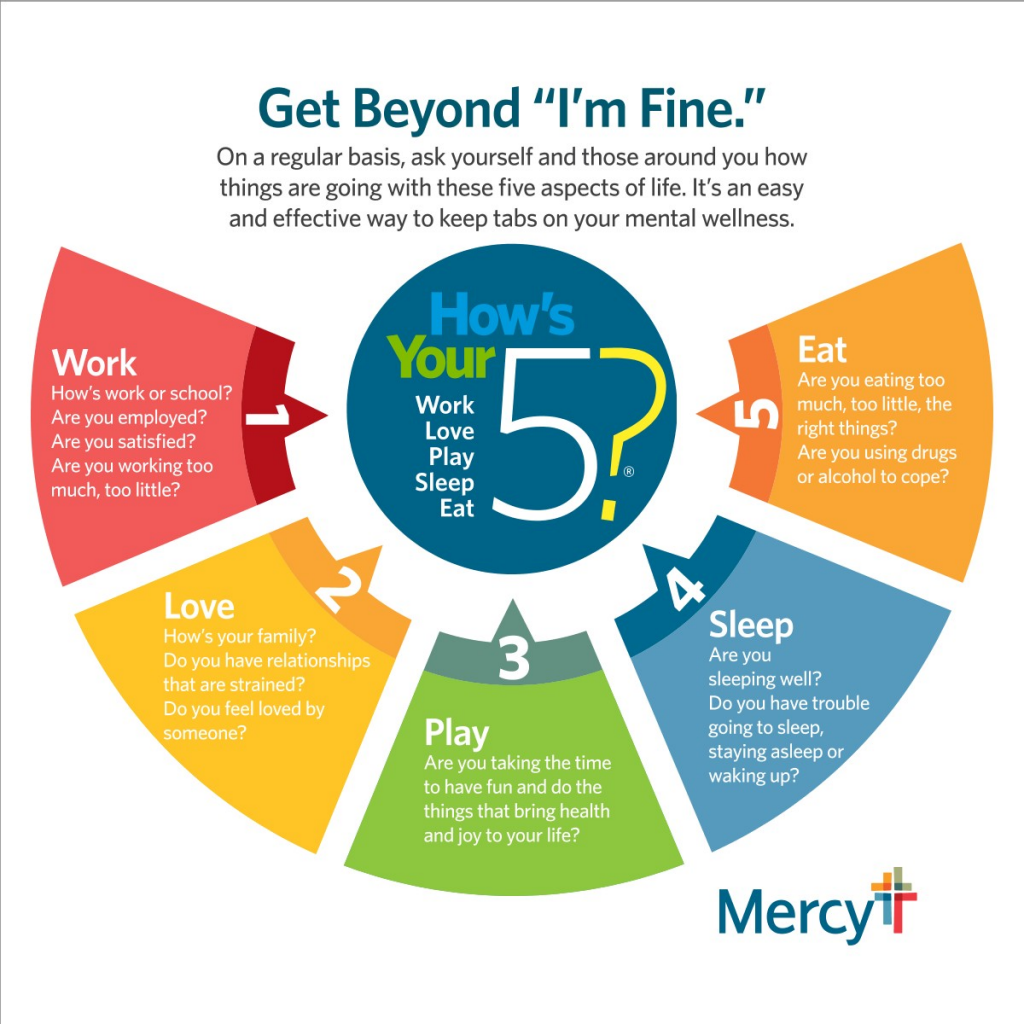 Since the tornado, the tool has been used by a host of organizations, such as the Canadian Red Cross, Alberta Health Services and the City of New Orleans' Mayor's Office, but it also applies to day-to-day life and the stressors everyone encounters. It's a valuable tool, he says, in light of a pandemic that has stretched for more than two years, living in a politically polarized country and one in which headlines frequently contain violence.
"'How's Your 5' supports connectivity," Dr. Walker said. "In a time when we've been disconnected, disjointed, too busy to sit with each other, to visit or to actually take the risk of sharing, I think 'How's Your 5' allows us to be human and kind of pierces that crust we have around us. That 'Oh, you're too busy, you really don't care, it's a nicety that you're asking me how I'm doing, but you don't really mean it.'"
"So if everyone across Mercy and around the world could, for a week, not accept 'I'm good,' or 'I'm fine' from someone, I wonder how, collectively, people would feel about themselves and their life situation?" he added.
"How's Your 5" is not specifically a suicide prevention tool, but Dr. Walker said it can serve as a layer in the popular "Swiss cheese" approach to protecting a person's mental health – the idea that mental health crises can be avoided if enough layers of intervention are put together back-to-back. Imagine a slice of Swiss cheese with its holes. With enough slices layered on top of one another, all the holes will be covered by the other layers, meaning the crisis could be stopped, instead of something slipping through the cracks.
Mercy
, one of the 20 largest U.S. health systems and named the top large system in the U.S. for excellent patient experience by NRC Health, serves millions annually with nationally recognized quality care and one of the nation's largest Accountable Care Organizations. Mercy 
is a highly integrated, multi-state health care system including
 more than 40 acute care, managed and specialty (heart, children's, orthopedic and rehab) hospitals, 
convenient and urgent care locations, imaging centers and pharmacies. Mercy has 
900 physician practices and outpatient facilities, more than
4,000
physicians and advanced practitioners and more than 40,000 
co-workers serving patients and families across 
Arkansas, Kansas, Missouri and Oklahoma. Mercy also has clinics, outpatient services and outreach ministries in Arkansas, Louisiana, Mississippi and Texas.

If you or someone you know needs support now, call or text 988.