ST. LOUIS - Imagine you are nearing the end of your life and will never have a final chance to see your last living friend. That's exactly what Laverne Largent, a Mercy Hospice patient, thought when she spoke of her friend Catherine "Cathy" Jaycox to a hospice volunteer during a regular visit.
Laverne is the last of her siblings, never married or had kids, and Cathy was her only living friend. While they are able to talk on the phone, they recently realized they would likely not see each other again.
That's when Brenda O'Brien, the Mercy Hospice volunteer who visited Laverne, spoke two little words: "What if?"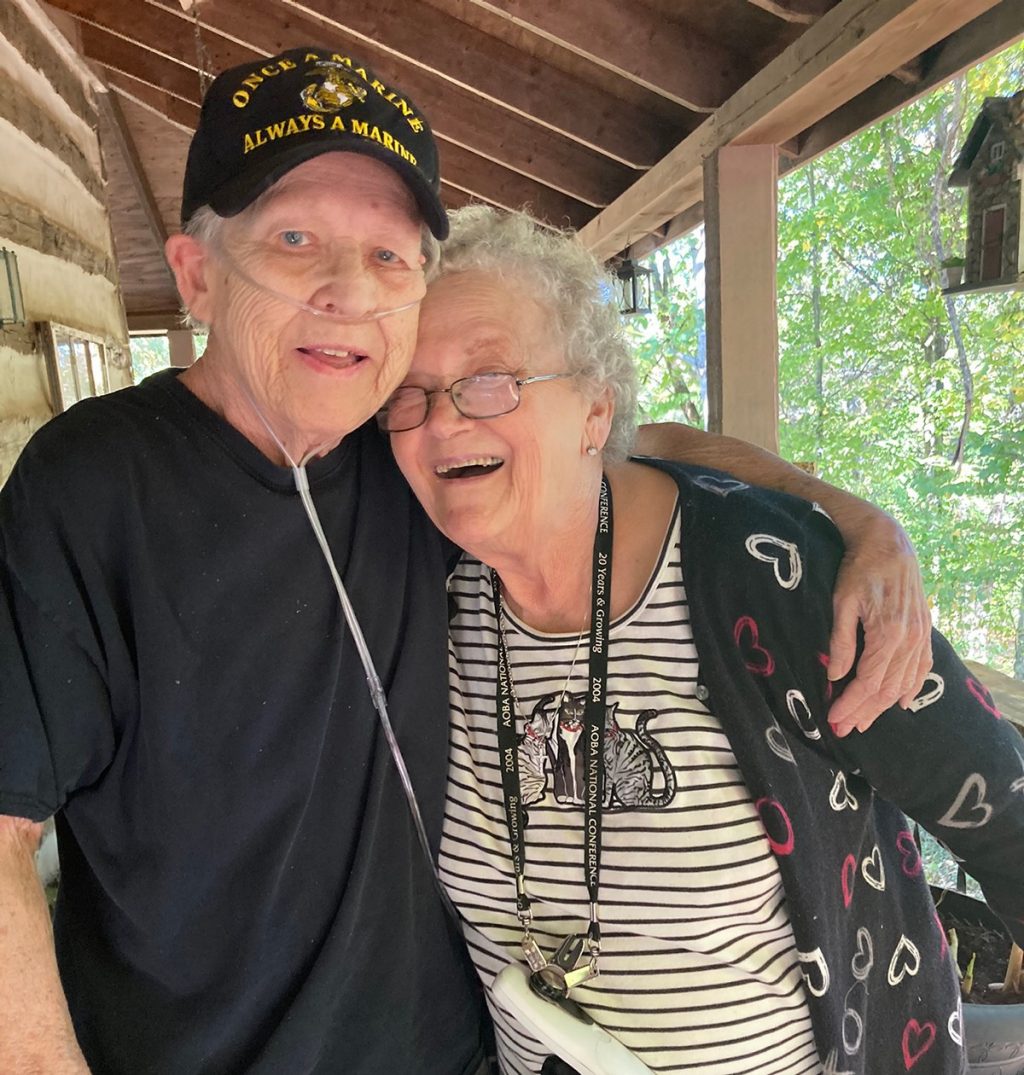 Laverne and Cathy pose for pictures together before saying their goodbyes.
Brenda asked Laverne, "What if someone brought you to visit your friend? What if we took you to see her?"
From there, "Operation Reunite Besties" began.
Brenda worked with Kelly Tecklenburg, Mercy Hospice volunteer supervisor, and Laverne's care team to arrange a special lunch date with Cathy. The trip was an hour each way, so Laverne was set up to have enough oxygen for the day. Lunch was provided by a few anonymous donors who said they wanted to treat two lifelong friends to a meal.
The day of the visit came in early October.
Brenda said it was the perfect day for a drive. "Laverne popped on her Marine's hat and sunglasses, called 'shotgun' to sit in the front, and a playlist of her favorite singers was the soundtrack to our day."
According to Brenda, lunch was a feast fit for queens on the beautiful back deck of Cathy's 1800s-era cabin. The friends chatted for a few hours, took some photos together and said their goodbyes.

"While we were dreading this moment, it was an incredibly funny goodbye," Brenda said. "Cathy was a chatty conversationalist, and as we were in the van trying to leave, she continued telling stories. Laverne quietly said to Kelly, 'She isn't going to stop talking – you're going to have to just take off and leave.'"
Laverne then yelled out the window, "Goodbye, Cathy!" and then turned to Kelly and said, "Now go!" 
They drove quietly back to Laverne's home listening to the sounds of Dolly, Barbra, Reba, Celine and Shania. Brenda visited Laverne just before Thanksgiving, they enjoyed Laverne's favorite treat, a McRib sandwich, and laughed at TikTok videos together for an over an hour.
Brenda was recently honored with the Mercy Hospice Cup of Tea award.
"My hope is to inspire more volunteers and hospice team members to say, 'What if?' in order to make some last-call adventures come true," Kelly said. "What if your idea is the best last gift our patient receives?"