ST. LOUIS– Health care research has long-lasting impacts on diagnosis and treatment, but it takes an estimated average of 17 years for published research results to be widely put into practice. For patients, that delay can have profound impact.
To address the lag, the Patient-Centered Outcomes Research Institute (PCORI) chose Mercy and 41 other health systems nationwide to pioneer projects that will more quickly move research results into clinical care so patients will benefit sooner.
"We know patients become frustrated when they see reports of positive clinical research outcomes, yet years pass before they benefit," said Dr. John Mohart, Mercy Communities president, who leads hospital operations across Mercy and serves as Mercy's project lead for the PCORI-funded initiative. "Participating in this program will enable us to be even more proactive in speeding adoption of new evidence-based care that matter most to our patients."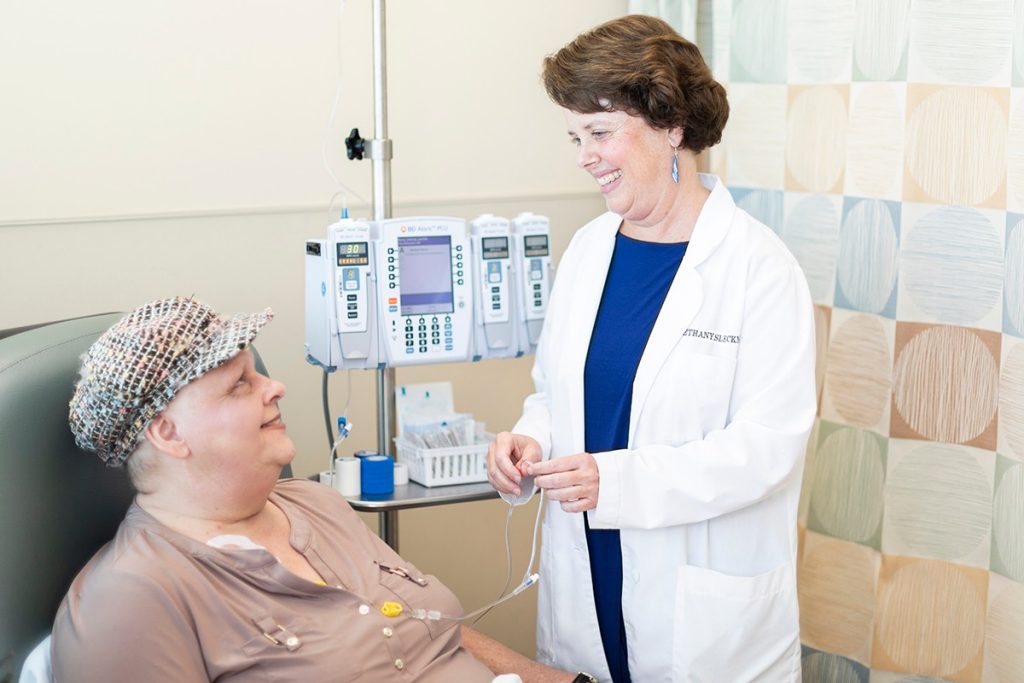 Mercy Clinic Oncology and Hematology Dr. Bethany Sleckman visits with a patient.
As a participant in PCORI's Health Systems Implementation Initiative (HSII), Mercy brings its innovative, on-the-ground experience and expertise in health care delivery to develop and implement viable strategies for actively adopting new evidence.
Through this program, Mercy will have the opportunity to prepare proposals for projects that will speed the latest research-informed care improvements to larger numbers of patients. Each participating health system can receive up to $500,000 to support preparation for future, rapid implementation strategies. Additional HSII funding opportunities will support practical and innovative projects to implement PCORI-funded research evidence within the HSII participants, with funds available for up to $5 million per project. Mercy plans to take advantage of both.
In addition, through the HSII Learning Network, Mercy and other participants will learn from one another about best practices for implementing research-informed care strategies. Through the Network, participants will provide input to PCORI on topics and specific PCORI-funded findings of interest for future projects.
"The opportunity for funding will strengthen our ability to undertake and evaluate implementation and to put other PCORI-funded evidence into practice for our patients," said JoAnne Levy, vice president of Mercy Research. "Ultimately, our participation will lead to improved health care delivery and better outcomes. This opportunity to be one of the few systems participating will further ensure we get the right care to the right patients at the right time and in the right place."
HSII participants collectively represent 800 hospitals serving 79 million unique patients—nearly a quarter of the U.S. population—across 41 states and the District of Columbia. In addition to health systems like Mercy, they include academic medical centers, community-based systems, integrated health care delivery and finance systems, safety net health systems, faith-based systems, public health care delivery systems and a medical center within the Veterans Health Administration. See the full list on PCORI's website.
"We welcome the opportunity to work with Mercy and the other health systems participating in this groundbreaking initiative that will leverage their knowledge and experience to facilitate practice change and improve care based on results of PCORI-funded research," said PCORI Executive Director Nakela L. Cook, M.D., M.P.H. "The HSII participants' efforts will lay the groundwork for future expansion and broader implementation by demonstrating pathways to uptake and sharing lessons learned across health systems."
HSII is part of a portfolio of PCORI-funded efforts that aim to improve the awareness, uptake and use of results from patient-centered research. PCORI is an independent, nonprofit organization that funds comparative clinical effectiveness research providing patients, their caregivers and clinicians with the evidence to make better-informed health and health care decisions. PCORI is committed to seeking input from a broad range of stakeholders to guide its work.
Mercy, one of the 20 largest U.S. health systems and named the top large system in the U.S. for excellent patient experience by NRC Health, serves millions annually with nationally recognized quality care and one of the nation's largest Accountable Care Organizations. Mercy is a highly integrated, multi-state health care system including more than 40 acute care, managed and specialty (heart, children's, orthopedic and rehab) hospitals, convenient and urgent care locations, imaging centers and pharmacies. Mercy has 900 physician practices and outpatient facilities, more than 4,000 physicians and advanced practitioners and more than 45,000 co-workers serving patients and families across Arkansas, Kansas, Missouri and Oklahoma. Mercy also has clinics, outpatient services and outreach ministries in Arkansas, Louisiana, Mississippi and Texas.