Patients and their families have known Stephanie Feazle for more than a quarter of a century as a nurse in the Mercy Cancer Center – Ada. Now, Feazle has a new title as nurse manager of cancer treatment. This role will allow her to continue using her oncology knowledge to carry on a legacy of high-quality service to area patients.
"Even after 25 years of work in the cancer center, I still love building personal relationships with patients and their families," Feazle said. "I'm excited to bring my skills in oncology nursing to this role and look forward to making a difference in this community."
After high school, Feazle started as a cancer center patient care technician at Valley View Regional Hospital, which later became Mercy Hospital Ada. She then earned her licensed practice nurse (LPN) degree from Pontotoc Technology Center in Ada, Oklahoma and eventually obtained her registered nurse (RN) degree from Excelsior College while still working at the cancer center.  
"The nurses and staff here are amazing," said Feazle. "We appreciate that our team has the trust of patients and their families to provide them with the care they need close to home."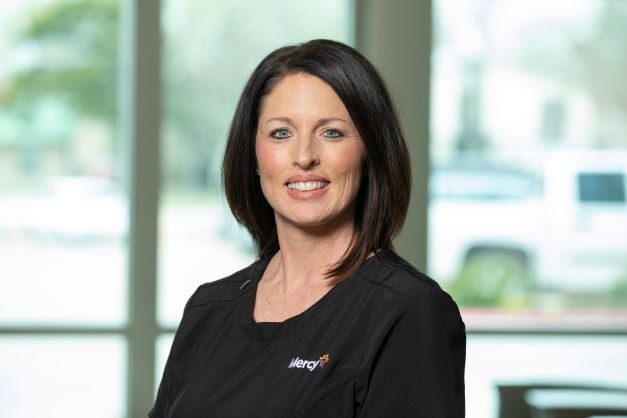 Stephanie Feazle
Cancer treatment is always evolving, which is one of the reasons a nurse manager of cancer services is essential for both Mercy co-workers and patients. The nurse manager helps hire the right talent to care for patients and leads training and development for the team. Also essential to the role is a fundamental knowledge of oncology.
Feazle has worked with Marietta Carter, the previous nurse manager of the cancer center, since the beginning of her career. Carter, who worked for 31 years in oncology, first hired Feazle as a PCT in 1996.
"When I announced my retirement, it was important for me to help choose my successor and train them for their new job duties," said Carter. "Stephanie has all the perfect characteristics to be successful in this role. She is smart and compassionate and has boundless energy, efficiency and organizational skills, not to mention 25-plus years of oncology nursing knowledge." 
Carter knows firsthand how important it is to have a strong nurse manager. She said, "I feel as if I've helped raise Stephanie. We worked together as she progressed through three job roles, getting married and starting her own family. It's been wonderful to watch her grow to where she is today."
Many area patients travel long distances for cancer care, which can be an added burden for those who may still want to work during their treatment or don't have the means and transportation to commute. Feazle is passionate that area patients know their options for cancer care close to home in Ada.
"We understand some have the mentality that they have to travel to a larger city to get the help they need, but we really want people to know they can get the same treatment and care locally," she said. "Our team follows the same standards and regulations of a larger cancer center. While we don't offer medications still in clinical trials like a larger center might, we still offer the most up-to-date treatments available."
Mercy Cancer Center – Ada provides both chemotherapy and radiation treatment options. The team can treat a wide variety of cancers, from breast cancer to colon cancer, and is staffed by a full-time oncologist, Dr. Ashtami Banavali. All oncology nurses at Mercy Ada are Oncology Nursing Society chemotherapy and biotherapy certified.
"Stephanie is a natural fit for this role and will be a great manager for the cancer center," said Dr. Banavali. "We could not have asked for a better leader."
The center also recently surpassed its 50th year of continuous accreditation from the Commission on Cancer, a program of the American College of Surgeons. Mercy Ada is one of only 10 programs in the state of Oklahoma with this designation.