Mercy Hospital Ardmore launched a new initiative aimed at improving communication and care for moms and babies during labor and delivery. TeamBirth, a new program that creates a formal process for including laboring moms in every step of the childbirth process, launched at the Mercy Birthplace in Ardmore.
TeamBirth was created by Ariadne Labs, a joint center for health systems innovation at Brigham and Women's Hospital and the Harvard T.H. Chan School of Public Health, both in Boston, Massachusetts.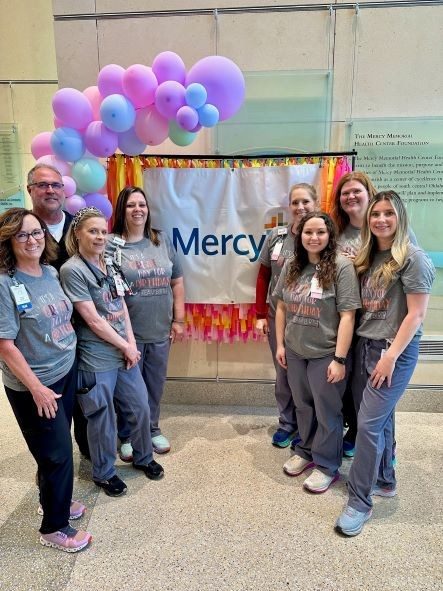 Mercy Hospital Ardmore Birthplace team at the TeamBirth kickoff.
According to a nationwide research study, failures in communication between providers and between providers and patients account for up to 90 percent of preventable injuries during childbirth across the U.S.
TeamBirth was developed to address these gaps in communication to ensure that women giving birth and the clinicians caring for them have shared input and understand decisions made during labor and delivery. The mother's needs and wishes are included as an essential voice in the team making decisions about her care.
"This new program puts a mom's requests at the core of every decision we make," said Tracy Dewbre, manager of Mercy Birthplace at Mercy Hospital Ardmore. "For example, if Mom wants an unmedicated birth experience, delayed cord clamping and to breastfeed immediately after birth, we'll do everything we can to honor her wishes when medically appropriate."
A communication board located in all labor and delivery, antepartum and postpartum rooms outlines the care plans and progress for patient and baby and serves as an ongoing shared reference.