Mercy Hospital Ada is celebrating a decade of service to Ada, Oklahoma, this month. Since Mercy joined the community, more than 4,600 babies have been delivered, 44,800 surgeries performed and around 198,200 patients treated in the emergency department at Mercy Hospital Ada.
This 10-year milestone recognizes a commitment to providing vital health services in addition to a legacy of the Sisters of Mercy in the region.
"There is a long history of care in this community," said Terence Farrell, president of Mercy Hospital Ada. "Many don't realize the Sisters of Mercy had a presence here in the 1800s. Valley View Hospital also significantly contributed to the health of this community and still serves through their foundation. We build on the history of those who came before us as we continue Mercy's efforts to meet the changing needs of Ada and the area."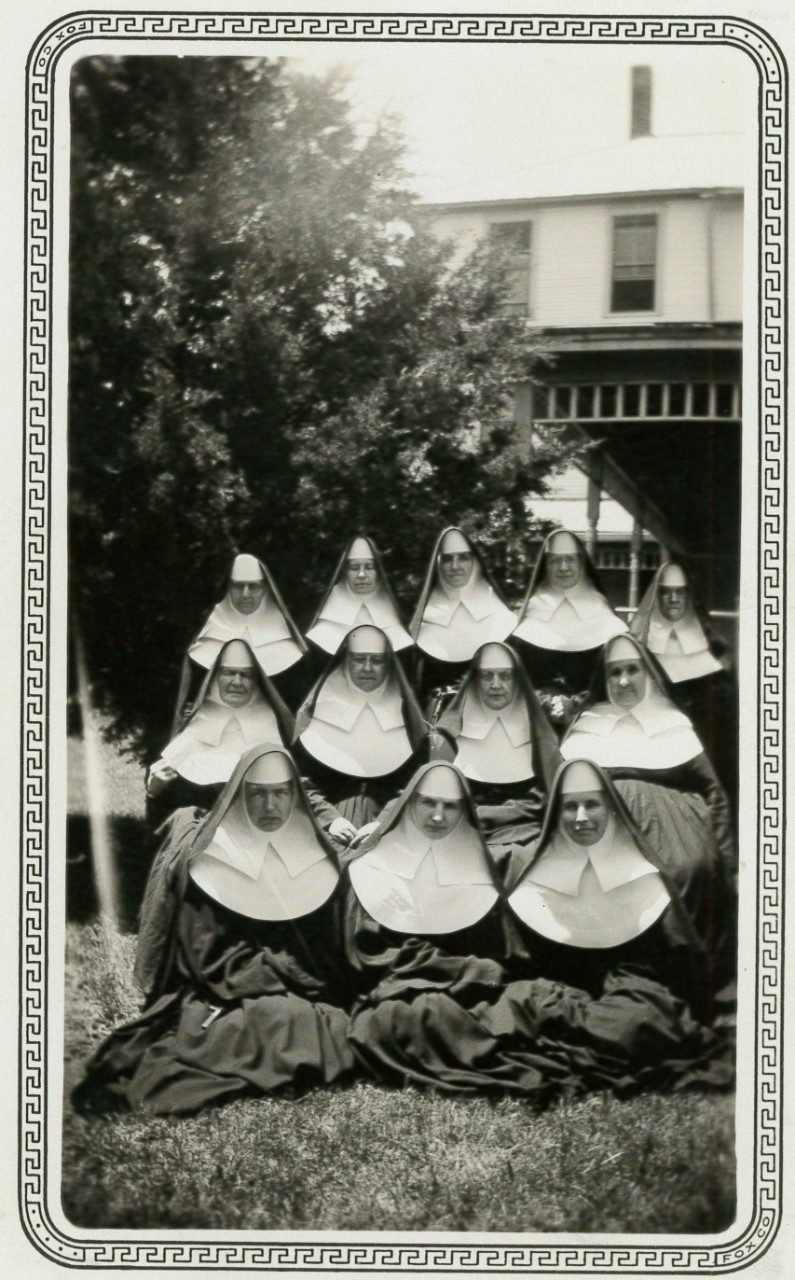 Sisters of Mercy in Konawa, Oklahoma in 1937.
The history of the Sisters of Mercy goes back nearly 200 years to foundress Catherine McAuley, an Irish woman, who wanted to help women and children in Dublin experiencing poverty. The Sisters made their way to the United States in 1843 and helped to establish hospitals and schools throughout the Midwest.
Five Sisters of Mercy traveled to Oklahoma in 1884 and settled about 30 minutes north of Ada in Sacred Heart, now known as Konawa. They immediately opened a boarding school for girls called St. Mary's Academy. In 1892, they traveled house to house in Krebs, Oklahoma, caring for injured miners and consoling orphans and widows after a terrible mining accident. This was the beginning of their passion for health care in Oklahoma.
Their efforts were informal, responding to needs as they arose, until 1947, when the Sisters purchased their first hospital in Oklahoma City. Since then, nearly a dozen Mercy hospitals have opened in the state, including Mercy Hospital Ada in 2013.
Mercy Ada co-workers, leaders and community members recently had the opportunity to learn more about Mercy's beginnings in Oklahoma through a heritage tour in Konawa to celebrate the 10-year anniversary.
Though there are no longer Sisters of Mercy living in Konawa, their mission of education and service lives on today through the efforts of current Mercy co-workers and care providers.
"Our mission to heal isn't just a sign on the wall or a nice thought; it's tangible action," said Farrell. "We see our mission daily in how our co-workers treat one another, how they greet one another and especially how they care for patients."
Since the transition of care from Valley View Hospital to Mercy in 2013, Mercy Health Foundation – Ada has given more than $7.4 million to the community and hospital to advance health care in the region, including:
A baby car seat program that has donated hundreds of car seats to new parents.
3D mammography screening technology to better diagnose breast cancer.
An outpatient cancer medicine program that helps patients who cannot afford their medications.
"These projects and others have made a significant impact on the well-being of our neighbors," said Todd Essary, executive director of the foundation at Mercy Hospital Ada. "Mercy has been blessed by the significant contributions of time, talent and resources that have been generously donated. We look forward to continuing to work hand-in-hand with our community to provide excellent care and carry on the legacy of service of the Sisters of Mercy."