The U.S. Department of Agriculture awarded more than $1.9 million to help fund capital projects at Mercy hospitals in three rural Oklahoma communities. The cost-sharing grants will provide supplemental funding for new technology that will directly impact patient care in Ada, Tishomingo and Watonga.
Hospitals and health care providers in 39 states were selected to receive $129 million in one-time emergency rural health care grants to improve health care facilities across the country. Mercy, which proudly serves 15 rural Oklahoma communities, was one of 13 organizations in Oklahoma to receive the funding.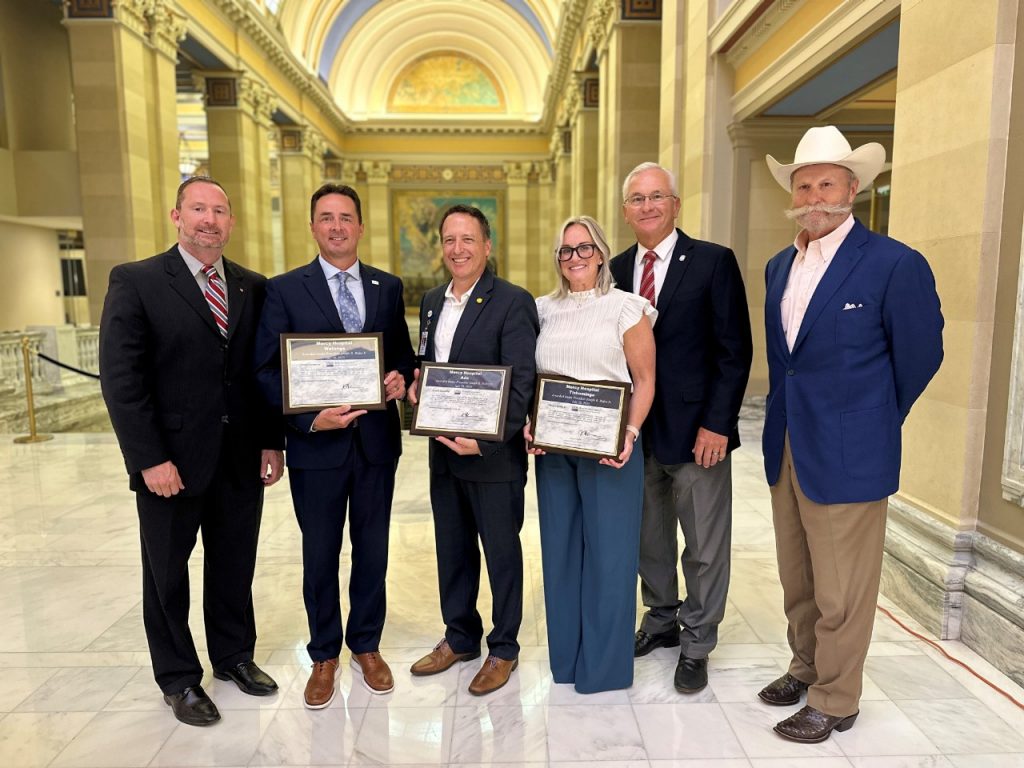 Bobby Stitt, Dr. Jesse Campbell and Shelley Gilbert accept USDA grant funds for rural health care on behalf of Mercy.
The challenges of health care economics due to overall inflation, increased costs, labor shortages, reimbursement rates, etc., have been widely reported. According to the latest data from the Center for Healthcare Quality and Payment Reform, 300 hospitals nationwide are at immediate risk of closing. Funding construction projects and paying for new technology is a challenge for hospitals across the country.
Grant dollars are essential to continuing Mercy's mission across Oklahoma.
"Every dollar of these grants will go directly into patient care so we can provide the latest technology for patients seeking care in these communities," said Jim Gebhart, community president of Mercy in Oklahoma. "We are so thankful to be chosen as a recipient."
The awards were granted on a cost-sharing basis, meaning Mercy will invest a percentage of the cost of each of these projects with the grant money used to close the funding gap.
The following projects will be completed with the funding:
Mercy Hospital Ada

$1,000,000

Mercy Hospital Tishomingo

$890,670

Mercy Hospital Watonga

$62,923

CT scanner
MRI equipment
Nuclear medicine equipment
More inpatient oxygen tanks

X-ray machine
CT scanner
Lab equipment
Vital sign machines
Nursing documentation stations
Patient lift system
Mercy received USDA grants designated for rural health care in 2019. Mercy Hospital Healdton and Mercy Hospital Kingfisher were awarded telemedicine grants to expand virtual care options in these communities.