See All Media Contacts
As students across Oklahoma head back to school, Mercy's roster of experts is on deck to support athletes' health, from concussion care and sports medicine primary care to strains, sprains and broken bones.
Mercy athletic trainers provide medical care on and off the field for hundreds of athletes at eight public school districts, four universities and two youth sports clubs. The athletic trainers are supported by Mercy orthopedic physicians who also serve students.
"Many of our athletic trainers and physicians love the game and are so passionate about the care of athletes that they serve on the sidelines at high school and college games across the state," said Dr. Jesse Campbell, regional physician executive for Mercy across Oklahoma. "Any parent can relate to that feeling of being in the stands and watching your student athlete get hurt in a game. Knowing your child can get immediate attention from an expert is a relief."
Mercy provides a comprehensive care program for athletes and people of all ages, including primary care sports medicine, orthopedic specialists and surgeons to treat injuries, and physical and occupational therapists to aid in recovery.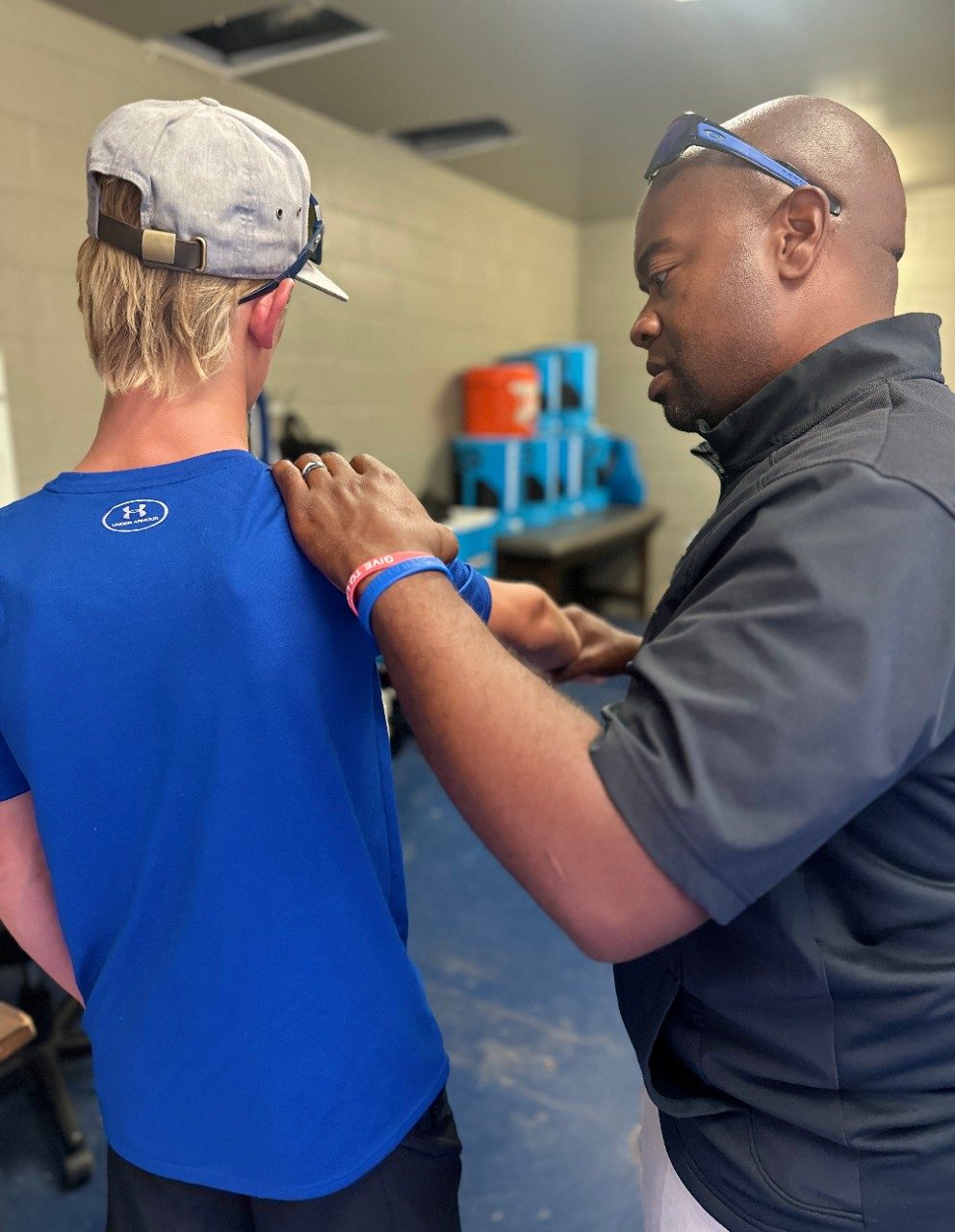 Bryan Smith, athletic trainer, works with a student athlete.
Saturday Morning Sports Injury Clinic
If a student is injured in a Friday evening game, they don't have to wait all weekend to see a specialist Monday. Mercy offers a Saturday morning sports injury clinic staffed by orthopedists during the fall semester. Appointments are not required, and the clinic is hosted at two locations:
Mercy Clinic Orthopedic Associates 
3301 N.W. 50th St,
Oklahoma City, OK 73112 
(405) 947-0911 
Every Saturday, Aug. 19 – Nov. 11, 8 – 10 a.m.
Mercy Clinic Orthopedic Associates
3735 Legacy 
Weatherford, OK 73096 
(580) 375-3155 
Every Saturday, Aug. 23 – Nov. 11, 8 – 10 a.m.
Concussion Care:
Dr. Brendon McCollom is a family medicine physician specially trained to care for patients experiencing concussion symptoms. He works with students and their families to guide them through the phases of recovery.
"After a student has experienced a concussion, it can be challenging for parents, coaches and teachers to know when it's the right time to return to a normal routine," said Dr. McCollom, who leads the concussion program at Mercy Clinic Primary Care - North Portland. "We have great technology in our clinic that helps us accurately assess brain function and measure improvement throughout their recovery."
Dr. McCollom works with families, athletic trainers and schools to create a plan for students to safely return to school and sports. For more information on the concussion program, call (405) 531-4271.
Mercy GoHealth Urgent Care
With ten locations across the Oklahoma City metro area, Mercy GoHealth is open after hours and on weekends. Each center has X-ray capabilities seven days a week, with images stored in Mercy's electronic health record. If a patient needs more specialized care, Mercy GoHealth providers will make a referral to a Mercy orthopedist with access to the same medical record, creating a seamless patient experience.
Oklahoma Teams Supported by Mercy Athletic Trainers:
Secondary Schools:
Cordell Public Schools
Deer Creek Public Schools
Guthrie Public Schools
Hydro-Eakly Public Schools
Piedmont Public Schools
Putnam City Public Schools
Thomas-Fay-Custer Unified Schools
Weatherford Public Schools
Universities:
Northwestern Oklahoma State University
Oklahoma Christian University
Southern Nazarene University
Southwestern Oklahoma State University
Youth Clubs/Community:
Oklahoma Energy Football Club – Development League
USA Oklahoma Wrestling