Judy Woody's recent heart attack spurred her daughter to set up a preventive heart scan. The test results led mother and daughter to work together to overcome their family history of heart disease.
Cindy Grizzell, Woody's daughter, is an active 65-year-old focused on her health. Several months after her mother's heart attack, she saw online information promoting a coronary calcium scan and decided to sign up. Grizzell thought the screening would ultimately confirm her excellent health.

"Going into the screening, I thought it would give me a baseline for my health," Grizzell said. "Knowledge is power. If there was something to learn, I wanted to know so I could do something about it."

When the test results came back, three blockages were flagged that potentially could cause a heart attack. Grizzell ended up having two stents inserted to restore blood flow and strengthen her weakened arteries.

"My results were honestly a bit of a surprise because I had no prior symptoms. I eat well, and I exercise regularly," said Grizzell. "Both my mom and dad have had heart disease, so my experience really highlights the importance of family history and preventive screening even when you are living a healthy lifestyle."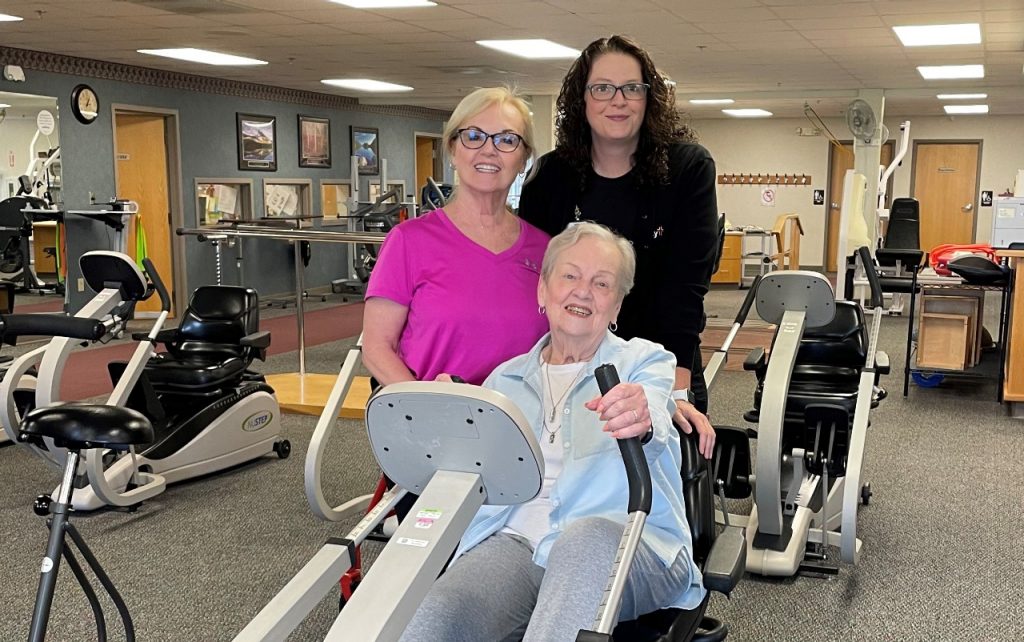 After stent placement, Grizzell's physician recommended she start attending cardiac rehabilitation at Mercy Hospital Lebanon Therapy Services in St. Robert, where, ironically, her mom was already participating in the program.
Woody, an energetic 85-year-old grandma and military wife, has lived and traveled all over the world.

"After my most recent heart attack, cardiac rehab provided me the opportunity to physically gain strength, but it was also good for my soul," said Woody. "It helped me gain confidence in my body and my ability to do things again."

Together, the mother-daughter duo now supports each other in their rehab goals and in strengthening their overall health.
"Although I wish my daughter didn't have heart issues, it has been good to do cardiac rehabilitation with her as my buddy," said Woody. "My advice to people is to keep active, eat healthy and listen to your body."
In addition to heart challenges, Grizzell has also seen her mother go through cancer and other difficult health problems.
"My mom is an amazing role model. She's shown me that when you have health challenges, you can still work to improve your well-being and live a fulfilling life," said Grizzell. "Her example has helped guide me through my own challenges and gives me strength to keep pushing forward."
Grizzell shares her experience on social media and with others in the hopes that people will consider preventive screening for themselves.
"The heart scan was really easy and took maybe a total of 20 minutes to complete," Grizzell said. "These screenings are easy to put off, but one simple test potentially saved my life."
Mercy nurse Carolina Sherrer, who is the local leader of the Mercy cardiac program, works with both Woody and Grizzell. "If you have a family history of heart disease, you should be extra mindful," Sherrer said. "Go the extra mile and do preventive testing."
Early interventions to prevent heart disease include eating well, staying active, maintaining a healthy weight, smoking cessation, lowering cholesterol and managing blood pressure. Genetics also play a role.
To learn more about cardiac rehab services in the Lebanon and St. Robert areas, click here..