JOPLIN, Mo.– For the third year, Mercy Health Foundation and Mercy Diabetes and Nutrition Center hosted "Stick It to Diabetes" at Hope City Church, entertaining a record crowd of over 300 guests and raising over $140,000.
Stick It to Diabetes is an annual fundraiser that brings awareness to diabetes and raises money for those who cannot afford essential medical supplies and technologies. The event featured local restaurants and vendors who prepared delicious, diabetes-friendly food on a stick. Chefs from Wilder's Steakhouse, Crabby's, Club 609, @1201, Carter's Catering, Indigo Sky, Mercy Catering and others served a delectable array of food. The event was hosted by Fox 14's Mike Olmstead and also had a silent auction fundraiser.
"To see so many of our community members coming together to support each other really sends a message of strength by numbers. We can really impact those living with or at risk of diabetes," said Dr. Gretchen Shull, endocrinologist and diabetes medical director at Mercy in Joplin. "Because of the success of our event, we are also able to provide opportunities for those underinsured patients who would benefit from cutting edge technology."
Proceeds from the event will go to Mercy Health Foundation's Diabetes Fund. The fund helps provide medications, insulin, testing supplies and educational resources to underserved diabetic patients in the Four State area.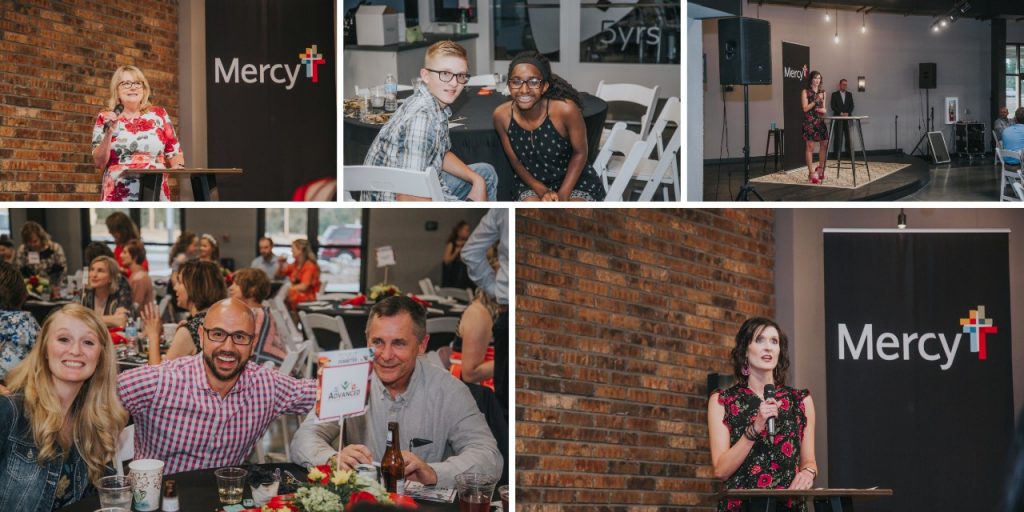 Participants enjoyed the third annual Stick It to Diabetes event at Hope City Church.
This year's event also featured the band Delta Rae. Kim Kory, executive director of Mercy Health Foundation Joplin, said, "This was our first year to have a band with our fundraiser and the talented Delta Rae was inspiring and entertaining. One of the themes for our event was that all diabetic patients should have access to care, and educational and medical supplies that they need to live a long and happy life with diabetes. When Delta Rae performed their opening hit song "Long and Happy Life" after hearing several powerful patient testimonials, it was an incredibly moving experience."
According to Kory, "We want to send a message of hope through this event — hope that lifestyle management will improve the fight against diabetes and that together we can improve the lives of patients with diabetes in the area." Thanks to the success of the fundraiser, and the generosity of donors, that hope will continue to be shared with the Joplin community.   
Mercy Health Foundation, a 501(c)3 non-profit organization, raises money and community awareness for Mercy Hospital. It is dependent on the support of individuals, corporations and foundations to help Mercy meet community health care needs. Mercy Health Foundation invests its philanthropic support in facilities and the advancement of technologies and programs to enhance Mercy's ability to provide excellence in health care. For more information, visit mercy.net/joplinmo/giving.
Mercy Joplin includes Mercy Hospital Joplin, a new hospital with the latest technology, unprecedented "storm-hardened" features and 240 beds, as well as 82 clinic and outpatient locations and more than 100 physicians. It's part of Mercy, named one of the top five large U.S. health systems in 2018, 2017 and 2016 by IBM Watson Health, serves millions annually. Mercy includes 44 acute care and specialty (heart, children's, orthopedic and rehab) hospitals, more than 700 physician practices and outpatient facilities, 40,000 co-workers and more than 2,000 Mercy Clinic physicians in Arkansas, Kansas, Missouri and Oklahoma. Mercy also has outreach ministries in Arkansas, Louisiana, Mississippi and Texas.