January 3, 2019
Even though she arrived nearly two weeks ahead of her due date, some might have assumed it was too late to make history when Joelee Carma Cresswell was born at 8:12 a.m. on Thursday, Jan. 3. That arrival time was soon enough to be the first baby of the year at Mercy Hospital Jefferson.
Joelee is the daughter of Lindsey Cresswell of Potosi and the sister of big brother Chevy Gray and sister Anna Cresswell. Also welcoming the newest member of the family are grandparents, Bo and Melissa Hearn and Sherri Cresswell, all of Potosi.
Joelee weighed in at 6 pounds, 8 ounces, and was 18.5 inches long. Her arrival as the first baby of the New Year at Mercy Hospital Jefferson brought a pile of presents and a case of newborn diapers donated by the nurses and physicians in the new Childbirth Center at Mercy Jefferson.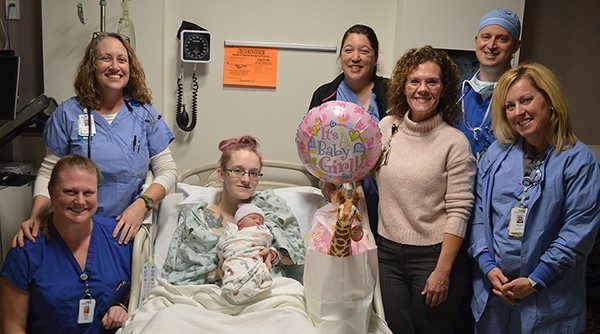 Surrounded by staff from the Mercy Hospital Jefferson Childbirth Center, Lindsey Cresswell holds her daughter Joelee Carma Cresswell who was the first baby born in 2019 at Mercy.
A first-of-the-new-year arrival on a date other than Jan. 1 is a rarity at Mercy Jefferson, where the birth rate is about three babies every two days. Joelee's birth on Jan. 3 is the first to not be on Day One since 2014. Before the end of the day on Thursday, there were three newborns in the unit.
Mercy Jefferson expects Joelee is just the start for a continuing trend, which has seen the number of births at the hospital increase in recent years. In 2018, 482 babies were delivered compared to 405 in 2017, an increase of 77 (19 percent) over the previous year.
"We are blessed to have a career that allows us to participate in the priceless moment when parents meet their new baby," said Kelly Branscum, nurse manager for the Childbirth Center at Mercy Jefferson. "Delivering babies makes us happy, and we keep getting happier. Our delivery numbers have been growing thanks to our skilled obstetricians, our compassionate and dedicated nursing staff, the amenities of our remodeled labor and delivery suites, and our patients who come to us for an exceptional birth experience that is close to home."
Melinda Auer, MD, who had been Lindsey's physician throughout her pregnancy, delivered Joelee. Auer is a member of the team at Mercy Clinic OB/GYN – Jefferson in Festus, along with Jacob Peyton, MD, Catherine Hutz, MD, and nurse practitioners Christena Huskey and Sheila Frimml.
Expectant parents are invited to tour the new childbirth center by appointment at any time. For more information call 636-933-1398 or visit www.mercy.net/jefferson.  

Media Contact
Bethany Pope
St. Louis, St. Charles, St. Louis - South, Troy, Festus