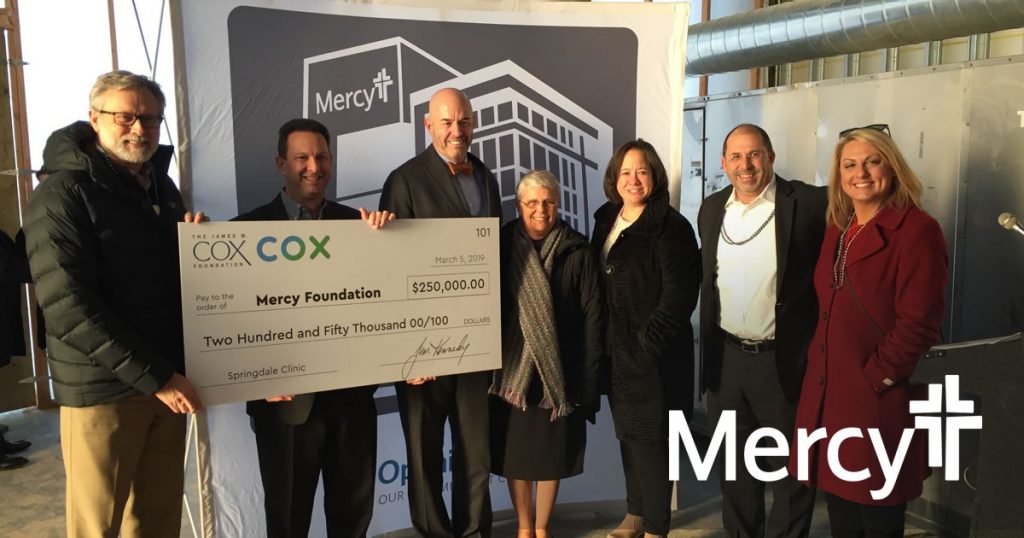 Pictured are Dr. Steve Goss, Eric Pianalto, Curt Stamp, Sister Anita DeSalvo, Charlotte Rankin, Matt Mozzoni and Theresa Hill.
Mercy Health Foundation has announced a $250,000 grant from the James M. Cox Foundation that will support capital costs for Mercy's multispecialty facility under construction in Springdale.
Cox Enterprises' founder James M. Cox believed in giving back to the communities where Cox does business, especially through support of local nonprofit organizations.
"We are excited about the work Mercy continues to do in Northwest Arkansas to elevate access to care and proud to support the Springdale clinic," said Curt Stamp, Cox Arkansas vice president.
The grant will support the second-largest project in Mercy's $277 million expansion, a $40 million multispecialty clinic that will add nearly two dozen primary care and specialty providers in Springdale. Mercy broke ground on the two-story, 63,000-square-foot clinic in October 2017 and expects to open its doors this fall.
The Springdale clinic will feature 29 exam rooms dedicated to primary care and 34 exam rooms for specialty care, including cardiology, urology, pulmonology, and ear, nose and throat. In addition, it will feature a 24-hour emergency department with 12 exam rooms and one trauma room and a helicopter pad for transports.
The facility's 31-acre site west of Interstate 49 at Elm Springs Road and 48th Street in Springdale will allow room for expansion.
"Mercy is proud to have a strong partnership with the James M. Cox Foundation," said Clark Ellison, regional vice president of Mercy Health Foundation. "The Springdale multispecialty facility will provide much needed access to health care in this rapidly growing community, including a convenient care clinic and emergency care."
Mercy, named one of the top five large U.S. health systems in 2018, 2017 and 2016 by IBM Watson Health, serves millions annually. Mercy includes more than 40 acute care, managed and specialty (heart, children's, orthopedic and rehab) hospitals, 900 physician practices and outpatient facilities, 45,000 co-workers and 2,400 Mercy Clinic physicians in Arkansas, Kansas, Missouri and Oklahoma. Mercy also has clinics, outpatient services and outreach ministries in Arkansas, Louisiana, Mississippi and Texas. In addition, Mercy's IT division, Mercy Technology Services, supply chain organization, ROi, and Mercy Virtual commercially serve providers and patients in more than 20 states coast to coast.
The primary mission of the Mercy Health Foundation is to secure financial support enabling Mercy to provide affordable, quality healthcare in a faith-based environment to every individual, regardless of financial means.
The James M. Cox Foundation is named in honor of Cox Enterprises' founder and provides funding for capital campaigns and special projects in communities where the company operates. James M. Cox was Ohio's first three-term governor and the 1920 Democratic nominee for president of the United States. The Foundation concentrates its community support in several areas including: conservation and environment; early childhood education; empowering families and individuals for success; and health.