Quick Facts:
Berryville,
Northwest AR,
Joplin,
Lebanon,
Springfield,
St. Louis,
St. Louis South,
Ada Community,
Ardmore,
Oklahoma City,
Tishomingo
Mercy is providing $500,000 in grants to nearly 30 organizations in seven states that serve children, elderly, homeless and uninsured people.
Since 1987, Mercy has awarded funds, now totaling more than $15 million, that provide medical care, counseling, housing, meals and more. This year's grants will benefit more than 48,000 people.
Of the 29 grants, 19 are Mercy Caritas (Latin for "charity") grants that support community-based programs consistent with Mercy's mission and vision, as well as align with an identified community health need. The remaining 10 grants were awarded to Sisters of Mercy working in direct service to people in poverty.
"Catherine McAuley, who founded the Sisters of Mercy in 1831, had a zeal to serve those in need and Mercy's health ministry continues those efforts today," said Sister Mary Roch Rocklage, Mercy's health ministry liaison and board member. "By giving back to our communities, we honor our mission of Mercy."
Mercy Caritas was established to provide funds to health and human services programs that meet unique community needs.
Here is the list of recipient organizations:
Arkansas
Loaves and Fishes Food Bank of the Ozarks (Berryville) – Operation Food for Hungry Kids is a weekend food pack program providing about 3,500 calories of nutritious meals and snacks for hungry children in Berryville and Green Forest. Its purpose is to supplement free and reduced-cost lunch programs with consistent weekend nutrition for children living in poverty.
Children's Advocacy Center of Benton County (Rogers) – Western Benton County Mental Health Services provides quality, holistic counseling services, free of charge, to children and their families by treating the whole person to alleviate trauma symptoms and promote healing. The center is expanding services to include a location in western Benton County.
Samaritan House Community Center (Rogers) – Samaritan Dental Clinic is operated by the center, a nonprofit organization that serves the hurting and hungry of Northwest Arkansas. The clinic's purpose is to provide free, comprehensive oral health care to adults who are uninsured and unable to afford quality dental care.
Kansas
*Home Sweet Home Homeless Ministry (Independence) – The program helps homeless men and families restore their lives through temporary housing, food, clothing, life skill training, medical and mental health support, job training, mentoring and spiritual support.
Louisiana
*Mercy Endeavors (New Orleans) – Mercy Endeavors wants to ensure low-income and struggling seniors are properly nourished and educated on healthy eating habits. The group provides a healthy, freshly prepared breakfast five days a week, distributes take-home weekend food packs and offers cooking classes led by a dietician.
Mercy Family Center (New Orleans) – The center provides assistance for special needs families and children with financial barriers to educational support in reading, writing and math. The center provides academic therapy to children of families who are economically disadvantaged.
*St. Alphonsus School (New Orleans) – The school has an after-school program for low-income students.
Mississippi
*Coastal Family Health Center (Biloxi) – The center ensures that low-income, uninsured or underinsured patients who receive primary care there have access to vital prescription medications through the onsite 340B pharmacy. It also provides durable medical equipment and external services that patients may be unable to afford without this assistance.
*Sisters of Mercy grant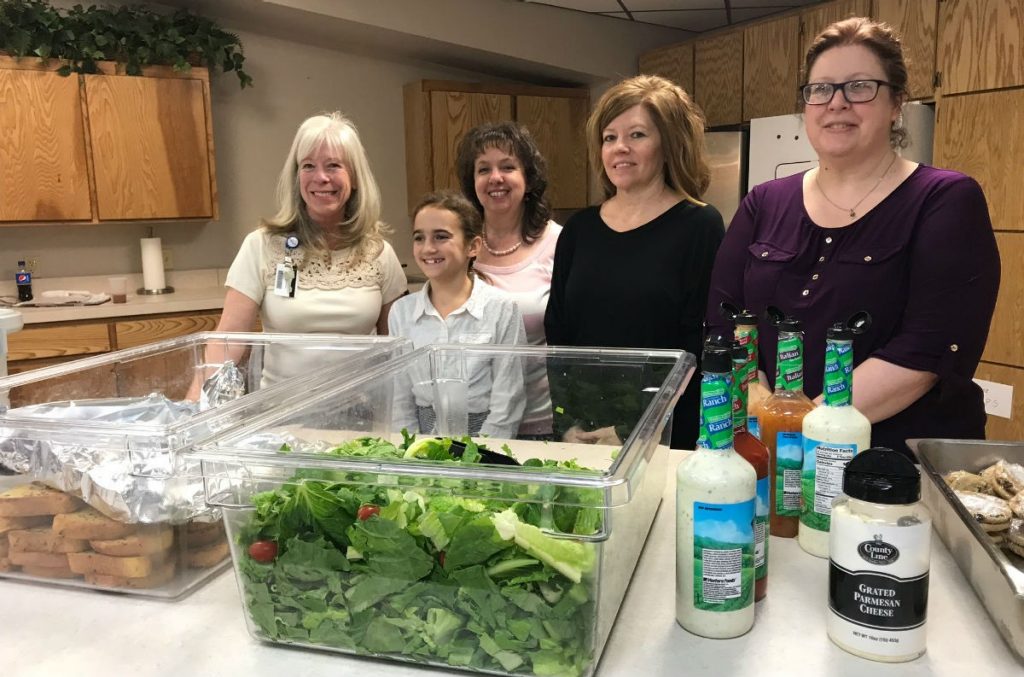 Compassion Outreach Center in Ada, Oklahoma, is one of 29 organizations receiving grants from Mercy.
Missouri
Community Clinic of SWMO (Joplin) – The Chronic Lung Disease Management and Prevention Program provides services using chest X-rays, pulmonary diagnostics, pneumonia vaccinations, tobacco cessation education and medication to improve chronic lung disease (asthma, bronchitis, chronic obstructive pulmonary disorder, emphysema and pneumonia). Left untreated, these illnesses result in significant negative impact on an individual's quality of life.
*St. Peter the Apostle Outreach House (Joplin) – The outreach house provides services to persons in recovery.
Watered Gardens (Joplin) – Forge Center for Virtue and Work is a year-long intensive program for those trapped in cycles of homelessness, incarceration or addiction. Initial physical wellness, spiritual development and education are followed by an emphasis on work readiness to provide a platform where becoming and doing merge.
L-Life Food Pantry (Lebanon) – L-Life offers help to underserved families with nutritional deficits. The organization works to improve the quality of life of residents in Laclede County and build healthier families by closing the gap of food insecurities.
Community Partnership of the Ozarks (Springfield) – One Door will provide immediate housing and basic health care needs for the most vulnerable homeless population, including families with children, seniors and those with serious or chronic health conditions. The program, located at the Springfield Affordable Housing Center, holds an annual event, HOPE Connection, that offers basic health screenings and other services.
The Salvation Army (Springfield) – A holistic wellness program addresses the health needs of vulnerable populations served by The Salvation Army, including senior citizens, homeless men and families.
Beyond Housing (St. Louis) – The 24:1 Community Health Workers project places two health workers and a manager into the community to address chronic diabetes and asthma. They work with participants to identify care pathways, reduce barriers to treatment and provide education on managing chronic illness.
iFM Community Medicine (St. Louis) – AWAKE will increase access to health care for women and children transitioning from domestic abuse situations. iFM already serves this population through a clinic established at Lydia's House service center. The AWAKE project will help other women/children-focused organizations access primary and acute care.
*Mercy Professional Services (St. Louis) – Mercy Professional Services provides free or low-fee counseling to members of the community in need.
NAMI St. Louis (St. Louis) – Finding Help & Hope: Supporting Loved Ones Fighting Suicide provides family members with support, resources and education following the discharge of their loved one. This program will provide support groups at Mercy Hospital St. Louis and Mercy Hospital Jefferson, as well as a new outreach program for families.
*St. Augustine Wellston Center (St. Louis) – The center provides senior citizens and families with healthy food monthly. Volunteer nurses offer consultation on nutrition and health services as clients wait for their food. Staff and volunteers develop and strengthen trusting and healing relationships with clients as they interact.
St. Louis Crisis Nursery

(St. Louis) – The Family Empowerment Program provides strength-based parenting education, home visitation and community outreach to prevent child abuse and build resiliency in vulnerable south St. Louis County and Jefferson County families. Mercy Hospital South and Mercy Hospital Jefferson host outreach centers where services are based.
*Sisters of Mercy grant
Oklahoma
Compassion Outreach Center (Ada) – The Health Improvement Initiative expands and enhances medical, dental, vision and pharmaceutical services of the center, which serves uninsured Pontotoc County residents. This expansion of services and purchase of needed medical equipment will promote improved health and wellness of patients.
Good Shepherd Community Clinic, Inc. (Ardmore) – Through the Prescription Assistance Pharmacy Program, the clinic can acquire $3 million in nonnarcotic medications for patients every year. Prescription assistance services are provided to low-income, uninsured and underinsured patients free of charge.
The Grace Center of Southern Oklahoma (Ardmore) – With a mission to prevent homelessness and increase self-­sufficiency for all people, the center provides education and resource assistance in a culturally sensitive, encouraging and Christ-centered environment.
*The Landing Bridge (Ardmore) – The Landing Bridge is a support group for youth who are at high risk for juvenile delinquency, social struggles and academic failure.
Health Alliance for the Uninsured (Oklahoma City) – The Colorectal Cancer Screening and Prevention Program increases access to screening, early detection and prevention for low-income, uninsured adults who are asymptomatic but may be at risk of cancer. The purpose is to educate patients, provide easy, take home, fecal immunochemical tests and coordinate access to additional diagnostic testing, surgery and treatment.
Johnston County Kids (Tishomingo) – The program provides weekly nutrition education, healthy food options and hygiene training for elementary-age children. It offers healthy supplemental food in weekend backpacks, school supplies, food for existing school pantries and support for after-school programs for students.
Texas
*ARISE: A Resource in Serving Equality (Alamo) – ARISE's immigrant community has experienced repetitive traumas. Psychological recovery introduces skills necessary for resilience and coping mechanisms needed to reduce or prevent risky behavior due to stress or anxiety.
Mercy Ministries of Laredo (Laredo) – Mercy's bias for action established the first facility in this region to integrate behavioral health care with primary care for all patients. Mercy's transformative model identifies patients suffering from depression, anxiety and stress who are engaged by a licensed professional counselor.
*Mercy Ministries of Laredo Food Pantry (Laredo) – The food pantry provides monthly substance distribution of nonperishable food to patients and individuals who have received services at Casa de Misericordia or the education center.
*Sisters of Mercy grant