Drug overdose deaths in the United States hit a record high in 2020 with more than 90,000 deaths and have increased by almost 30% since the beginning of the pandemic. Mercy Hospital Ada is combating the rise in addiction and overdose with three lifesaving programs: a drug take-back vault, increased Narcan access at a local community college and hospital withdrawal management services.  
One vital way to reduce addiction and overdose in southern Oklahoma is to remove old medications from the community. A drug-take back vault located in the main lobby of Mercy Hospital Ada provides a valuable tool for their disposal.  
"It's essential to provide community members with a safe and secure site to drop off their medications," said Mike O'Grady, director of pharmacy services at Mercy Hospital Ada. "By giving people a place to properly dispose of their medications, we are minimizing the risk of children or the elderly accidentally taking expired medications, preventing possible diversion and protecting the community's water supply from improperly disposed of substances. Teenagers are not the only individuals who may raid a drug cabinet at home. The potential for prescription drug abuse is blind to age." 
The vault is not just for prescription pills. Many also discard over-the-counter medications, creams, ointments and more. Between 50 and 100 bottles and tubes of medication are dropped off at the site each week. Some of the drugs are narcotics, while many are regular non-prescription medications that are still dangerous to children and pets.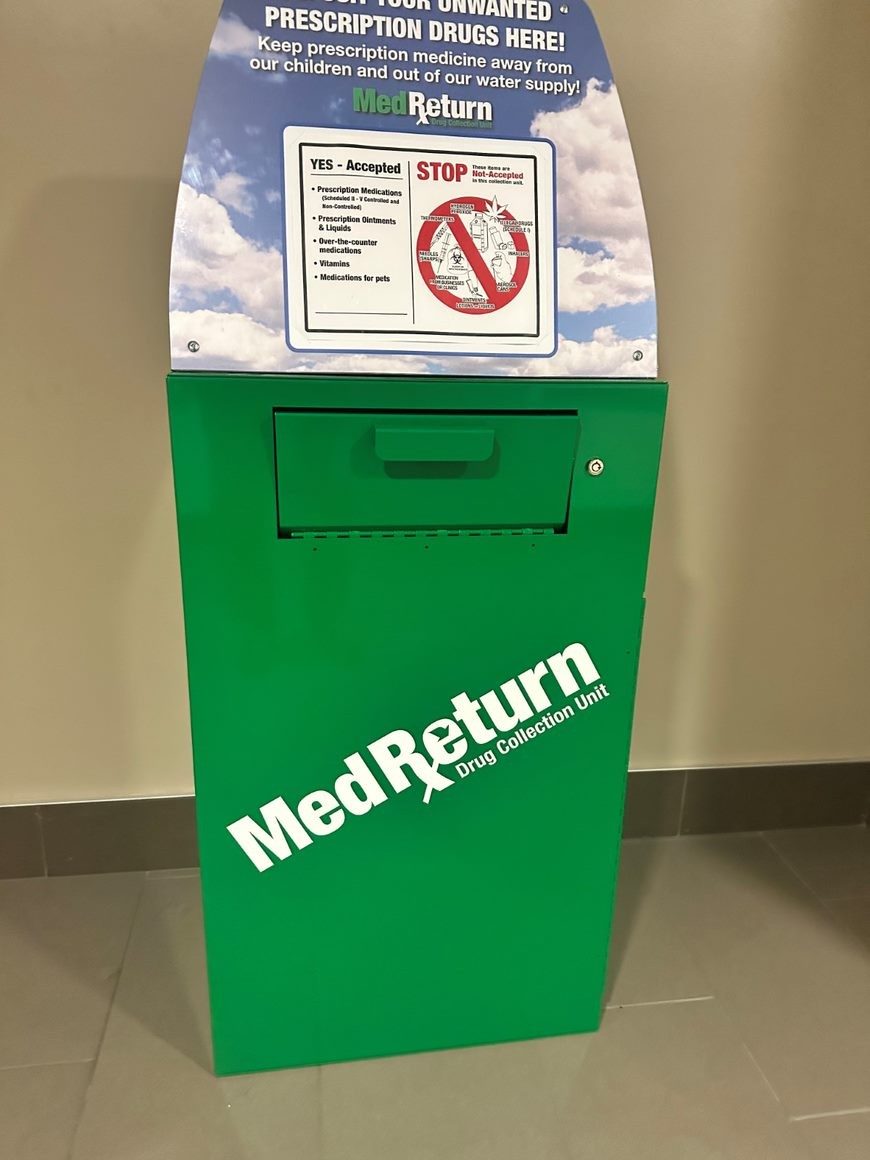 Drug take back vault located in the lobby of Mercy Hospital Ada.
"Many don't realize that their unused drugs and medications are considered hazardous waste," said O'Grady. "You don't want your family exposed to it."

Once collected in the drop box, the pharmacy team logs and tracks any narcotics. A chemical solution dubbed the RX Destroyer breaks down the narcotics so they can't be used again. Any other dangerous drug is made into black waste which is discarded following federally mandated guidelines.
In addition to the drug collection drop box, Mercy is helping increase access to Narcan for local college students at Pontotoc Technology Center. The hospital's pharmacy and EMS teams have provided overdose kits containing Narcan to the campus and will be offering onsite education on how to administer this lifesaving treatment. Narcan acts as an opioid reversal agent and rapidly reduces the effects of an overdose. It is an essential tool at locations like college campuses where overdoses are typically high. 
Community members already struggling with drug or alcohol addiction can access Mercy Hospital Ada's BreakThru Medical Withdrawal Program, a medically managed withdrawal service for individuals addicted to alcohol, benzoates and opioids. However, this service is not intended for those addicted to methamphetamines. 
A hospital provides the safest environment for withdrawal from drug and alcohol addiction. BreakThru connects patients going through detox with a program coordinator/advocate. Patients are medically stabilized as they work through withdrawal symptoms. They then collaborate with medical staff and the BreakThru coordinator to create a discharge plan that might include rehab or counseling focused on preventing relapse.
"The pandemic was really rough for people struggling with addiction," said Mindee Todd, Mercy Hospital Ada's BreakThru Medical Withdrawal Program coordinator. "A lot of people became addicted during the pandemic due to stress, especially to alcohol. We want people to know that this service is here, and we are ready to help them."
Providing these programs and services is an essential part of Mercy's values to protect the dignity of each individual created in the image of God, regardless of their struggle with addiction and/or overdose.
"These efforts are part of our Mercy Mission," said Terence Farrell, president of Mercy Hospital Ada. "It is how we serve the health care needs of our entire community." 
To access the drug take-back vault, enter Mercy Hospital Ada's main lobby located at 430 N. Monte Vista St.