ST. LOUIS – Slated to open Spring 2023, Mercy's multispecialty building has an official name reflecting the important services it will provide the community - The Mercy Center for Performance Medicine & Specialty Care. The center's cornerstone, noting the opening year, was also recently set in place. Mercy places a cornerstone on every newly constructed building to symbolize its foundational commitment to permanently serve its patients.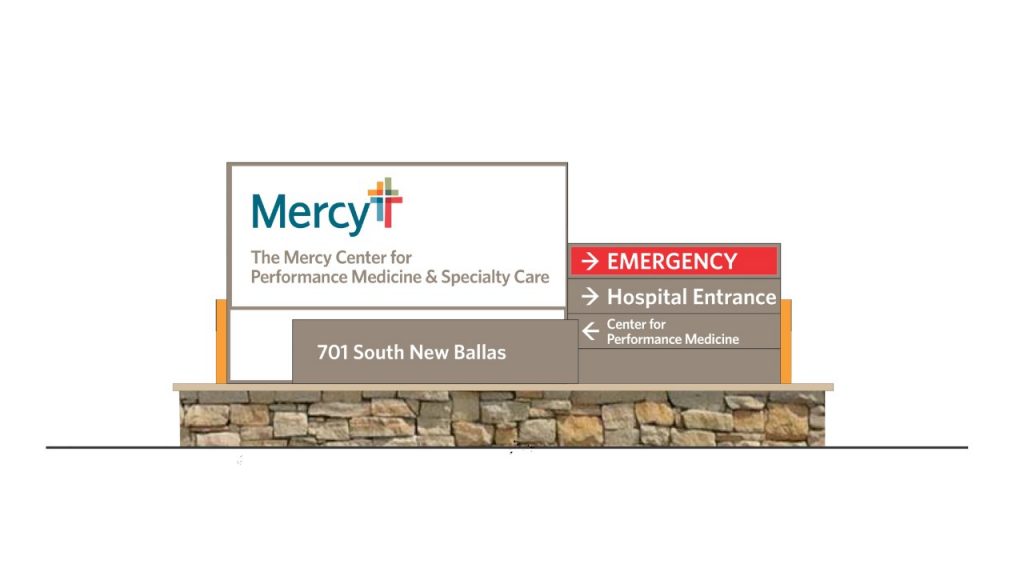 The Mercy Center for Performance Medicine & Specialty Care
The Mercy Center for Performance Medicine & Specialty Care, a 272,000-square-foot, five-level outpatient center is a next generation care space with the patient experience top of mind at every turn, from the time patients drive into the high-tech garage to the time they leave. The name highlights the promise to treat all patients as "performers," seeking to produce at their highest level and establishes Mercy as a partner in pursuing a vibrant life through clinical excellence and compassionate care. It also introduces performance medicine, Mercy's patient-centric vision of sports medicine and its long-term relationship with the St. Louis Cardinals as their health care provider.
"We've said it for years, 'Your life is our life's work,' and this facility puts that into action," said Dr. David Meiners, Mercy Hospital St. Louis president. "We want to meet, and exceed, the needs and expectations of our patients when they're healthy and when they're sick. So, we considered every possible barrier in a health care setting and worked to address them, making visits to the new building as seamless as possible."
The Center for Performance Medicine will be one of the largest outpatient surgery centers in the United States when it opens. It will house multiple specialties including bariatrics (weight loss surgery), neurosurgery, orthopedics and sports medicine (including a walk-in orthopedics clinic), reconstructive surgery and urology. Additional services include precision medicine, weight and wellness programming, imaging services and a café.
WATCH: Time Lapse Construction Video.
More details will be shared as opening day nears.