ST. LOUIS – As obesity rates in the United States continue to climb, Mercy is taking an innovative approach and adding an optional fourth year to its Mercy Family Medicine Residency program. One of only three family medicine residency programs in the U.S. approved for an additional year, Mercy's is the only one focused on prevention and management of obesity and its complications.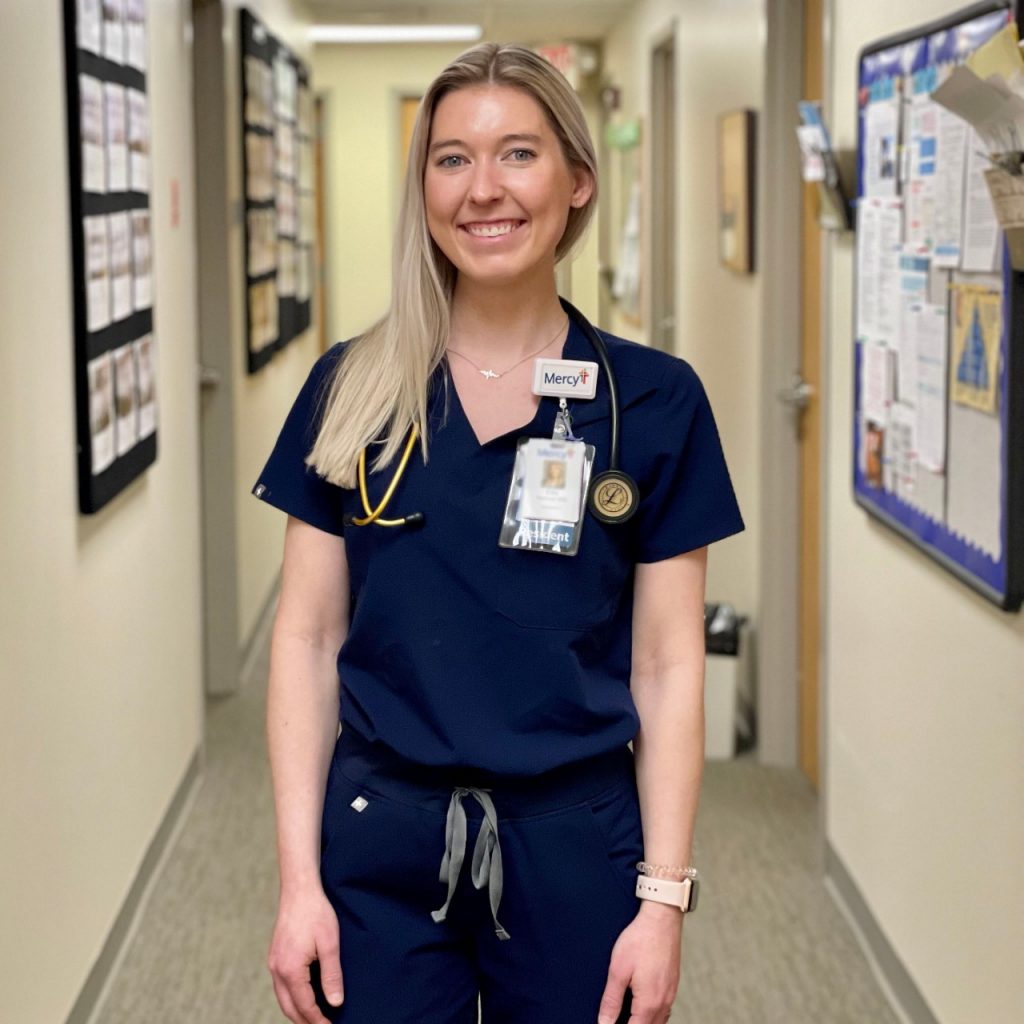 Dr. Ellie Hoover will be the first resident at Mercy St. Louis to participate in the option fourth year.
"Obesity isn't just a condition in the U.S., it's an epidemic and study after study shows the burden it puts on patients and the health care system as a whole," said Dr. Sarah Cole, Mercy Family Medicine Residency program director. "Family medicine residents traditionally train for three years but an extra year would give them expertise in treating obesity."

The goal of the additional year, recently approved by both the Accreditation Council of Graduate Medical Education (ACGME) and American Board of Family Medicine (ABFM), is to produce family medicine physicians who lead community efforts in public health and care related to obesity and associated conditions, such as cardiovascular disease, depression and diabetes across all ages.
Residents who choose to participate will collaborate with Mercy Clinic Weight and Wellness Medical Director Dr. Kara Mayes, who will serve as core faculty and site director. Once their residency is complete and after achieving primary certification by the ABFM or American Osteopathic Board of Family Practice, residents are eligible to sit for specialty certification by the American Board of Obesity Medicine.
Dr. Ellie Hoover, a third-year chief resident with the Mercy Family Medicine Residency program, will be the first to take advantage of the optional fourth year of training.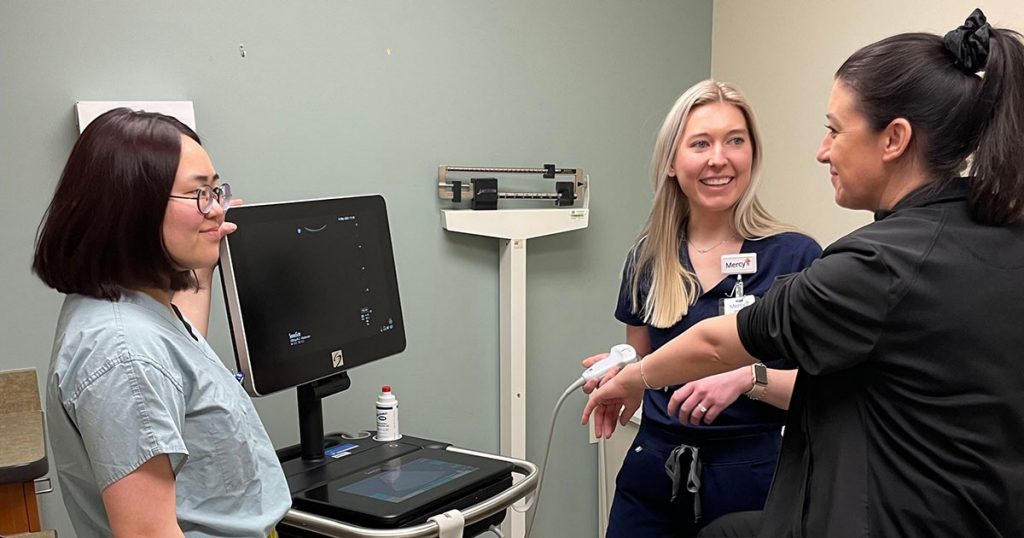 Dr. Ellie Hoover (middle) with her co-resident and nursing colleagues.
"Early in my second year of residency I did an elective with Dr. Mayes and fell in love with the patient population and realized how much I can help them," Dr. Hoover said. "As family medicine physicians, we often manage the conditions that come from obesity, and prevention is more important than treatment after the fact. I'm lucky to have this opportunity to train for another year and continue working with amazing attending physicians."
The change is part of a national assessment of length of family medicine residency training and is approved by the ACGME and the ABFM under their Advancing Innovation in Residency Education collaboration.
Now in its 50th year, Mercy Family Medicine Residency, based at Mercy Hospital St. Louis and traditionally a three-year program, has a long history of educating resident physicians in both inpatient and outpatient settings. Six residents join the program each year and the optional fourth year is available to one resident annually, providing an opportunity to better address obesity and support patients.
Mercy, one of the 20 largest U.S. health systems and named the top large system in the U.S. for excellent patient experience by NRC Health, serves millions annually with nationally recognized quality care and one of the nation's largest Accountable Care Organizations. Mercy is a highly integrated, multi-state health care system including more than 40 acute care, managed and specialty (heart, children's, orthopedic and rehab) hospitals, convenient and urgent care locations, imaging centers and pharmacies. Mercy has 900 physician practices and outpatient facilities, more than 4,000 physicians and advanced practitioners and more than 45,000 co-workers serving patients and families across Arkansas, Kansas, Missouri and Oklahoma. Mercy also has clinics, outpatient services and outreach ministries in Arkansas, Louisiana, Mississippi and Texas.