SPRINGFIELD, Mo. – Mercy Hospital Springfield recently reopened its lactation clinic inside the Family Resource Center and is already expanding hours to meet patient demand. The clinic had been closed since the COVID pandemic.
The announcement comes during World Breastfeeding Month, a time to raise awareness about the benefits of breastfeeding. The lactation clinic had provided mothers support and consultation in southwest Missouri for 15 years prior to the pandemic, and the service was missed.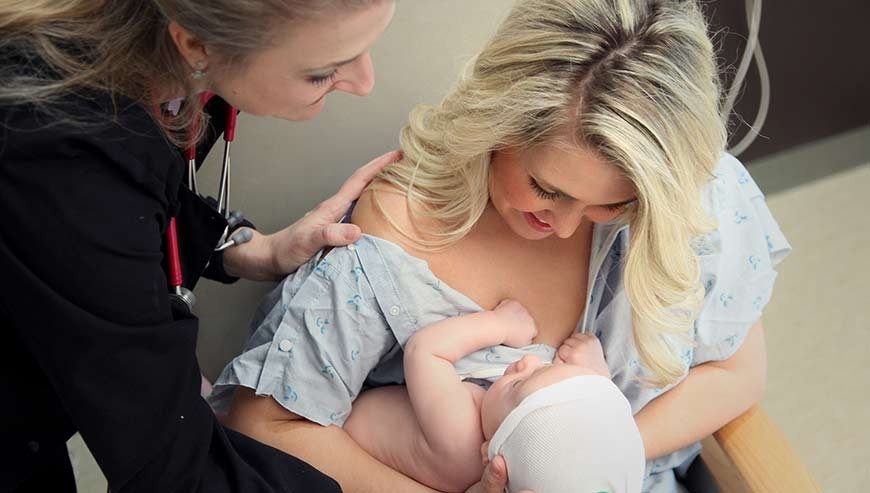 Brittany Thompson, Mercy nurse manager in labor and birth and Family Resource Center, was a driving force behind reopening the clinic.
"I was fielding calls from patients and co-workers asking when our education classes were returning and if we offered outpatient lactation support," said Thompson. "It was baby steps at first because we rebuilt the program from the ground up, but I can't say enough about the support Mercy showed by standing behind this reopening without hesitation, knowing it is the right thing to do for our patients and our community." 
The lactation clinic reopened in March with limited hours Monday through Wednesday. Less than four months later, patient demand has required the clinic to extend its hours, and it's now open Monday through Wednesday from 8 a.m. to 5 p.m.
"I see moms come in very anxious and worried about breastfeeding," said Trisha Nunn, a certified lactation consultant at the clinic. "They come in with so many questions and fears. My hope is to empower them and tell them how great they are doing regardless of if they are having a hard or easy time with breastfeeding."
Moms who deliver their babies at Mercy have an appointment scheduled at the clinic before they're sent home. The proactive approach aims to make life easier for new moms.
"They might realize they're struggling with latching or engorgement, but not until they've left the hospital," said Sarah Shaft, Mercy's Family Resource Center clinical supervisor. "We make this appointment for them, so it's one less thing they have to worry about."
The lactation clinic sees babies as young as two weeks, and the team works side-by-side with Mercy's pediatric clinics to make sure babies are gaining weight. The collaborative approach makes it easier for Mercy pediatricians to decide if a baby needs a supplement to boost their nutritional intake.  
As word spreads about the clinic and more moms book consultations, the clinic expects to be open Monday through Friday by late fall.
"Before we closed, we often completed consultation calls off hours because the need for lactation support was so great," Thompson said. "I'm thrilled to say we are on track to be that busy again soon."
Mercy
, one of the 20 largest U.S. health systems and named the top large system in the U.S. for excellent patient experience by NRC Health, serves millions annually with nationally recognized quality care and one of the nation's largest Accountable Care Organizations. Mercy 
is a highly integrated, multi-state health care system including
 more than 40 acute care, managed and specialty (heart, children's, orthopedic and rehab) hospitals, 
convenient and urgent care locations, imaging centers and pharmacies. Mercy has 
900 physician practices and outpatient facilities, more than
4,000
physicians and advanced practitioners and more than 40,000 
co-workers serving patients and families across 
Arkansas, Kansas, Missouri and Oklahoma. Mercy also has clinics, outpatient services and outreach ministries in Arkansas, Louisiana, Mississippi and Texas.