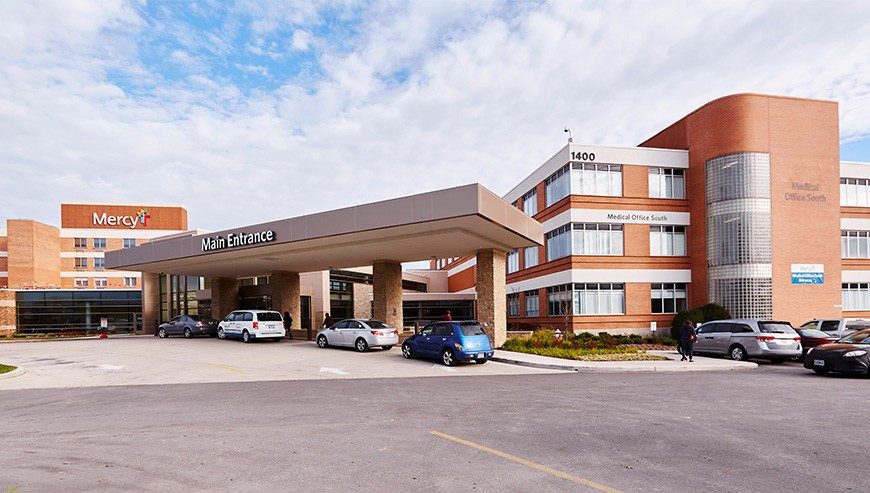 Mercy Hospital Jefferson has been a healing presence in the Jefferson County region for more than 60 years.
Adult Psychiatry
Bariatric Services
Behavioral Health Services
Endocrinology
Family Medicine
Gastroenterology
General Surgery
Home Care and Hospice
Hyperbarics and Wound Care
Jefferson Surgical Hospital
Internal Medicine
Neurology
OB/GYN
Orthopedics
Rheumatology
Urology
Recognized by the American College of Cardiology in the 2021 U.S. News & World Report "Best Hospitals" issue for commitment to hospital care for heart patients.
Earned The Joint Commission's Gold Seal of Approval for Hospital Accreditation as a symbol of quality that reflects commitment to providing safe and effective patient care.
Earned four stars from the CMS (Centers for Medicare and Medicaid Services) Five-Star Quality Rating System.
Earned an "A" grade in the Leapfrog Hospital Safety Grades.
Earned Missouri TCD (Time Critical Diagnosis) Level II Certification for STEMI (a type of major heart attack).
Earned Missouri TCD (Time Critical Diagnosis) Level III Certification for stroke.
Named to the Best Maternity Hospitals 2021 list by Newsweek and the Leapfrog Group.
Earned a Bariatric Center of Excellence certification.
Selected by Centers for Medicare and Medicaid Services (CMS) as one of four hospice providers in Missouri to participate in the new Medicare Care Choices Model.
1957 - Through many varied fund-raising activities – from corporate support by PPG Industries and its union members to Festus High School Honor Society bakes – the residents of southern Jefferson County collected contributions and pledges of more than $500,000 to match a $375,000 federal Hill-Burton Act grant and opened the new 50-bed Jefferson Memorial Hospital.
1958 – The volunteer Auxiliary is founded. For more than 50 years their commitment to patients and the community has helped to raise millions of dollars to help purchase equipment and build the capabilities of the hospital.
1965 – Less than 10 years after it opened, Jefferson Memorial Hospital doubled its capacity by adding a second floor and opening an additional 50 patient beds to serve the community needs.
1974 – Construction begins on a $5 million expansion that would include a new Emergency Room and Intensive Care Unit.
1980 – More new construction allows expansion of cardiovascular services, a new physical therapy unit, nuclear medicine capabilities and outpatient surgery facilities.
1989 – Additional service line are made available including renal dialysis, a skilled nursing facility and laser surgery options.
1996 – A new surgical Intensive Care Unit opens to support a full cardiopulmonary care program including cardiac catheterization capabilities and a new cancer care center.
2004 – A new outpatient imaging and x-ray facility is opened on the Crystal Oaks campus expanding the hospital foot print to the south.
2009 – In an effort to highlight its growth and reach, the hospital is renamed Jefferson Regional Medical Center to identify its expanded capabilities and include surrounding communities south of Jefferson County.
2010 – The first of its kind in Missouri, the new Jefferson Surgical Hospital opens on property across U.S. Highway 61 from the main hospital campus. The new 25,000 square foot building offers 15 private patients suites, four operating rooms, and two endoscopy rooms, all equipped with the most advanced technologies.
2013 – Jefferson Regional joins forces with Mercy to become part of the sixth largest Catholic health care system in the U.S. 
2015 - Mercy Jefferson breaks ground on new three-story building to provide all private patient care rooms.
2018 - New all-private room patient tower opens; New Mercy Cancer Center opens.   
Free mammography days are scheduled four times each year for uninsured and under-insured women to receive diagnostic cancer screenings. The free services are provided through a grant from Susan G. Komen for the Cure and fund-raising efforts by many local organizations.

Community Lunch and Learn programs offer area residents free access to information provided by local specialists as an educational series in the spring and fall of each year.
The Mercy Heart and Vascular center, in conjunction with area Emergency Medical Services consistently records cardiac catheterization "door-to-balloon" times that are much faster than national standards and save lives.
Missouri's first short stay surgical hospital offers 15 private patients suites, four operating rooms, and two endoscopy rooms, all equipped with the most advanced technologies in a new 25,000 square foot building.
Among only six percent of health care organizations nationwide to have a comprehensive, integrated electronic health record system that provides real-time, paperless access to patient information.
MyMercy, a new web-based service, allows patients to connect online with their doctors, see medical information, view test results, renew prescriptions and schedule appointments using a personal computer or smart phone.
$4.9 million
---
Traditional Charity Care
$2.4 million
---
Other Community Benefit
$4.5 million
---
Unreimbursed Medicaid
37 Locations
---
Clinic and Outpatient
1,202 Co-workers
---
Hospital Based
63 Physicians
---
Mercy Clinic
35,477 Visits
---
Emergency Room
527 Births
---
Maternity Services
Mercy
, one of the 20 largest U.S. health systems and named the top large system in the U.S. for excellent patient experience by NRC Health, serves millions annually with nationally recognized quality care and one of the nation's largest Accountable Care Organizations. Mercy 
is a highly integrated, multi-state health care system including
 more than 40 acute care, managed and specialty (heart, children's, orthopedic and rehab) hospitals, 
convenient and urgent care locations, imaging centers and pharmacies. Mercy has 
900 physician practices and outpatient facilities, more than
4,000
physicians and advanced practitioners and more than 40,000 
co-workers serving patients and families across 
Arkansas, Kansas, Missouri and Oklahoma. Mercy also has clinics, outpatient services and outreach ministries in Arkansas, Louisiana, Mississippi and Texas.
Joe Poelker
Festus, St. Louis - South