Hours of Operation:
Monday-Friday: 8 a.m. - 5 p.m.
If you or a family member has cancer, complete care and support is essential. Having it all in one place makes a difference. Mercy's C.H. Chub O'Reilly Cancer Center is home to the latest in technology and treatment, including daVinci surgery and the region's only TomoTherapy and Cyberknife treatment options. What's more, our team of expert physicians and staff work to bring you a higher level of patient care, including cancer prevention and early detection strategies, education and support services, promising clinical trials and research.
We are also home to the Cancer Resource Center, a unique place that provides one convenient, centralized location for patients and families to access educational, emotional, practical and spiritual support. Also found within the C.H. Chub O'Reilly Cancer Center is the Mercy Breast Center.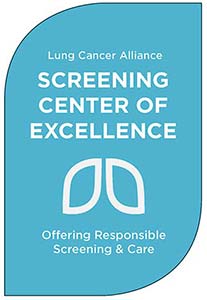 Cancer Support Groups
Men's Cancer Coffee Club
Mercy Therapy Services
2135 S. Fremont Ave.
1st Floor | Community Room
Meets every Tuesday from 7 to 8 a.m.

Men of all ages with all types of cancer can join together for support and education.
For more information, contact:
Melissa Schroeder, Program Coordinator, at melissa.schroeder@mercy.net or 417-820-3324.
Classes
Wellness Wednesday
Mercy Hospital Springfield
1235 E. Cherokeed
1st Floor | Founders Room
Held quarterly from 11:15 a.m. to Noon

Enjoy food demonstrations of healthy dished prepared by our medical nutrition therapist, who will discuss nutrition tips and provide samples of the dishes prepared.
Back to Eating
Mercy Surgery Center
1229 E. Seminole
4th Floor | Classroom A or B
Meets the second Thursday of each month from 1 to 2 p.m.

This session offers nutrition support and guidance for cancer survivors who are experiencing swallowing difficulty or eating. The goal is to help the cancer survivor return to as much of a "regular" diet as possible. Cancer survivors and their caregivers are welcome to attend. Participants may obtain recipes and sample soft, high-protein, high-calorie foods. Many participants attending this session have or have had feeding tubes.
Pre-registration requested by calling 417-820-2531
Super Wellness Wednesday
Super Wellness Wednesday will be held annually. Please refer to your Mercy Messenger or the Cancer Resource Center for the date, time and location.

Yoga for Cancer Survivors

Mercy Surgery Center
1229 E. SEminole
4th Floor | Classroom A
Meets every Monday from 8:30 to 9:30 a.m.

Yoga promotes physical and mental well-being, using a combination of movements, poses and breathing techniques to enhance relaxation, tone the body and improve circulation.
Tai Chi Chih
Mercy Surgery Center
1229 E. SEminole
4th Floor | Classroom A
Meets every Wednesday from 10 to 11 a.m.
Learn to maintain energy and find the balance you desire with Tai Chi Chih. This unique form of body movements enhances relaxation, breath control, balance and stress management.