May 22, 2016
With snapped roots and burned and broken branches, a tree clung to life outside the World Trade Center after the terror attacks Sept. 11, 2001. Removed from the rubble and sent for rehabilitation, it stubbornly grew smooth limbs from its gnarled stumps and was eventually replanted at the 9/11 Memorial.
Now, its offspring will grace the grounds of Mercy Hospital Joplin, a reminder of the kinship among survivors as Joplin marks five years since the devastating tornado. The 9/11 Memorial announced last fall that Mercy would receive one of three saplings grown from seeds of the original Survivor Tree, along with Newtown, Connecticut, and Madrid, Spain, each struck by tragedy.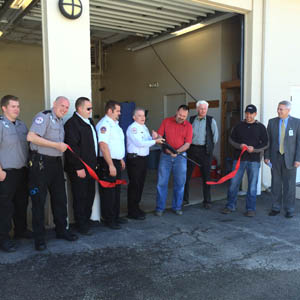 Randall Rogers remembers May 22, 2011, all too well. As a firefighter, he was standing on the wreckage of a home, feverishly searching for trapped survivors.
In the distance stood St. John's Regional Medical Center, also torn apart by the storm. "I was standing there and it hit me," he remembered. "Seeing the town I grew up in destroyed and seeing the hospital – I started crying. I'd had grandkids born there, family members who worked there. I just knew there was no way Joplin would ever recover. It couldn't all be rebuilt."
Rogers said the first glimmer of hope came when he heard Mercy was keeping all of its co-workers on the payroll and had pledged to rebuild.
Fast forward nearly four years, and the new St. John's – now named Mercy Hospital Joplin – accepted its first patient. Brandie Stuhlman was in labor with twins and was the first person transferred to the storm-hardened new hospital on March 22, 2015. "I just wanted to hold on," she said. "I wanted my babies to be born at Mercy."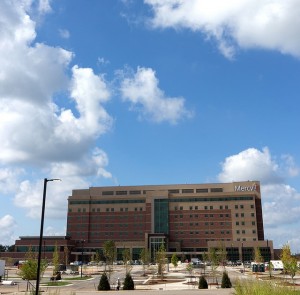 Within an hour, both Merrick and Isabella were safely delivered and became the first babies to receive care in Mercy's new neonatal intensive care unit (NICU). "I loved how we had our own room," Stuhlman said. "We could go in and it was private. It was just down the hall from my room, too."
As the hospital turned one year old, so did the twins. "We had a big party and invited a lot of people. Merrick is laid back and lets his sister beat up on him," laughed Stuhlman. "Isabella is getting ready to walk on her own."
Along with welcoming the joy of new life, hospitals are also there to help in an emergency. That was Randall Rogers' next encounter with Mercy.
He and his wife, Elizabeth, recently stopped to assist with some wrecks on Interstate 44. In the excitement, Elizabeth began having chest pains. They could see Mercy from the road and headed that way.
Elizabeth needed angioplasty, a procedure that opens up a blocked artery. But Rogers said what the team did before the procedure impressed him most. "The doctor and the team prayed with us," he said. "You can't know what that meant. I was just at peace."
As Randall Rogers was coming back upstairs to check on his wife, he saw one of the many Bible verses that are etched on the facility's glass. "It said, 'Let not your heart be troubled.' The Mercy people and the environment put us at ease. Every single person I encountered that day blew me away. I never saw a frown," he said.
Elizabeth Rogers said the most important part of her care was how Mercy co-workers treated her husband. "I know he was so scared, and they helped him through it," she said. "They really listened to him and really cared for him as well."
"It's all come full circle," Randall Rogers said. "To see the hospital lost and then come back. I don't know that Joplin could've rebuilt without that hospital."
To celebrate the rebuilding of Joplin and of the community's resilience, Mercy Hospital Joplin hosted a brief planting ceremony of the 9/11 Survivor Tree seedling on Sunday, May 22. Click here for photos from the event.
Mercy, named one of the top five large U.S. health systems in 2017 by Truven, an IBM Watson Health company, serves millions annually. Mercy includes 44 acute care and specialty (heart, children's, orthopedic and rehab) hospitals, more than 700 physician practices and outpatient facilities, 40,000 co-workers and more than 2,000 Mercy Clinic physicians in Arkansas, Kansas, Missouri and Oklahoma. Mercy also has outreach ministries in Arkansas, Louisiana, Mississippi and Texas. 
Media Contacts