June 16, 2017
When Mark Rychcik saw recent news reports of young children hospitalized because of tick bites, it brought back memories from 21 years ago when he was a pediatric patient at St. John's Regional Medical Center in Joplin.
Rychcik became ill enough to be admitted in 1996 to the hospital, now known as Mercy Hospital Joplin. The illness wasn't diagnosed until a pediatrician suspected a tick bite. He eventually recovered.
Now an adult living in Pennsylvania, Rychcik recalled his time as a young patient in Joplin and decided to show his appreciation for the excellent care he received more than two decades ago. He donated three PlayStation 3 game systems, a cordless controller and 23 age-appropriate video games to the Mercy Hospital Joplin pediatric unit.
"I want this gift to provide a distraction for children who are facing many challenges while in the hospital," he said. "I hope this helps. Thanks to everyone at Mercy Hospital Joplin for all they do."
Rychcik wasn't able to make the trip to Joplin to bring the gift in person, so he recruited his parents, Joe and Peg Rychcik, to make the special delivery. They also live in Pennsylvania and were in the area recently to celebrate the 150th anniversary of First Presbyterian Church in Carthage. Joe Rychcik is a former pastor of the church.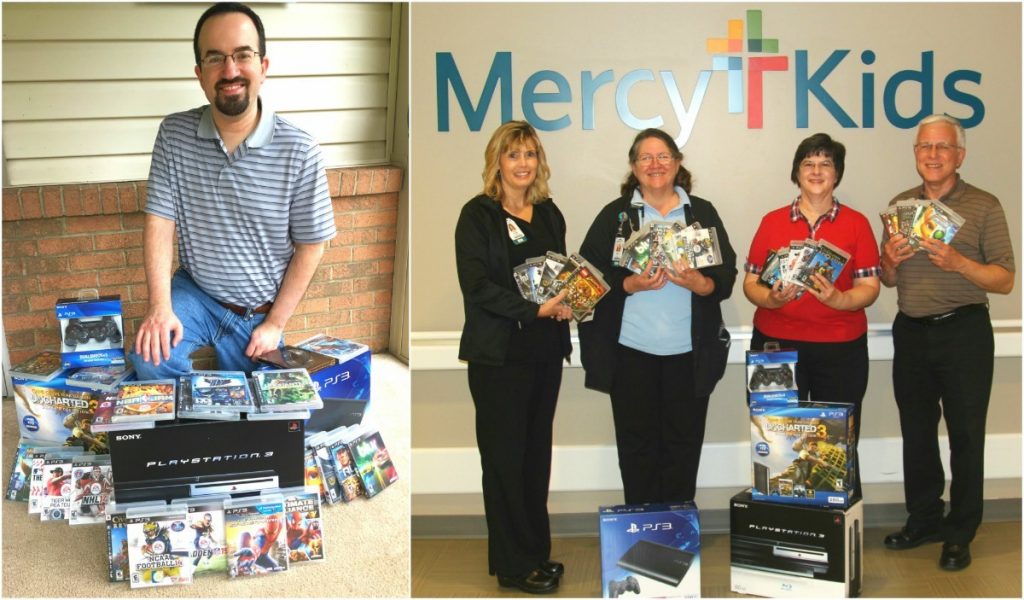 Mark Rychcik, left, shows three PlayStation 3 systems and games that he donated. His parents, Joe and Peg Rychcik, far right, delivered the gift to Mercy Hospital Joplin's pediatric unit. Accepting the donation, from left, are Kathy Cowley, birthing center and pediatrics manager, and Sandra Henry, a charge registered nurse in pediatrics who also worked at St. John's Regional Medical Center in 1996, when Mark Rychcik was a patient.
Media Contacts